Editorial
Arsenal Recover Twice in the Principality
Online Ed: Unai Emery's first away win comes at Cardiff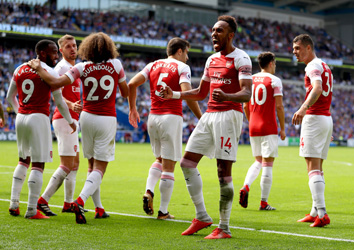 Well, well, well. As with West Ham last weekend, it was another case of Arsenal overcoming an inferior team but making hard work of it. Cardiff had not registered a single goal in their opening three league matches this season. Given the opportunities they enjoyed yesterday afternoon, you could understand why. Once again, it was a case of realizing that a team with more clinical finishing could have scored more than the two goals Neil Warnock's side managed.
The sight of Petr Cech passing the ball straight to an opposition forward feels a little too familiar. The keeper is far from comfortable on the ball, and yet the way the team plays he needs to be. The philosophy is not to play any 50/50 balls, such as the long punt upfield, but to build from the back and move the ball forward, with the eventual aim often being a low ball cut back from the byline into the danger area in front of goal.
All well and good if you can move the ball out of your penalty area in the first instance. The key men here are Cech, the two central defenders and the two deeper midfield men. Cech must have options as to who to pass to, but even when he does, he is prone to misplace the pass, and present a gift of a chance to the opposition. It happened at Cardiff, but Harry Arter fortunately fired a very decent chance over the bar. Cech's passing is something that needs more practice, but at his age, it's unlikely the current team captain is going to become Manuel Neuer in that department anytime soon.
There are reputedly question marks over Bernd Leno's ability between the sticks, although with a relatively hefty purchase price one imagines that given his age, he will improve. One thing seems almost a given, he will do better with the ball at his feet – assuming that is the reason he was sought after by the club. Emery is not going to want to drop his current skipper, but Cech cannot continue to get away with passing the ball directly to the opposition. Rival managers can smell blood here, and set up their teams to press Arsenal very deeply.
This could be avoided if the first ball played out by Cech was made more quickly. Too often he is ponderous. He can throw it quickly, but kicking seems to be a different matter. This wouldn't be such a factor if Emery were not insistent on playing out from the back, but he is, so it needs sorting out before it starts actually costing goals.
Still, at least at the other end of the pitch, the team continue to fashion very presentable chances. And after taking the lead through a Mustafi header in the first half, they had to work to re-establish their lead twice more. So fair play to the team's character and will to win. Heads did not drop, they kept going. The second and third goals were a lesson in finishing for their hosts, two excellent strikes from Aubameyang and Lacazette. Arsenal certainly deserved the win, but failed to make life comfortable for themselves by extending their lead beyond a single goal at any point.
Unai Emery started with Alexandre Lacazette for the first time, and having the Frenchman on the pitch in tandem with Pierre Aubameyang made Arsenal's attacking threat more substantial. The pair were probably Arsenal's standout performers on the day. Mesut Ozil returned to the side, but his contribution wasn't anywhere near as significant. This even though Cardiff were far less physically intimidating than I expected them to be. Once more Xhaka and Guendouzi, who could prove to be one of the best bargains in football history, started in the centre, with Torreira coming on in the second half for the latter, just after Cardiff had equalized for the second time following a series of corners and free kicks. Although Xhaka did not have his worst game (even if he did set up Cardiff's opener with a terrible crossfield ball), this observer feels that Torreira offers the team more.
We shouldn't have to wait long to see a Torreira – Guendouzi partnership from kick off. Xhaka picked up his fourth booking in four matches, so his next will see him suspended for a game.
At the back, the full backs were aggressive in attack and not always so great in defence – neither was great on the two Cardiff goals - but this is a consequence of what Emery wants. We'll just have to get used to it. Mustafi and Sokratis made less errors than in previous outings, but that isn't saying too much. Mustafi, at least, headed well to open the scoring for his team.
The comparison with Pep's first season at Manchester City has been made before. However, I think it will take two years for Arsenal to progress as far as City did in this style of play. Key to this – in all probability – are more changes in personnel, so that those players that spent a significant amount of time working under Arsene Wenger's methods are moved on. Before the game I was told a story about how Jurgen Klopp did not give Alex Oxlade-Chamberlain too much first team game time when he first arrived at Anfield a year ago. The reason was that Klopp had to change the habits of the Ox on the training field to suit the style he wanted from his players. Klopp of course, is known for gegenpressing, which is similar to what Emery wants from his men. The problem the Arsenal manager has is that this has not been drilled into the players who have been at the club for some time, and the team has to act automatically in unison for this to be effective. And it doesn't come naturally after years of focus on technique on the ball rather than denial of space.
At least against Cardiff, Arsenal enjoyed far more of the ball. Warnock's side did not enjoy lengthy spells of possession, their chances mainly fashioned in quick breaks, or when dispossessing Arsenal in their own half. But until Emery's players have the build-up completely mastered, with pace, movement and precision throughout the team (such as the second goal v Chelsea), then there is always going to be the danger of a cheap goal conceded. In the Premier League, you could argue this style is too idealistic, although if you are as good at it as Man City, then you can get away with the occasional and inevitable lapse.
Arsenal got away with it yesterday as they did against West Ham, and having with this being the second of an eight game stretch in the league before they face Liverpool, it was important to get maximum points on the board. The team is going to have to improve quickly though or we will see dropped points against opposition outside of the predicted top six. The reality is that they are unlikely to do improve quickly enough. 24 points from these eight matches are certainly possible, but it really does not look as if Arsenal are tight enough. This approach is going to need time, and most Gooners understand that, however painful and frustrating it is to watch sometimes. But there are definite signs of change. Last season, there is every chance Arsenal would have lost this type of fixture. Yesterday, they showed character, and you could see at the end of the game that it mattered to the players. I'm not certain you could have said that a few months back.
So at the end of it all, an enjoyable win, even if the team put the traveling fans through the mill to achieve it. We wait to see what happens at Newcastle after the team reconvenes post international break.
The current issue of The Gooner can be bought online here (price includes postage of £1 to UK addresses of £2.50 abroad) or if you wish to subscribe for the season, here's the page to do that..
It will also be on sale at the home game v Everton and away matches before that. At the time of writing, it does appear as if it may sell out by the time the next issue is published in time for the visit of Watford.
There are other ways of ordering the issue if you do not wish to order via credit / debit card through the website store…
Online Bank Transfer For the current issue, pay £6 UK / £7.50 abroad (or for a 2018-19 six issue subscription £30 UK / £42 abroad) via online bank transfer to –
Account name: The Gooner
Sort Code: 20-76-90
Account Number: 03004112
Swift / BIC: BUKBGB22
Iban: GB79 BUKB 2076 9003 0041 12
Please use the reference '272YourSurname' on the payment – eg '272Smith' and follow up the payment with an email to thegoonerfanzine@btinternet.com stating your name and address, and the reference that you used for payment (e.g. 272Smith or whatever).
Via direct PayPal payment to the email address thegoonerfanzine@bt internet.com. For the current issue, pay £6 UK / £7.50 abroad (or for a 2018-19 six issue subscription £30 UK / £42 abroad) via your PayPal account state in the message you are requesting issue 272 (although we'll assume this if there is no message from the amount paid). If doing this, please make your payment a 'friends and family' / personal gift payment – this helps keep our costs down. PLEASE remember to add the name and address for your issue(s) to be mailed to in the note with the payment.
Finally, you can pay by cheque made payable to 'The Gooner' to the address below. For the current issue, pay £6 UK / £7.50 abroad (or for a 2018-19 six issue subscription £30 UK / £42 abroad)
The Gooner
12 Buxton Court
Hanbury Drive
London
E11 1GB