Editorial
Arsenal's Qualification In The (Qara) Bag
Online Ed: Gunners win at the scene of next May's Europa League final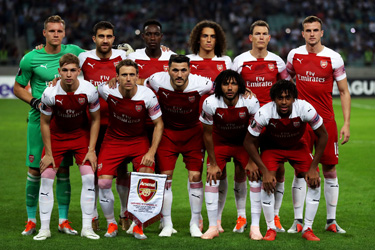 At times I wonder if Unai Emery has some kind of gypsy curse in reverse, such is the good fortune Arsenal seem to be enjoying in terms of not being punished for their lack of defensive solidity. Qarabag had chances as good as their visitors in last night's match in Baku, yet ended up on the wrong end of a 3-0 scoreline, which could easily have been four as the game wound down.
Granted, with the superior quality of Arsenal's players, a win should have been expected, but European football doesn't always work that way, hence Qarabag cost Atletico Madrid four points in two matches last season.
The formation saw Emery play five at the back in a competitive game for the first time since he arrived in North London. In theory it offered a reduction in exposure through the middle and greater freedom for the wide defenders to get forward. It worked early on, as Kolasinac provided a great chance that led to the corner from which his team took the lead, Sokratis getting a deflection on Monreal's header. That's one way to silence the crowd.
The other thing that made it less intimidating than it might have been, in spite of a crowd north of 60,000, was the sheer distance between the players and the fans. Not only was there an athletics track around the pitch, but a significant gap between the edge of that and the stands. Architecturally, it may look good, especially from the outside, but the interior suffers the same as most venues that also have to house a running track. The pitch seemed very big, allowing for greater space which often suited Arsenal's passing game.
Defensively, even with five at the back, chances came for the opposition, and Bernd Leno had a good match to prevent them capitalizing. Ultimately, this was a game Arsenal won simply because they were more clinical in front of goal. It's a familiar story, but who can argue with nine consecutive wins?
Emile Smith-Rowe was given a start and generally performed well. He had good chances in the first half and was a little unfortunate not to score, although he will have to improve the defensive side of his game, positionally at least. Too often Stephan Lichtsteiner was outnumbered on his flank. Still, Smith-Rowe will only improve with matches, and his contribution aided his team.
Lucas Torreira came on for Monreal before the second half restarted, as Emery switched to 4-3-3. In fairness, I am not certain the Uruguyan made a lot of difference in terms of preventing chances, but after seven minutes, Smith-Rowe finally found the net to ease the pressure. The irony of the build-up was that the goal came from a long punt by Leno, flicked on by Danny Welbeck to Iwobi, who teed up the teenager.
Ozil came on for Smith-Rowe, and later Lacazette for Iwobi. A third goal followed, finished off by Matteo Guendouzi. In the end it proved a comfortable night for Arsenal, even if once again, they looked far from solid.
The worrying thing in this respect is that the team do not seem to be ironing out this flaw, simply getting lucky. Granted, this was a second string line-up, lacking the familiarity of the first team, but it did all feel very familiar. Arsenal will surely qualify from this group now, so their European interest will last at least until the beginning of spring, but by that time, improvement must have been achieved. They will not return to Baku in May without that. Some decent teams will be joining from the Champions League groups – last season one of these produced the tournament winner.
However, against Qarabag, after a five and a half hour flight the day before, it was a case of job done. And a welcome sight for the handful of travelling fans that did make the trip to Azerbaijan.
This season, The Gooner and onlinegooner.com are partnered with Fansbet. If you enjoy a flutter on your football, sign up as an Arsenal fan and select The Gooner Fanzine as your 'branch' from the drop down menu. In the event that Fansbet make any profit from your bets, 50% of that goes to help fund the continued survival of The Gooner fanzine. However, if you cannot gamble responsibly, please do not bet.
The current issue of The Gooner can be bought online here (price includes postage of £1 to UK addresses of £2.50 abroad) or if you wish to subscribe for this and the other four remaining issues this season, here's the page to do that.. It will also be on sale at the home games v Leicester, Blackpool and Liverpool.
There are other ways of ordering the issue if you do not wish to order via credit / debit card through the website store…
Online Bank Transfer For the current issue, pay £6 UK / £7.50 abroad (or for a 2018-19 five issue subscription £25 UK / £35 abroad) via online bank transfer to –
Account name: The Gooner
Sort Code: 20-76-90
Account Number: 03004112
Swift / BIC: BUKBGB22
Iban: GB79 BUKB 2076 9003 0041 12
Please use the reference '273YourSurname' on the payment – eg '273Smith' and follow up the payment with an email to thegoonerfanzine@btinternet.com stating your name and address, and the reference that you used for payment (e.g. 273Smith or whatever).
Via direct PayPal payment to the email address thegoonerfanzine@bt internet.com. For the current issue, pay £6 UK / £7.50 abroad (or for a 2018-19 five issue subscription £25 UK / £35 abroad) via your PayPal account state in the message you are requesting issue 273 (although we'll assume this if there is no message from the amount paid). If doing this, please make your payment a 'friends and family' / personal gift payment – this helps keep our costs down. PLEASE remember to add the name and address for your issue(s) to be mailed to in the note with the payment.
Finally, you can pay by cheque made payable to 'The Gooner' to the address below. For the current issue, pay £6 UK / £7.50 abroad (or for a 2018-19 five issue subscription £25 UK / £35 abroad)
The Gooner
12 Buxton Court
Hanbury Drive
London
E11 1GB