Online Exclusive
Gooner Daily: Unai Emery Changes A Long Established Habit
Arsenal train on opposition pitch in Europe shock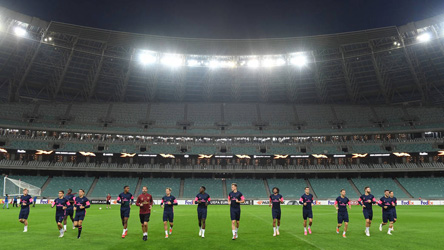 Something happened for the first time in many years on the evening before Arsenal faced Qarabag in Baku. The team actually trained in the stadium they would be playing in. The routine under Arsene Wenger was, the day before the game, to do a final training session at London Colney in the morning before flying out, and see the venue they would be playing in for the first time the day after when they arrived for the game itself. Of less significance was that the pre-match press conference was also held at the training ground, which meant that journalists from the country Arsenal would be playing in were conveniently not around to ask Wenger the kind of questions the UK press were too polite to, such as 'What do you put your poor record in European competition down to?'
Anyway, I digress (although it should be mentioned that Emery's presser in Baku certainly got tasty with the local journalists trying to get a story out of Henrikh Mkhitaryan's not making the trip). Arsenal had a session on the pitch they would be playing on, acclimatizing themselves to the surface and the environment.
The previous policy always struck me as strange, but Wenger's thinking was to avoid difference in routine as far as possible with any match, home or away. The idea was that the players would be more focused on the game if there were a minimum of variations and distractions. So it was always London Colney – coach to Luton airport – flight to destination country – coach to hotel – sleep – a light stroll on the morning of the game – relax / eat back at hotel – coach to stadium – play game – coach to airport – fly home.
The passing up of the opportunity to train on the pitch the evening before is, to my knowledge, pretty much unique. If another club does what Arsenal do, I am unaware of it. Sure, they might have a training session on the morning before departure, because the one on foreign soil is not the place to try our free kick routines for example, but they at least get a chance to familiarize themselves with the venue by having a six-a-side or similar.
The Arsenal groundstaff are pretty precious about the Emirates surface. They dislike the fact they are obliged to allow opposition teams to use it 24 hours before a European home match.
One thing I always wondered. Arsene Wenger must have realized his team were not producing in Europe, so why not try a different approach? See if it garnered better results? Not all pitches are the same, all stadiums not uniform. But he believed his way was best, in spite of seeing a succession of other teams (including three English ones) win the trophy by doing things the accepted way. Arsene knows?
Back to this season and for the Arsenal players, new broom, different approach. I wonder if they preferred the old approach or enjoy the variety of training in a different environment?
One thing most teams do that I can't see the logic in is the flight back immediately after the game. Arsenal's players landed on UK soil at 4am on Friday morning, then presumably drove home to sleep for a few hours. Thinking of body clocks and recovery, what difference would it have made for them to spend Thursday night in a hotel near the airport in Azerbaijan, get a morning flight back to the UK, arriving early afternoon, then drive home and relax? There is presumably no training on Friday either way.
Let's see how far the Gunners go in the Europa League this season. It would be remarkable to see them lift a European trophy for the first time since 1994.