Online Exclusive
Gooner Daily: Club Crests
Review of new book - 'World Football Club Crests'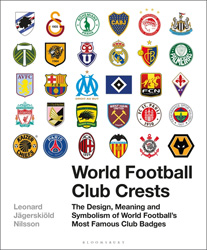 We get books sent to us at Gooner Towers occasionally, and the latest to drop through the door is a volume about "the design, meaning and symbolism of world football's most famous club badges". The author is a Swedish sports journalist, Leonard Jagerskiold Nilsson. 'World Football Club Crests' is published by Bloomsbury Sport, and the hardback retails at £20, although you can find it cheaper online.
So, anyway, I am not going to simply review the book, but put my own tuppenceworth in. Football clubs crests. Often the original ones incorporated something from the local area, and on occasion the crest of the town or the city they were playing in was the club crest. But long before association football produced a plethrora of crests, these things were in existence to basically represent warring houses – I am thinking 'Game of Thrones' here. So really, what's so different today. Aside from the odd punch up between supporters – far more of a rarity these days – the 'battle' as such, is on the pitch. The teams supposedly representing their followers attempting to end up victorious for them.
So now here's an idea. Are we familiar with the concept of the bannerman, or indeed bannermen, as an army circa 1000AD marched into battle? These guys basically held up the banners of their 'house'. I'm not convinced they did any actual fighting. So how about getting someone to carry out a banner of the club crest ahead of the team? It would beat the captain holding hands with some 6 year old mascot for visual spectacle, symbolising the battle to come. In theory, the details of the club crest have some meaning to the team that sports it on their shirts, although in this day and age of high-paid mercenary players, I'm far from convinced that is the reality. And in fairness, how Mesut Ozil is going to relate to a works team based at an armaments factory in the 19th century is a question I can't answer.
Anyhow, enough stream of consciousness from yours truly, let's look at Mr Nilsson's book. The crests of English clubs get more analysis than any other country, although the combined entries on England, Spain, Italy, Germany and France cover about two thirds of the book. The format is simple. Each club gets two pages in which we are given historical write up, and visuals of how their crest has developed with explanation of the changes. It's a nice book to dip into, and is especially interesting to football readers who also have some enthusiasm for design.
Ultimately with such books, describing them does not do them justice. They are visual, although doubtless a great deal of research went into the content, given there are crests from far flung parts of the world. It's interesting to look back at the changes, and the emphasis on branding in more recent times, such as Juventus' new crest getting shot of an image of an animal completely (they had alternated between a bull and a zebra over the years). Arsenal of course, have their own notorious example, with their re-design of the crest that went down like a lead balloon with fans in 2002. So if you like this kind of thing, the book does the job nicely.
If you want to get more of a flavour for the subject matter, the author has a Twitter account@WorldClubCrests.