Online Exclusive
Gooner Daily : The reasons Arsenal are willing to let Ramsey and Welbeck go
Bring on the (contracted) kids?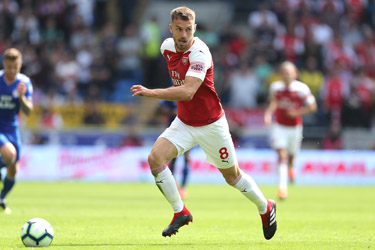 Arsenal leaving key player contracts to run down is unfortunately nothing new, however for the two players caught in the 2018/19 edition of Arsenal's contract-brinkmanship-that-rarely-pays-off it feels a bit different than usual. Aaron Ramsey, whilst dividing opinion amongst supporters, is widely regarded as a key operator for the club - our longest serving player, pushing towards his peak at nearly 28 years old, in the team of the tournament at the Euros etc - it all sounds broadly familiar to the previous sagas of Van Persie and Alexis Sanchez. However, in this case we have seemingly pulled our offer away and by doing so have essentially have put him up sale in January, obviously a different tactic to the aforementioned who were players we desperately tried to keep, which meant one had to issue a public statement and the other act like a spoiled brat to manoeuvre themselves a transfer. Does our approach towards Ramsey highlight a change of tact now that Sanllehi is running things? Is it a matter of recognition that Emery's early words about Ramsey being key were more aimed at oiling the negotiations than reality, or simply he just isn't that important to the way we want to play?
For Danny Welbeck the situation is different again to previous Bosman-in-waiting episodes by virtue of the fact he has barely got any airtime at all. It's odd considering he's an England international, approaching his prime, is acknowledged as one of the best squad players around and seems happy with his lot. For there to be such little noise about it is just strange.
I wonder whether the reason for Arsenal's apparent bullishness re: Ramsey and lack of intent to renew Welbeck's contract is down to three things: Emile Smith-Rowe, Eddie Nketiah and Reiss Nelson. All have basically outgrown academy football, have recently signed new deals and need to be accommodated in the first team squad at some point soon.
Emery clearly doesn't fancy Ramsey in a midfield two so in his mind he is basically a number 10 or sub. In the number 10 role he is vying with Ozil and Mkhitaryan - players who have recently signed contracts with the club and are of equivalent or higher ability. Could this be the reason why the club is reticent to commit £200K+ per week for a player with a questionable injury record and where alternatives are aplenty (even more so when you consider the potential ceiling of Smith-Rowe in that position)?
Given the dearth of natural wide players in the squad, Reiss Nelson feels like a perfect 'internal solution' for next season. He will be 19 on his return from Germany and you can imagine a year of first team football in a top league will whet his appetite to the point where he just has to be in the squad. I suspect the days when genuinely promising youngsters will settle for the odd league cup game are gone, see Jadon Sancho for one of the reasons why.
Regarding the Welbeck case, it could be argued that at 20 years old from the start of next season, Nketiah is the perfect number three striker who potentially has more goals in him than Welbeck. Plus in the embryonic stages of his career, sharing the pitch with Aubameyang and Lacazette will be a solid education for him. Perhaps he could be the first academy striker since Kevin Campbell (?!) to forge a path into the first team...
Let's be honest, losing players for nothing or below their market value is not good business and is something we need to be better at. I wonder if in trying to rescue the situation we let Ramsey and Welbeck leave and remove £10-12m per year in wage cost, replace them with players already under contract and who are perhaps more malleable into Emery's way of playing whilst leaving some capacity in the wage bill for new signings.
The one very slightly disappointing aspect of this so far encouraging season is the relative lack of minutes for our homegrown academy English players - perhaps our manoeuvring in these latest contract sagas is going some way to addressing it.
Ed's note – Gooner Daily does not have to be written by yours truly! Thanks to GoonerRon for his contribution. Open house here for anyone else who wishes to pen something for the site – email pieces for publication to gooner.ed@gmail.com.