Online Exclusive
Gooner Daily: Reasons to be Cheerful
The potential upsides of change explored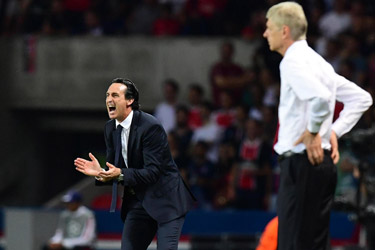 Arsenal underperformed for the last few seasons of the Arsene Wenger era. As fans of the club we are naturally pulled to the performances on the field of play and when you look at the style of play as well as the points tallies accrued there can be no argument that things went stale and change at the top was required.
The flip side to all of the negativity surrounding the club over the past few seasons is the massive potential within the club for areas of improvement. We are just starting out a new process on the field of play under Unai Emery and already there are clear signs of this improvement starting to come to fruition.
It is already clear to me that the players believe in the message they are being given far more. The unity of the squad has improved vastly in a very short period of time. This is obvious for all to see even in something as simple and basic as how goals are being celebrated by the players. Everything coming out of the players' mouths via media outlets has a real positive vibe to it also.
The ball is being moved forward at a far greater speed than it ever was in the later Wenger years. Gone is the slow and deliberate sideways passing going from one side of the pitch to the other without actually managing to move the ball forward. Now as soon as one of our midfield men get on the ball they are heads up and looking to punch the ball through the lines and into the attacking third of the pitch.
This difference alone on the field of play makes us 50% more dangerous as it allows the defending team far less time to get themselves organised. The signings show that this is a priority for the new man in charge. Lucas Torreira and Matteo Guendouzi both have this at the heart of their games, they do not naturally look sideways or back like Elneny is prone to doing. They want to get the ball moving quickly and forwards whenever possible.
Another positive change is for our wide attackers to be moved 10 yards inside the field of play which allows for the opportunity of overlapping full backs on both sides of the pitch. Many people have been crying out for us to buy an out and out winger. For me it is clear that Emery doesn't play with any players you would describe as a natural wide man. This is why players of the ilk of Iwobi have looked so natural under the new regime. He is not a winger but not really a central midfield player either. In most setups he would be a hard player to get to fit in to the system but under Emery he has two positions on the field of play either right or left of the number 10, which suit him to a tee.
This way of playing also perfectly suits the natural attributes of Hector Bellerin who can now use his pace to get to the by line and regularly cut the ball back from dangerous areas of the pitch for onrushing attackers. Hector already has four assists to his name with barely a quarter of the season played as things stand.
If you take stock of where our match day squad was heading into the 2018 January transfer window and where it has moved on to over the last 9 months or so the shift has been every bit as big as the off field moves the club has made. The squad and club are evolving in a number of important ways both on and off the field of play and these changes have happened at a rapid pace.
That leads me on to the second area of Arsenal where I personally feel there is great potential for improvement. The handling of player contracts. As fans we are drawn to the field of play and most of us pay little attention to how the club is being run and what importance player contracts have to the potential for on field success. This for me is the main area of our club that suffered the most in the later Wenger years.
The process started many years ago when average to poor players were routinely rewarded with far higher contracts than their impact on the field of play warranted. As examples of this I would cite Nicklas Bendtner being paid £52,000 a week around 10 years ago, and Abou Diaby being paid a similar if not higher amount despite his consistent disastrous injury record at the club. The list of players of this ilk that Wenger routinely not only kept on the books but rewarded with long term improved deals is almost as long as it is shocking.
Now the problem with this approach is that it becomes impossible to move these players on for a fee. They end up having to wind down their contracts as no other club in their right mind would pay them anywhere near the amounts they were routinely on at Arsenal. Put yourself into the boots of someone like Sebastien Squillaci or Mathieu Debuchy just for a second. Imagine you're on a weekly wage of around £80,000 at Arsenal and have two years left of your current contract. Are you going to sign at that time for a club in France that is going to offer you say £25,000 a week, or are you going to sit on your backside until your contract runs down and then get a nice signing on fee from that same team in France in two years' time?
Make no mistake about it this exact situation has played out time and time again at Arsenal over the last 10 years or so. We have routinely handed out over the odds on long term contracts to players that have had a lot to prove at the point of signing that contract. We have then been stuck with a large number of players within our playing squad that have been more of a liability than an asset.
Moving this situation on to the current squad and you could easily use an example of Sead Kolasinac, signed on a free transfer by Wenger in the summer of 2017. The guy might well have been a very bright prospect from the Bundesliga at that time but the fact is we signed him on a free which means we will be paying him a larger than average weekly wage. I would estimate that his wage would be in the region of £100,000+ a week. Does the player's impact on the field of play and his position within our current match day squad pecking order warrant that outlay? I would say no.
The same can be said for a number of players currently in the squad that Emery inherited earning good wages that simply do not fit the bill. I would most certainly include Henrik Mkhitaryan, Mohamed Elneny and Aaron Ramsey in this category at the current time of writing. The four players mentioned above combined would be on an estimated £450,000 a week between them. That works out to around £23.5m a year being spent on just four players, none of whom would be in our first choice starting XI as things stand. That is a large amount of money that could clearly be better invested in the first team squad to improve the impact on the field of play that those funds can have.
If we can really start to utilise those funds better with the help of the new management team we now have in place - I am primarily thinking about Sven Mislintat, Raul Sanllehi and Huss Fahmy here - then we really could start to see some major on field improvement over the coming seasons.
The early signs for this improvement are very encouraging indeed. Look to the recent signings of Lucas Torreira and Matteo Guendouzi as prime examples. Both of these players are young and already worth far more than what we as a club paid for them just a handful of months ago. They also importantly would not be expected to be on too high a weekly wage and are both tied down to long term contracts. This combination of facts is exactly what Arsenal as a club have failed to nail down in recent years, often the complete opposite being the case.
If we as a club can get on top of player contracts and stop allowing sizeable assets to simply run down their contracts and leave on a free that would be a massive step in the right direction for maximising our chances of on field success. If you then combine that with a head coach that knows how to maximise the potential of those players at his disposal on the field of play you could just have a winning combination.