Online Exclusive
What Price Loyalty?
Re-running an article from The Gooner archives published 16 years ago stating that the chequebook had kicked loyalty into touch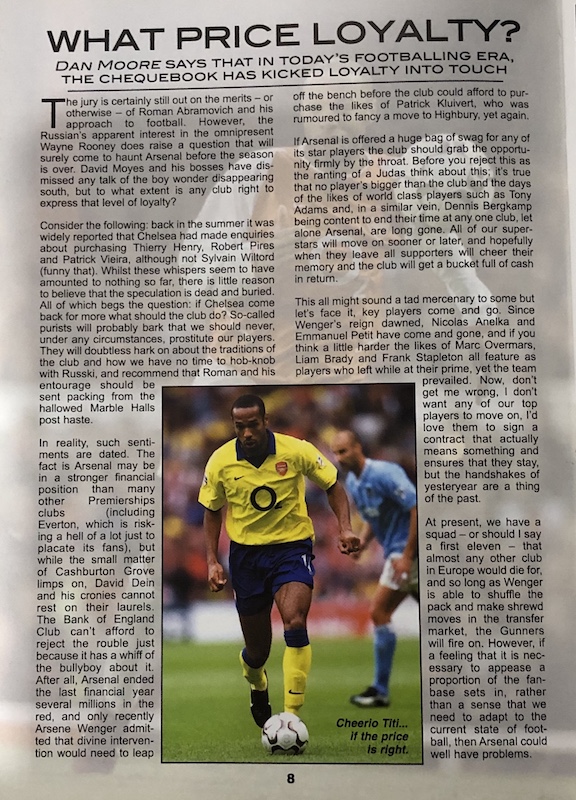 Ed's note – This article by Dan Moore originally appeared in issue 140 of The Gooner, published in December 2003
The jury is still out on the merits – or otherwise of Roman Abramovich and his approach to football. However, the Russian's apparent interest in the omnipresent Wayne Rooney does raise a question that will surely come to haunt Arsenal before the season is over. David Moyes and his bosses have dismissed any talk of the boy wonder disappearing south, but to what extent is any club right to express that level of loyalty?
Consider the following: back in the summer it was widely reported that Chelsea had made enquiries about purchasing Thierry Henry, Robert Pires and Patrick Vieira, although not Sylvain Wiltord (funny that). Whilst these whispers seem to have amounted to nothing so far, there is little reason to believe that the speculation is dead and buried. , All of which begs the question: if Chelsea come back for more what should the club do? So-called purists will probably bark that we should never, under any circumstances, prostitute our players. They will doubtless hark on about the traditions of the club and how we have no time to hob-knob with Russki, and recommend that Roman and his entourage should be sent packing from the hallowed Marble Halls post haste.
In reality, such sentiments are dated. The fact is Arsenal may be in a stronger financial position than many other Premierships clubs (including Everton, which is risking a hell of a lot just to placate its fans), but while the small matter of Cashburton Grove limps on, David Dein and his cronies cannot rest on their laurels. The Bank of England Club can't afford to reject the rouble just because it has a whiff of the bullyboy about it. After all, Arsenal ended the last financial year several millions in the red, and only recently Arsene Wenger admitted that divine intervention would need to leap off the bench before the club could afford to purchase the likes of Patrick Kluivert, who was rumoured to fancy a move to Highbury, yet again.
If Arsenal is offered a huge bag of swag for any of its star players the club should grab the opportunity firmly by the throat. Before you reject this as the ranting of a Judas think about this; it's true that no player's bigger than the club and the days of the likes of world class players such as Tony Adams and, in a similar vein, Dennis Bergkamp being content to end their time at any one club, let alone Arsenal, are long gone. All of our superstars will move on sooner or later, and hopefully when they leave all supporters will cheer their memory and the club will get a bucket full of cash in return.
This all might sound a tad mercenary to some but let's face it, key players come and go. Since Wenger's reign dawned, Nicolas Anelka and Emmanuel Petit have come and gone, and if you think a little harder the likes of Marc Overmars, Liam Brady and Frank Stapleton all feature as players who left while at their prime, yet the team prevailed. Now, don't get me wrong, I don't want any of our top players to move on, I'd love them to sign a contract that actually means something and ensures that they stay, but the handshakes of yesteryear are a thing of the past.
At present, we have a squad — or should I say a first eleven — that almost any other club in Europe would die for, and so long as Wenger is able to shuffle the pack and make shrewd moves in the transfer market, the Gunners will fire on. However, if a feeling that it is necessary to appease a proportion of the fanbase sets in, rather than a sense that we need to adapt to the current state of football, then Arsenal could well have problems.
The new issue of The Gooner went on sale at the game last night and can be bought at the remaining home and away matches this season. It can also be posted to you (£6 UK addresses, £7.50 overseas) if you wish to buy it through our online store or if you have a PayPal account you can simply send us payment direct click here for our paypal.me link (although please remember to put the name and address for sending your issue in the message, and if you forget, then email us at thegoonerfanzine@btinternet.com to let us know those details)
2019-20 season subscriptions still available!
Having reached our target of 1000 paid up subscribers to continue printing in 2019-20, we are welcoming further subscriptions. For £30 (UK addresses) or £42 (overseas addresses) you receive six x 68 page issues through your letterbox over the course of next season.
There are four ways to pay –