Editorial
Arsenal fed to the Wolves
Online Editorial – Another three goals conceded, another defeat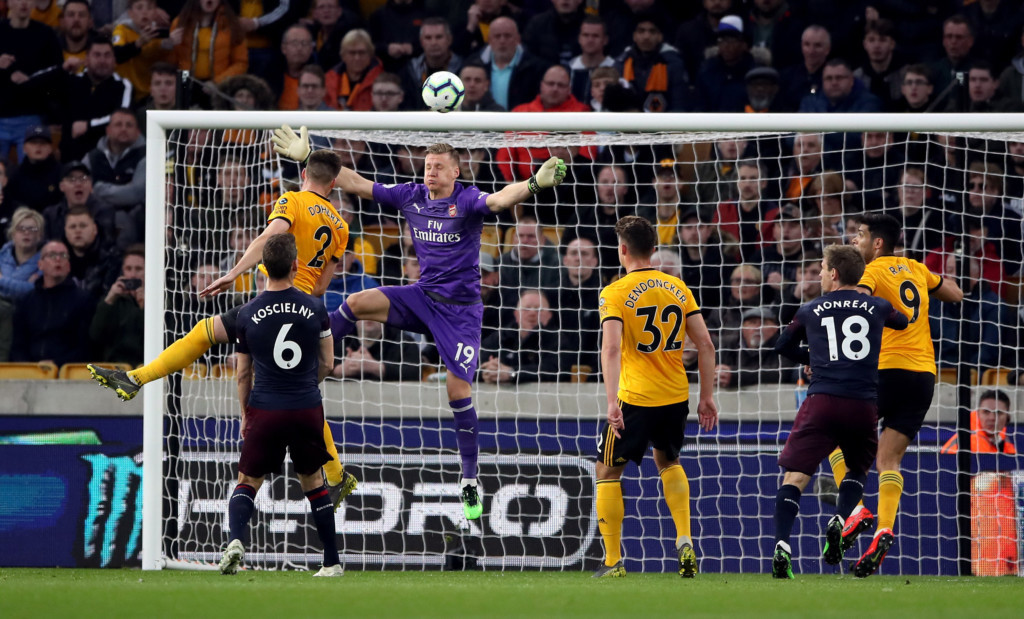 Statistically, Arsenal have performed better away from home over the course of Unai Emery's first season than they did in 2017-18. But after matches like yesterday evening's it just doesn't feel like the team are actually playing any better. It was as full strength a team as the head coach could field, remembering the injured list accounted for Holding, Bellerin, Ramsey and Aubameyang. And yet it was not until deep into the second half that the first Arsenal attempt was registered on target, Sokratis' consolation goal that allowed misguided optimism to flicker after reaching the interval 3-0 down.
Defensively it was another horrorshow. There is a belief that Steve Bould can actually improve the defence, which is based on a couple of spells under Arsene when he was given more opportunity to impart his knowledge. If that is true Emery can't be utilising the former centre-back on the training pitch. Sure, the club have some questionable defenders, but last night they had four of the more decent ones lined up. Monreal conceded a free-kick just outside the box for the first goal, and there was little anyone could do when it floated in over the wall. But the second and third were far worse, the second from a corner and the third a break after Xhaka was careless in midfield and the shot went under Leno's arm.
To paint the picture even blacker, in spite of plenty of possession the Gunners offered minimal goal threat. They at least enjoyed a break with Manchester United losing at home to Man City, and if Solkskjaer's team can rally to defeat Chelsea at Old Trafford on Sunday it will help Arsenal's cause. The Gunners though, will probably have to win at Leicester and Burnley, as well as winning at home v Brighton to have a realistic chance of finishing in the top four. Beating Leicester and Burnley away though? It's difficult to see. This is a team with deep-rooted psychological issues away from the home comforts of the Emirates. And you can't see it changing soon.
The lack of creativity going forward though is a real concern. In this sense the runs of Aaron Ramsey were an obvious miss, but that is something that will be a permanent state of affairs after the summer anyway. Mesut Ozil did get on the ball but didn't produce too much in the way of danger. It has been a familiar story too often of late to be a coincidence that the team have lacked a cutting edge, and there have been instances of that at home too. That they were nullified so easily does make you wonder how these players are going to manage to get a result at Leicester. Aubameyang might be back, although what difference that will make is questionable. Eddie Nketiah at least looked hungry when he came on, as he seemed to have a desire and incentive to impress that was lacking in his colleagues. It feels psychological, an overhang from the Wenger era and too many failures on the road. Something's missing in the make-up of the team, even though on the isolated occasion they can find a performance.
The priority though, over the summer, has to be sorting out the defence. Start matches with the first aim of not losing them and build from there. That may not be Emery's way. In the meantime, we have to get through what remains of this season and, in all likelihood, consider the Europa League as the best chance of making next season's Champions League. And the reason for that is that three wins from the remaining three domestic fixtures looks highly unlikely. If they achieved that, they'd have 75 points. Chelsea are on 67 points and can get 76, although a draw at United at the weekend would mean a maximum of 74. United themselves can achieve 75 by winning all their games, but their goal difference is probably not healthy enough to overcome Arsenal, should they also scramble to 75. Emery's team play at Leicester before the Man Utd v Chelsea game on Sunday. An unlikely win there would at least make the Old Trafford fixture more interesting viewing. United's other fixtures are away to Huddersfield and home to Cardiff. Chelsea host Watford and then travel to Leicester.
So Arsenal's situation isn't terminal, but let's face it, there is little reason to see a turnaround based on recent away performances. It does though feel that whoever manages to secure fourth place will limp in. My long held belief that 76 points would secure 4th place will be confirmed, although Arsenal will have to hope the bar is lower than that.
The current issue of The Gooner can be bought at the remaining home and away matches this season. It can also be posted to you (£6 UK addresses, £7.50 overseas) if you wish to buy it through our online store or if you have a PayPal account you can simply send us payment direct click here for our paypal.me link (although please remember to put the name and address for sending your issue in the message, and if you forget, then email us at thegoonerfanzine@btinternet.com to let us know those details)
2019-20 season subscriptions still available!
Having reached our target of 1000 paid up subscribers to continue printing in 2019-20, we are welcoming further subscriptions. For £30 (UK addresses) or £42 (overseas addresses) you receive six x 68 page issues through your letterbox over the course of next season.
There are four ways to pay –
NEW! Subscribe to the Gooner news list to stay up-to-date with all the latest breaking Arsenal news.
Please note that we will not share your email address with any 3rd parties.
---