Online Exclusive
Arsenal Circular 184 – Arsenal have struggled because of absent men
Bellerin, Holding, Welbeck and now Ramsey… not forgetting David Dein!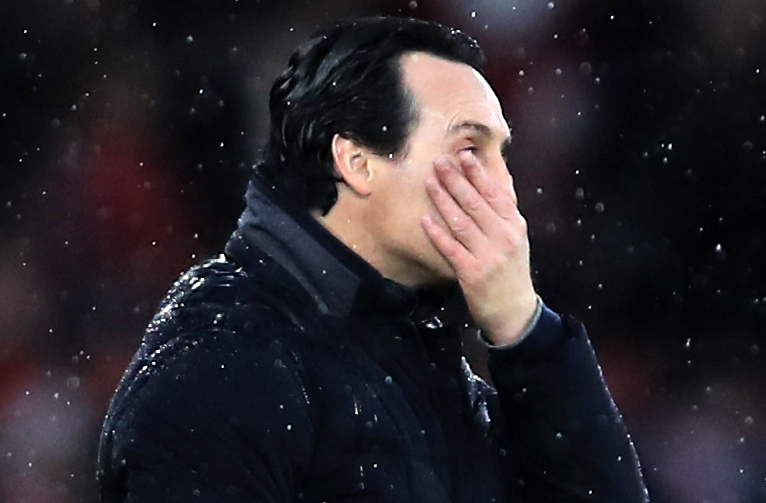 Dear Fellow Gunners
We are at a low ebb. Three successive defeats have made 4th place almost impossible. Yes, strange things can happen and we could sneak in but it is quite unlikely.
So we are feeling down for two reasons – first, fourth spot was in our hands a week ago but not now, and, second, we are struggling with considerable loss of confidence.
This is the time when some fans let rip and allow their frustration turn to anger. They ratchet up the moans and even the hate and just turn anti in a big way. This is not entirely a surprise – football is about passion and commitment and success and an under-performing team loses all three. Confidence drains away; mistakes are made; goals are conceded; and chances are missed.
As someone once said "confidence comes slowly and goes quickly".
Emery is facing a real challenge. This is when the manager earns his pay. He is the one person the players look to for help and guidance. He has their ear and has to get into their heads and impart enthusiasm for the players' ability to rise again and play the flowing game, become tight at the back and assertive in midfield and win one to ones all over the pitch.
He has some obstacles to overcome – unfortunately he has lost three of our best performing players. Holding was in top form and playing the best football of his career. Bellerin had come through an uncertain patch and showing all his old skills and more recently Ramsey was our biggest influence on the pitch and determined to leave on a high when, suddenly, his hamstring stretched too far.
When things are going wrong fans focus their discontent on individual players and express themselves often with nastiness. They also forget the players we are missing. And I do add the loyal hard working and ever running Welbeck who also has a long term injury.
Am I making excuses? Am I off loading blame on the long term absence of key players and overlooking weaknesses that have been exposed in recent weeks. These are not excuses. Any team that loses four experienced and well performing players to long term injury has to suffer. One or two – you can cope with. Three or four and this becomes impossible.
It is also the case that some players have become exposed as the spotlight falls on them. This happens today and in the past. When we have been stretched in the past we have covered in the short term – I think of Morrow, Selley and McGoldrick under George Graham or of Chenhall, Marden and Shaw under Tom Whittaker. But the long term is more challenging.
At the heart of our defence we have Sokratis and Koscielny – whole hearted and committed. But Kos is pushing his body to the limit and must be close to the end of his great service to AFC. And the wholehearted Sok is not so much old but slow and accumulates yellows like a bad driver accumulates traffic points. Repeat injuries to Monreal (another tower of strength) and we are vulnerable. Some players – like Mustafi, Xhaka, Mikh – suffer from repeat weaknesses, and too much responsibility is heaped on Guendouzi and Torreira. So there is a loss of confidence – not commitment. They try and they work but in their heart of hearts they know they are more vulnerable than invincible.
But we can still rescue the season. We are in the semi-final of the Europa League. We may not be favourites on current form but football is football – as much unpredictable as predictable. Valencia are not smug or complacent. They do not assume victory. Things happen, decisions are made, effort can be rewarded – we can win. So at our current low ebb opportunity still beckons. Come Thursday we need to put anger and frustration aside and give every support to our players. We are also due some breaks. We need goals and we need to be vocal. A good performance would set us up well for the return leg and maybe the return of Ramsey if we go through – he has a good record in finals.
Now another point – we miss David Dein. Leave aside the arguments about share sales because AFC lost something significant when DD was shown the door. Fiszman may have won but AFC lost. The Board is dull and the owner is dull. And AFC should never be dull. Yes, success is about good management and great players but there needs to be someone working in the club around the clock to look after the interests of AFC – Dein did that. He was unique. He had access to every boardroom – here and abroad. He loved AFC and you need to love AFC. It is in our blood – it is part of our lifestyle, part of our life experience. But David had love and skill and he was at the heart of AFC.
And all this while THFC play in the semi-finals of the Champions League.
So dig deep, focus on this season and not the close season or next season – just the next match. Show your passion and your commitment. We can do it. Odds may be 50/50 but we are in with a good chance so give it all.
If you are interested I continue to tweet daily @arsenalcircular – topics include Arsenal, politics and social issues.
After the Leicester defeat I was particularly active.
One tweet yesterday struck a chord and received 120+ positive responses. This is what the tweet said;-
"A good friend emailed me today saying he is on the verge of quitting AFC. Depressed and demoralised. I understand his frustrations but never in a million years could I turn my back on AFC. Never"
My number of followers is not big – 4233 – but the numbers are always going up and the site is full of debate and discussion. A hobby. Join me.
The current issue of The Gooner can be bought at the remaining home and away matches this season. It can also be posted to you (£6 UK addresses, £7.50 overseas) if you wish to buy it through our online store or if you have a PayPal account you can simply send us payment direct click here for our paypal.me link (although please remember to put the name and address for sending your issue in the message, and if you forget, then email us at thegoonerfanzine@btinternet.com to let us know those details)
2019-20 season subscriptions still available!
Having reached our target of 1000 paid up subscribers to continue printing in 2019-20, we are welcoming further subscriptions. For £30 (UK addresses) or £42 (overseas addresses) you receive six x 68 page issues through your letterbox over the course of next season.
There are four ways to pay –
NEW! Subscribe to the Gooner news list to stay up-to-date with all the latest breaking Arsenal news.
Please note that we will not share your email address with any 3rd parties.
---