Online Exclusive
Arsenal's Corpse Of A Premier League Campaign Not Quite Dead Yet
Preview of this afternoon's Premier League match at home to Brighton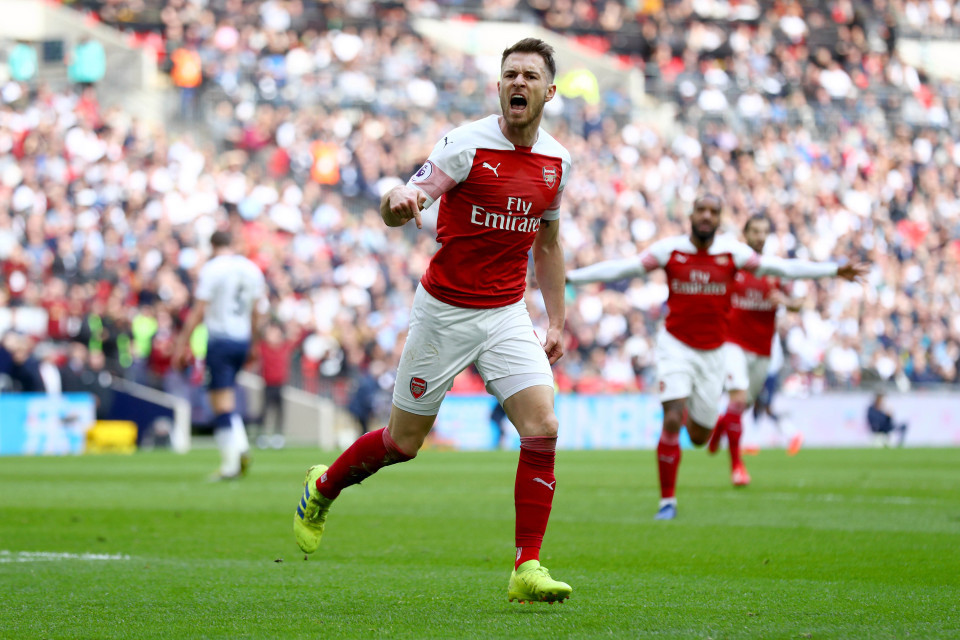 The usual five talking points ahead of today's game v Brighton
Brighton on the beach?
It's difficult to predict the effect that yesterday's result at Cardiff will have on Chris Hughton's side. There'll be no tension for the visiting side, and perhaps a lack of intensity. Or maybe they'll play their football with the shackles off knowing they are safe from the drop. That scenario would certainly play into Arsenal's hands, as the last thing they need right now is a side that will park the bus in desperate need of a point. In fairness, Unai Emery's side have beaten all the relegation zone sides that have visited the Emirates so far this season, although admittedly, they made hard work of beating Huddersfield. Anyway, there's no question Arsenal have more at stake than the visitors now.
Surely Tottenham can't Spurs up the top four?
Spurs' defeat at Bournemouth leaves open the slim possibility that the Gunners may not even have to rely on Chelsea dropping points to make the top four, if that is, Everton manage to avoid defeat to a Tottenham team minus Kane and Song next weekend, one that potentially may have exited Europe in midweek. This of course would require Arsenal to win today and next Sunday at Burnley. Granted, that's an unlikely combination of three results, but it's within the realm of scientific possibility. And of course, there is always the chance that Chelsea may not win both of their games which, in all likelihood given the current goal difference, would mean a top four place for Arsenal. It seems incredible that Emery's side have lost their last three league matches and yet are still in the shout for a Champions League place. Who said football was predictable?
The Risks Of Rotation
So Arsenal should feel fairly confident of beating Brighton. Then again, the same could have been said about Palace, who are also in the bottom half of the table. That day, Unai Emery played a mix and match eleven, including Carl Jenkinson, Mavropanos and Mohammed Elneny. Add to that a bad day at the office for Shkodran Mustafi, and you have a recipe for three lost points. The return leg of the Europa League semi-final is not until Thursday. Emery needs to secure the win here and if possible do it in the opening hour. Then he can choose three players to give a rest to ahead of the trip to Spain.
Kos on the edge
Given the amount of football captain Laurent Koscielny has played since his return from injury, this is one player that we can reasonably expect to be rested for this game. Kos was withdrawn near the end of the first leg against Valencia due to fatigue and chances are that if Arsenal do win tomorrow, he will be needed both at the Mestalla and Turf Moor. So expect to see either a back three of Monreal, Sokratis and Mustafi, or two of those in a back four. It would be a major surprise if Koscielny started and perhaps too big a gamble. Brighton aren't 17th in the division for no reason. Emery's team should be able to cope with their attacking threat minus their skipper.
And so farewell
Aaron Ramsey has played the last game of his Arsenal career (assuming no return after his contract ends at Juventus) and his hamstring tear will not be recovered in time for the Europa League final should Arsenal make it to Baku. Petr Cech though, will presumably play his last game there if things go to plan in Valencia. Both players will get a guard of honour today, before the match. And one imagines that both will probably lead the lap of appreciation at the conclusion of the game. Ramsey was injured in the away game v Napoli, and Arsenal lost their next three matches. Coincidence? Given the Welshman's form, you'd have to say not. Well get used to it folks, because he sure ain't going to be around next season.
Conclusion
Arsenal have to win, there's little doubt about that. At least that will give some reason for interest on the final day of the Premier League season. And if Chelsea can somehow construe to fail to beat Watford in the earlier kick off, then hopes will once again be raised. I recall stating for several weeks that 76 points would be good enough to secure fourth place. Incredible to think that 72 might now be good enough to make third. Let's just hope the Seagulls don't sh*t on the parade from a great height...
The current issue of The Gooner can be bought at today's game and the remaining away matches this season. It can also be posted to you (£6 UK addresses, £7.50 overseas) if you wish to buy it through our online store or if you have a PayPal account you can simply send us payment direct click here for our paypal.me link (although please remember to put the name and address for sending your issue in the message, and if you forget, then email us at thegoonerfanzine@btinternet.com to let us know those details)
2019-20 season subscriptions still available!
Having reached our target of 1000 paid up subscribers to continue printing in 2019-20, we are welcoming further subscriptions. For £30 (UK addresses) or £42 (overseas addresses) you receive six x 68 page issues through your letterbox over the course of next season.
There are four ways to pay –
NEW! Subscribe to the Gooner news list to stay up-to-date with all the latest breaking Arsenal news.
Please note that we will not share your email address with any 3rd parties.
---