Online Exclusive
Josh Kroenke Is Definitely Excited
Reflections on the interview between the son of Silent Stan and the BBC's David Ornstein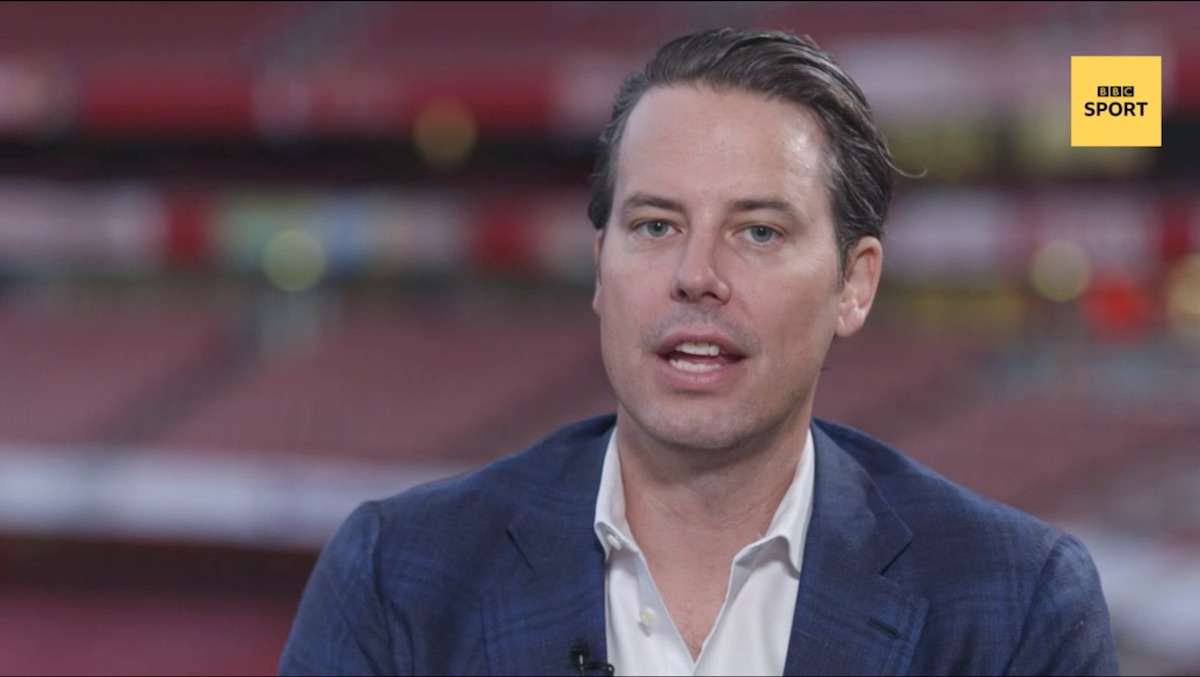 It's all in the timing. Granted Josh Kroenke was in London for the match against Burnley, but I doubt he would have done the interview he did with David Ornstein (significantly at very short notice) either after the visit to Liverpool the following weekend, or if Arsenal had failed to beat Burnley. Currently we are on a high. Six points out of six, second in the table on goal difference and with the memory of signing some players fresh in the air.
Josh has decided that he is going to engage with the Arsenal fans in a way that his father never did. Stan spoke, poorly it must be said, at a couple of shareholder AGMs but aside from that, Arsenal fans have only 'heard' from him via the written word, more often than not in interviews arranged with the Telegraph's Jeremy Wilson.
Josh however, is prepared to appear on camera. The cynic in me suspects there was copy approval required for his Saturday evening chat with the 'Ornacle' before it was transmitted, but I doubt Josh needed anything edited out. He is a far more eloquent speaker than his old man and knows the right things to say.
And Josh, yes, we want to be as excited as you, but that's going to take a bit of time. Yes we are enjoying Ceballos and Pepe. We've not seen enough of Martinelli to pass judgement. Tierney of course is injured, but the strategy of buying a left back went down well. David Luiz is David Luiz, but hey, we bought a centre back! Mind you we did also do that in January 2018 and summer 2018 as well. The main problem does not seem to be a lack of centre backs but the quality of those we have (combined with the tactics that can leave them exposed). Although Luiz is a proven winner, so was Petr Cech.
The other thing that wasn't mentioned is that although Josh was keen to state how much had changed since Arsene was booted out back in May 2018, the club was allowed to decline and reach the stage where a revolution was required under the watch of himself (a board member since 2013) and his father (add six more years to that). So yes, the changes are welcomed, but it was you guys who f***ed it up in the first place by being complacent and content with a top four place instead of a title challenging team. Hence the piles of unspent cash in the bank for a number of years. Anyone recall the summer of 2015? The one before Leicester went on to win the title. How many players did the club buy to improve their chances again? Josh: "I've been a part of meetings that were with Arsene Wenger and I've been a part of meetings now that include our head of football, our managing director, our head coach, our new technical director. It's a different approach." And that Josh (or anyone) didn't pull rank in those meetings says so much about why Arsenal have ended up where they are now, overtaken by Spurs and Liverpool.
Josh mentioned he wanted those in charge of the transfers to "be aggressive" but there is no way round the fact that the net (actual) spend this summer was less than the mooted £44 million analysts estimated the club had at their disposal. Kroenke would have been better just praising his staff for performing miracles with what they had. At least he was savvy enough to admit it will take a few years for the fans to trust him.
Still, all things considered it was a good summer under the new regime. And it is surely better to hear from the owner's son than hear nothing at all, not least because, presumably, Josh will inherit his father's interest in the club. And we all hope he is right, and there is good reason to get excited, and that when push comes to shove the Kroenkes may actually put some money into the club. Okay, that last one's a long shot. Exactly what does this mean to you… "We had instruments in place behind the scenes heading into the window where we knew we were going to be aggressive and we weren't going to be reactive to anything, we were going to be proactive." Instruments? What the hell does that mean?
Anyway, the less we have to talk about the Kroenkes, the more successful the season will be. Here's hoping.
________________________________________________________________
New issue of The Gooner available from our website shop
Issue 278 of The Gooner can be bought online.
If you want to buy a copy to be sent to you, click here for UK, and if you are abroad click here. On these pages you will find the various methods to pay or you can order through the Gooner store with a credit/debit card via PayPal.
If you wish to subscribe to all six issue of the 2019/20 season, UK and abroad options are on this page.
Support your fanzine!