Editorial
Emery's Xhaka-less Arsenal No Better Than Before
Online Editorial: Home draw v Wolves as Gunners fail to defend another lead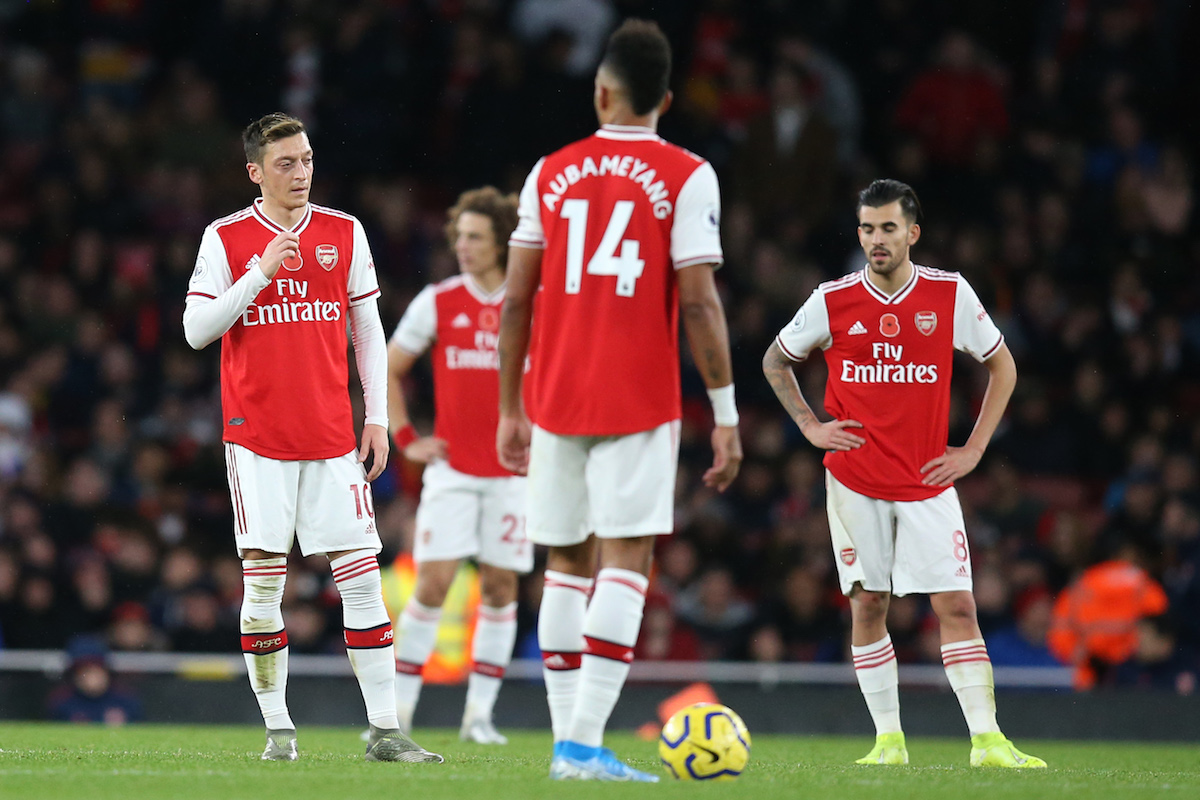 So let's start with the matchday programme and the captain's column. It was – as usual this season – from Granit Xhaka, but rather than greater reflection on the week that has gone, it was simply a reproduction of his Instagram post explaining the reasons behind last weekend's antagonistic substitution. It looked like a bit of a cop out to me, but maybe it means that the decision over how to relay Xhaka's demotion from the role – which is the only possible outcome given he told the supporters to "f*** off" – has not yet been made.
Pierre Emerick Aubameyang – the player Xhaka tossed the armband to last Sunday, captained the team, and after an iffy opening spell, his team found their groove and a David Luiz cross was played on by Lacazette to Aubameyang, who placed it low into the corner of the goal.
Arsenal's formation was different without Xhaka, as only Matteo Guendouzi sat deep to pick up the ball off the defenders and Bernd Leno. In front of him were a line of three with Ceballos, Ozil and Torreira supporting a front two. It was nice to see a variation, but truth to tell, ultimately it made little difference to the potency of the attack.
Not only that, but over the course of 90 minutes, Wolves, in spite of enjoying less possession, created more than double Arsenal's shot tally – 25 in total. Way too many, and although Leno pulled off a couple of excellent saves, he was beaten once by a header, as Callum Chambers and Sokratis were outjumped by Raul Jiminez after Dani Ceballos lost his man at a throw-in.
It was another unconvincing performance, typical of many we have seen under Emery. Ozil didn't stand out, but in fairness to the number 10, nobody really did, with the exception of Leno. Torreira was replaced by Buyako Saka shortly before the Wolves goal. It was a strange switch, given the team were trying to hold onto their lead, although perhaps Emery felt a second goal was required. Who knows? Martinelli came on for Lacazette, a more orthodox substitution.
It was a draw that felt more like a defeat. The hard fact though is that, in his last 16 Premier League games, Emery has delivered five victories and six draws. So 21 points out of a potential 48. That form, over the course of a season will give you around 50 points. This season, 11 matches in, the team have 17 points from a potential 33. This in spite of the new players that arrived in the summer. There are too many draws (five so far), and a draw is two thirds of a defeat. Three of those have come in the home matches against Spurs, Palace and now Wolves. The only reason the Gunners remain in fifth place is the inconsistency of the teams below them, but a defeat at Leicester next Saturday evening could see them start to drop out of the top six.
There can't be too many people that have faith in Emery to turn around the club's fortunes on the evidence of last season and this, and indecisiveness over what to do in the light of the Xhaka incident (which echoes the prolonged decision to officially announce him as the club captain) may give the powers that be enough rope to hang him. Would Arsenal be any worse under a different coach? It's difficult to believe. Could they be better? It would be interesting to have a man in the dugout who fields a more disciplined team, one that keeps its shape better and doesn't allow so many chances to the opposition.
Granted, there would be compensation to pay, but the cost of not making the Champions League for a fourth season running is far greater than the cost of letting Emery go, and at least it gives the chance of the necessary turnaround taking place the earliest possible start. This squad of players needs drilling. On one level it's entertaining to see David Luiz creating a goal from the right wing, but should he really be up there? Is the best use of Torreira in a line alongside Ozil and Ceballos?
However, one suspects the club will bumble along for a while yet, with Emery picking up just enough points to delay his dismissal. There is a good chance Xhaka will return to action on Wednesday afternoon in the Europa League group match in Guimaraes, away from a potentially fractious atmosphere at the Emirates. It will be interesting to see how the away supporters respond to him. It's a relationship that will have to be rebuilt if he is to remain at the club, but on a footballing level, there are too many who don't think he cuts it, which hardly aids the possibility of that happening.
However, the bigger picture is the head coach. It's come down to a matter of when, rather than if, the plug will be pulled on Emery. If he continues to give Xhaka the captain's armband, it will make the decision easier, because the supporters will simply not accept it. Emery was given the Arsenal role because he did an excellent interview, and his record at Sevilla indicated he could win trophies. His approach was more thorough and promised to shake up the culture of complacency at the club. And yes, there have been changes, but on the pitch, it just feels like the mess he inherited, and it feels like it will get worse the longer it continues. Time for someone upstairs to make a decision that should have been made after Baku. Because I can't see where the turnaround is going to come from under Unai Emery.
_______________________________________________________________
You can follow The Gooner on
Twitter
Facebook
Instagram
or subscribe to our
YouTube channel (where you can find the GoonerFanzineTV weekly podcast)
The October edition of the monthly (original) Gooner podcast can be listened to and downloaded here
_______________________________________________________________
Buy the current issue of The Gooner
Issue 279 of The Gooner can be bought from our online store on this page
Subscribe to The Gooner
If you wish to subscribe to receive every issue of The Gooner by post, UK and abroad options are on this page.