Online Exclusive
Can Arsenal outwit a highly organized Sheffield United?
Preview of this afternoon's game at the Emirates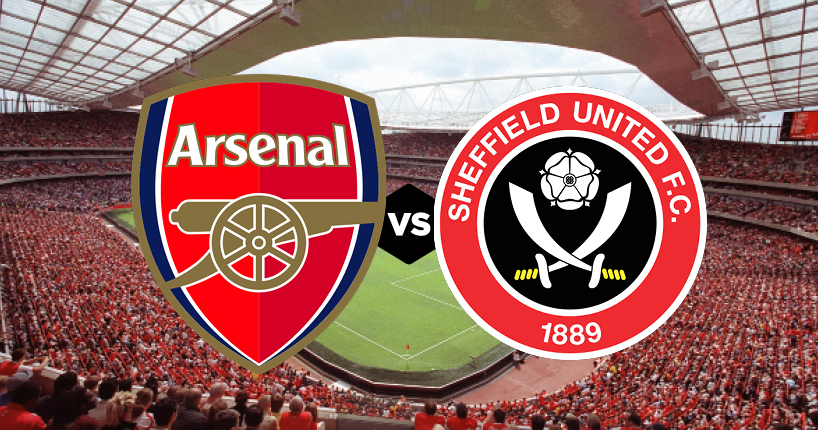 The usual five talking points ahead of today's Premier League fixture at home to Sheffield United.
Kolasinac and Torreira doubtful
Both players face fitness tests before the game, but with Chelsea away on Tuesday, Mikel Arteta will surely look to manage without these two players today. A Xhaka – Guendouzi midfield is a near certainty, with Bukayo Saka on the left side of defence with a licence to add to the attacking contingent. Arteta seems to prefer the team to play in a 2 -3 -5 formation when they are going forward, with the right back tucking in alongside the midfielders to shield the two centre backs. Given Sheffield United will be selective about when they advance in numbers, the risks of Saka going forward are less than they might be against more tactically aggressive opponents.
The Blades are a difficult prospect away from Bramall Lane
Chris Wilder's team have played 11 away games so far in the league this season, and their record is impressive for a newly-promoted team. They don't take too many risks, and would be well-suited to playing on usrealmoney-casinos.com, such is there approach to matches away from home. The evidence is their record of three wins, six draws (including Chelsea and Spurs) and only two defeats. Those losses were against Manchester City and Liverpool though. Yet, there's a glimmer of light here. The two defeats also happen to be their last two away outings. So maybe the magic has worn off and the confidence has taken a bit of a dip? They lost both matches 2-0. Guys, we have to clutch at some straws here, ok?
Just don't be expecting too many goals
Only two of those eleven away trips have seen more than two goals scored in total. 2-0? 1-0? 1-1? 0-0? Or even worse 0-1 or 0-2. Fans of a certain age will think they're watching Arsenal circa 1991 play Arsenal 2020. It's likely to be a tight match and if one team wins it, it will be by a single goal. There's no doubt that world bookies will be offering odds on for under 2.5 goals in this game, as the Blades rarely do goalfests. It's grim oop north so I'm told.
Injustice to be corrected?
The return fixture last October will be remembered for the non-award of a penalty for a blatant shirt pull on Sokratis. So much for VAR, eh? United won the game 1-0 with a tap-in after Arsenal failed to defend a corner. It was the first match in a run of seven Premier League fixtures that Unai Emery's, and then Freddie Ljungberg's sides failed to win. Ahead of the visit to Stamford Bridge, Arteta's team could really use a win this afternoon. Given the Blades' impressive campaign up to this point, it would actually feel like quite a scalp to take three points. And if Chris Wilder complains about dodgy decisions after the game, it would make things really nice and tidy.
So who will score the goal(s)?
Pierre Emerick Aubameyang begins his three match suspension today, although positionally that won't change too much. Alex Lacazette has been playing centrally, and it would make for a simple swap if Gabriel Martinelli came in for Auba. As for the right side of attack, Arteta has had a week to work with Nicholas Pepe and given how much the player cost the club, they'll want to see more return than they've had so far from the winger. Whether or not Pepe's game improves – both with and without the ball – will be a signpost of Arteta's abilities as a developer of players. He has a reputation from Man City, and neither Sterling or Sane came cheap. Pepe is a similar type – young with rough edges that need ironing out. Out of the three though, if you were to put your money on someone to find the net, it would be Martinelli. Laca's goal drought has to end sometime though.
Conclusion
On paper, rather like last weekend's game at Selhurst Park, this game has 1-1 written all over it. Especially with Arsenal minus their normal source of goals. Still, it's an opportunity to step up for other players. And if the defence can keep a clean sheet, it would help things immensely. In four league matches so far, four goals have been conceded. There are signs of improvement after shipping 27 in the opening 18 matches of the current campaign. In truth it's the most urgent area of the team's performances that needs addressing. Transfer window anyone?
_______________________________________________________________
The campaign to save The Gooner for the 2020/21 season has now been launched. If you wish to see the fanzine continue printing after the end of the current season, details of how to subscribe can be found here. We need to secure 1,000 subscribers by the end of March 29th to continue.

The current issue of The Gooner (281), including a free 2020 'History of the Arsenal Crest' calendar is on sale now. You can order your copy here (for UK orders) or if you are abroad, order here.
_______________________________________________________________
You can follow The Gooner on
Twitter
Facebook
Instagram
or subscribe to our
YouTube channel (where you can find the GoonerFanzineTV weekly podcast)
The January edition of the monthly (original) Gooner podcast can be listened to and downloaded here