Rewind
REWIND - On this day in 1912 Arsenal played Spurs to raise money for the Titanic Relief Fund
A special London derby was played on this day in 1912 - a charity match to raise cash for the Titanic Relief Fund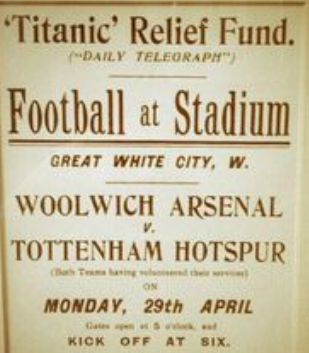 On this day in 1912, Woolwich Arsenal played Spurs at the White City Stadium in Shepherd's Bush, in a game to raise funds for the Titanic Relief Fund.
The match was organised with remarkable speed, only 15 days after the sinking of the White Star Line liner, RMS Titanic, struck an iceberg in the waters of the Newfoundland Banks shortly before midnight on April 14, 1912, with the loss of more than 1,500 lives.
Arsenal ran out 3-0 winners in front of an attendance estimated at around 5,000 as Thomson, Greenaway and Hanks scored in a comfortable victory.
Arsenal XI: Crawford, Shaw, Peart, McKinnon, Thomson, McEachrane, Greenaway, Common, Hanks, Flanagan, Lewis.
The team were led by George Morrell- with George Leavey as chairman at the Manor Ground - were to end their Division One season in tenth place, before they were relegated a year later at the end of the 1912-13 campaign.
Spurs were to finish 1911-12 a point and two paces behind the Gunners.
Football plays its part
The terrible disaster inspired a surge of philanthropy across the country which led to the founding of the disaster fund – prompted by fundraisers by the lord mayors of London and Southampton, where many of the crew came from, as well as The Daily Telegraph newspaper.
Away from the north London derby charity match, football helped play its part when the FA Charity Shield match between League champions Blackburn Rovers and Southern League winners Queens Park Rangers was played on May 4, 1912 with all gate receipts handed to help those suffering from the disaster.
A charity single was also recorded, based on the Titanic captain Edward J Smith's reported last order to his crew before the ship sunk: "Be British."
Royals donate while a charity record was released
In one collection alone, the Lord Mayor of the City of London's Mansion House fund donated £414,000 to distribute to victims' dependants while the Shipping Federation gave £10,500. King George V gave more than £500 – the exact amount was 500 guineas, with a single guinea amounting to one pound and one shilling - while Queen Mary donated 250gns, and Queen Alexandra £200.
In total the British public raised £450,000 – more than £2m in today's money.
Titanic relief distribution
Monies raised throughout the UK, including the north London derby at White City between Arsenal and Spurs, made a welcome difference to dependants of those who perished on the Titanic.
A feature of Titanic relief distribution was the appointment of a 'lady visitor' who would call upon fund beneficiaries and report back to local trustees about the domestic situation in each home.
Some families were given weekly allowances, while other applied for help with school and apprenticeship fees, but there were also claims for the more mundane.
False teeth, milk and a pair of spectacles
As well as standard weekly payments, the fund's minute book listed impromptu grants including: "One quart of milk per day and six eggs to the value of per week to be continued to Mrs Johnson (widow) for a further three months".
Eight shillings and sixpence (8/6) was allocated to Miss Penrose for a 'pair of spectacles', while 'Ethel Duffy, widow of engineer's clerk William, could buy a set of false teeth'.
There was even £5 given to Mrs Bristow, widow of saloon steward Harry, 'to take her children to the seaside.'
However, the fund's administrators close interest in the fund's beneficiaries did not always work to their advantage.
The trustees stopped the payments to the parents of fireman/stoker Edward Biggs, who died on the ship, because his mother Rose had been 'before the magistrates for drunkenness' - while a 'Mrs P' had her allowance cancelled the because the committee were unhappy with her 'mode of life'.
NEW! Subscribe to the Gooner news list to stay up-to-date with all the latest breaking Arsenal news.
Please note that we will not share your email address with any 3rd parties.
---