Online Exclusive
Wear Your Colours!
A suggestion for improving the atmosphere at home matches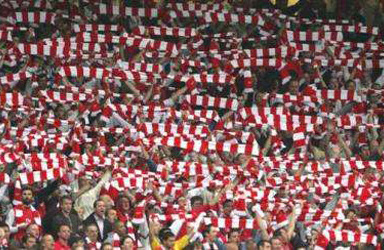 We are all frustrated by the sterility of the Emirates on match days and it's easy to blame the club, especially regarding the design of the stadium. Quadrants instead of good, old-fashioned stands, for example. The obvious problem is the lack of noise we create and our rival fans have been mocking us over that since the North Bank became all seater and The Highbury Library was born.
But there's something being largely overlooked and it's largely our fault. I implore you: Wear the colours. I want to see red (and white) at the Emirates. Flags, scarves, banners, hats, shoes… whatever. Imagine how different it would be if everyone participated. Think of Villarreal's famous Yellow Submarine, the Boca Juniors' jamboree and even The Kop.
Why can't we have a Red and White Submarine? Okay, it wouldn't be called that but you get the idea (whatever happened to "Red Army"?). We can all independently do our bit because there's no need for collective, organised action here to make an impact. The problem, as I see it, is that even the likes of AFTV superstars like DT and Troopz don't wear the colours. And even the otherwise passionate Robbie sports the dodgy away/third/cup/'mug'/whatever shirts. Get yer kit off, Robbie!
Maybe the problem is something to do with being based in such a cosmopolitan city, where everybody is focused on asserting their individuality. But there is also a not unconnected issue I have with the whole business of selling replica shirts made for 7p each by three year olds in the Far East and sold for up to £500 a pop throughout the world (libel lawyer alert: Obviously an exaggeration for illustrative, comic effect).
I vaguely remember an informal agreement by top flight clubs during the Nineties to only change their home shirts every other season because kids always want the new versions and parents were complaining about the spiralling cost. What happened to that pledge? Now we get three new kits every season, the away/third/cup/'mug'/whatever ones presumably designed by drug-addled toddlers.
I have to confess I don't know much about our pre-colour TV away strips but what's wrong with yellow and blue? The revolution to fleece us had its roots in the slightly divisive blue and green away kit launched in 1982. I actually got my mum to buy me one. But it did occur to me, even then, as a ten year old, that the strip was still evocative of Arsenal because the sleeves and shorts were a different colour to the body of the shirt. However, I did wonder why not yellow instead of green?
Indeed, my favourite away shirt ever is the 1989 yellow and blue version (reprised a few time since), fondly remembered for so many reasons. I currently have my original from when I was 16 hanging up in my living room, where it's been since I watched the film 89 before Christmas.
The rip-off revolution began in earnest with the 1992 "you look like you've been run over by a lorry" yellow and blue shirt (which, admittedly, was quite popular, although I hated it). And the 2005-06 "redcurrant" shirt to mark the last season at Highbury was just a cynical marketing ploy, in my opinion. We originally wore that colour home shirt before we became a great club. We haven't won the league again since we wore them. A curse?
That was a blip and it's mostly the away strips which bother me. In recent years, it's not been like watching Arsenal in change strips as we've sported all manner of colours with bizarre to ridiculous designs. That, for me, has become synonymous with our failure on the pitch. It's just like watching a bunch of overpaid clothes horses (also rans). Part of why they get paid such obscene amounts of money is because the club/kit manufacturers are ripping us off.
Yes, success is the most important thing but colours are a big part of a football club's identity. Think Cardiff City: The Bluebirds changing from blue to red in 2012 is a mind-blowingly absurd example. What I'm suggesting at the Emirates is quite achievable. Just wear as much red and white as possible, it doesn't even have to be Arsenal-branded garb. I haven't been a regular at games for years but the change in management has made me want to go. And when I do, I will wear the colours, as I always did. But if I don't get a buzz out of seeing games live then I won't bother going again in the future.
This is a perfect time to launch a winnable campaign to get back to yellow and blue away kits because the Puma contract is up at the end of the season and we can appeal to the next kit manufacturers. Or am I the only one who feels strongly about this?
Ed's note – I have been getting emails from commenters about other commenters with reasonable complaints about personal abuse / casual and blatant racism / threats of physical violence / revelation of personal identity and more. We changed things a while back so that you had to be registered to post comments – this a way of trying to bring things under control so that we could ban individuals who were out of order, or simply trolling. The comments are not moderated (unlike the forum), simply because the forum moderators do their own thing and do not have access to the admin system for this part of the site. We rely on commenters to discuss football matters without having a pop at each other. Call it banter if you like, but if I am having to spend time dealing with emails complaining about it, I've half a mind to just get rid of the comments completely - Arsenal News Review manages fine without them. Anyway, for a trial period, I will try the following instead…
Zero tolerance policy on
Personal abuse
Casual and blatant racism
Threats of physical violence
Anything that could be construed as revelation of personal identity
If any of these are seen in comments from this point on (i.e. on this article and going forward, including comments made after 10.15am today, 7th September on past articles), then please email me at gooner.ed@gmail.com with the comment number and the relevant comments. I will look into it and if I concur, the commenter will be banned, without warning. So all of you, try this rather left-field, avant garde suggestion and discuss things (and disagree by all means) without resorting to personal abuse. Think of it as debate rather than a slanging match. My suspicion is that most of you will be history by the time Arsenal next play, but feel free to prove me wrong.