Online Exclusive
Gooner Daily – Unusual Arsenal Item For Sale On eBay
Arsenal First Day Covers collection on offer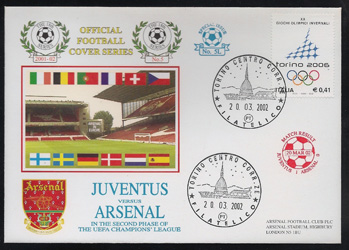 Something a bit different today. A few months ago, I was approached by an Arsenal supporter with a sizeable collection of Arsenal memorabilia. Most of the items were match tickets and books. He wanted to downsize, ahead of a move from his house to a smaller property. He also explained that there was no point in him hanging on to his collection as his son, who lives abroad, has no feeling for football or Arsenal and would almost certainly simply deposit his collection in a skip, come the time of his eventual death.
So he wanted to sell the collection to achieve two things. 1. To make back some of the money he had invested in it (there are a lot of books which have been bought but never even read), and 2. So that the collection would at least end up in the hands of someone who gave a damn. I suggested to him the best way to do this would be to use eBay and sell off certain of the items individually. This is happening now, but… the collector is not technically minded, so I am doing that side of things for him, and from the money we raise, he will pay me for my time. So there's your declaration of interest.
Recently, I have begun to post auctions for his match tickets on eBay. The current tickets on sale can be found on this page (I generally aim to post five per evening with the sales ending between 7.45 and 9pm) and I also tweet about the tickets on offer on The Gooner's Twitter account @GoonerFanzine.
A few of the books are a rare, but the vast majority are not. These will probably be sold fairly cheap from one of the traders' stalls on the streets outside the stadium on home matchdays with prior warning given through Twitter.
Anyway, the main reason for this article is to bring awareness to one particular item. A massive collection of first day covers. What are these you might ask? Well, they are postcard and envelopes franked with a date corresponding to the content (in this case, generally Arsenal matches). A more detailed explanation can be found here.. The collection I am selling has 430 FDCs in total, housed in three binders, all the FDCs are in display pages and in excellent condition. 37 of the FDCs are signed. A full list of the FDCs can be seen here or in the images of the eBay listing – which is here.
The First Day Covers collection cost more than £3,000 to buy over more than 45 years and at least album leaves and folders cost at least £700. Many of the individual items are very rare.
So have a look, have a think, and if you are interested, get bidding. The opening price is the reserve price for the lot, so if there is a bid, this is definitely going to sell. Remember the collection and its protective sleeves cost approximately £4,000 originally, so the eBay price is a reflection of the fact this cannot be given away.
As a little talking point at the end of this to think about and potentially discuss in the comments. Think about your own Arsenal collection, look ahead a few years and imagine – once you pass on, what will happen to it. For some it may be a terrifying thought, which is why one collector is looking to sell his items to a good home for a lot less than he paid.