Online Exclusive
Liverpool To Provide A Marker For Gunners' Progress Under Emery
Preview of the early evening Arsenal game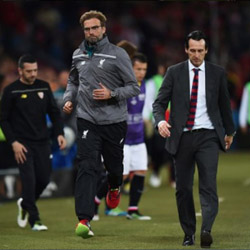 The usual five talking points ahead of this evening's League Cup tie against Blackpool…
Have Arsenal actually improved since August?
There's no doubt that remaining undefeated for eight Premier League matches in a row is an excellent achievement given the upheaval at the club, but the fact that three other teams have totted up ten in a row puts Unai Emery's achievements into perspective. One of those teams is Liverpool, Arsenal having been defeated by the other two at the start of the campaign. So in that sense, it is a good marker of whether anything has really changed, or that Arsenal have simply become very efficient flat-track bullies. Were the Gunners – who are long odds to win today with bookies such as the Novibet betting site - to take all three points, not only would it be Liverpool's first defeat, it would give a massive boost to the self-belief of the team, with two derby matches against Spurs and a visit to Old Trafford to navigate in the weeks that follow.
Jurgen Klopp may have had the measure of Arsène, but…
Liverpool have not lost against Arsenal in their last six encounters. There is a potential difference this time though, in that Emery has tried to instil the high-press in his players, a tactic that is a variation on Klopp's 'Gegenpressing' whereby his players aggressively attempt to win the ball back as quickly as possible. Of course, with the physical intensity and speed of the English game, such tactics are difficult to maintain for 90 minutes, although there is certainly a perception that the stamina of the Arsenal players has improved under Emery, with far superior second half performances. One thing seems likely. Neither team is likely to sit off and let the other have possession. We expect a fast-paced match, with plenty of space after the interval as the intensity begins to tell.
A Hot Ticket
I'm often asked for spares for Arsenal's home matches. Last season, the only game it proved impossible to get tickets for was Arsène's farewell game against Burnley. It seems like there is close to a similar fervour for this game. Presumably it's because fans are enthused by the changes they have seen in the team, and want to witness whether or not they can beat a side who have become one of Europe's best over the course of the last 12 months. It's a real acid test, no question. There is a consensus that the Manchester City and Chelsea matches came too early for the team, and those defeats were accepted. However, time has moved on. They are at home, they are undefeated since 18th August, and Emery has been at the club long enough to prepare a team for this kind of game. No doubt they will have to perform better than they generally have of late, but it's an excellent opportunity for them to demonstrate they can. Gooners had become accustomed to seeing their team struggle against those genuinely competing for the title. Now, they want to be a title-challenging team, once again. Winning today would be a start.
Goals, goals, goals
On the five occasions Klopp's Liverpool has played Arsenal, there have been a minimum of four goals. Arsenal may not have won any of those games, but they have found the net ten times to Liverpool's 17. Defensive solidity has not become a watchword at the beginning of the Emery era, but Liverpool do seem to have tightened up in this campaign, only conceding four so far (Arsenal have let in 13). Arsenal, on their day, have shown they can find the net, but preventing goals has not been so easy. Of course, the law of Murphy (and indeed averages) tells us that the majority will bet on over 2.5 goals, only to see a low scoring game, but with the Gunners' defence, it would seem foolhardy to back on them to get even close to a clean sheet. The hope is that Salah, Mane and Firminho are not in such good form that things get ugly. It's certainly a valid concern.
So who plays?
Guendouzi is banned, although if Unai Emery can find someone other than Granit Xhaka to play left back, that should not be an issue. However, who exactly will be fit to defend? There are fitness tests for Bellerin, Sokratis, Monreal and Kolasinac. If none of them make it, Arsenal could be forced to play the just-returned-from-injury Ainsley Maitland-Niles at left back and 34-year-old Stephan Lichsteiner at right back, along with the hapless Shkodran Mustafi at centre back alongside Rob Holding. It's not likely to be a good enough quartet. Up front, it's a chance for Mesut Ozil to dispel the notion that he doesn't perform in big games, assuming of course, he is selected in the first place. Given he's likely to be at the club for the next two and a half seasons, to start dropping him for these type of matches would be tantamount to Unai Emery admitting Mesut is a problem he cannot solve. Yet, if he thinks it will benefit the team, he just might.
Conclusion
Not only have Arsenal yet to convince anyone that their defensive woes are behind them, in all likelihood they will have a severely below full-strength backline today. It's a recipe for disaster, and Liverpool are unlikely to be as profligate as many of the visitors to the Emirates so far this season. So I'll be honest and admit that I will travel to the stadium this afternoon more in hope than expectation. My prediction is a 3-1 away win, with the sincere hope I have that wrong.
Website Update
At some point over the weekend, we will be switching over to a new mobile-phone friendly version of the website. Things could get ugly and short term, we may have to disable the comments. Just bear with us – at present, there is a glitch in the site which means that some commenters have been unable to post anyway, so this should resolve matters and produce a cleaner, less problematic site.