Editorial
Honours Even Against Liverpool In Huge Test For Arsenal
Online Ed: Two unbeaten runs continue as Klopp and Emery share the points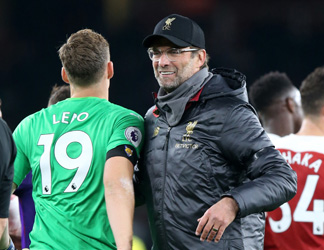 Note to those that use the comments… the website is being updated today, and will look different at the end of the process (and mobile phone friendly). If you cannot post a comment for a while, do not freak out. Just take the day off and try again tomorrow. This process should solve the glitch that means some have not been able to comment at all in recent weeks. No need to email us, just wait and try again on the new look site.

First up, in the tension of the match, it may have been lost on some that this was actually an excellent game of football between two sides who both went for the win. It is a measure of how things have changed that Liverpool were clear favourites to win an away match at Arsenal, but the Gunners' atrocious record against top sides in recent seasons provided good reason for that. In their two such fixtures this season, they lost both, although mitigation was provided by the clashes against Manchester City and Chelsea being Unai Emery's first two competitive outings as head coach.
Since then, an unbeaten run in all competitions, whilst Liverpool reached the ten match mark without suffering a loss in the Premier League. Something had to give… unless of course it was a draw, as ultimately it turned out.
There were good chances at both ends in the first half, Liverpool enjoying the best of them, hitting the woodwork twice and were apparently unfortunate to see a goal chalked off for offside when the linesman got it wrong. Having seen it on TV since, it's a question of active involvement and interpretation of the law. Frankly, given there were (I am led to believe) changes in the law in the summer of 2017 with regard to this, things can get very confusing. Did Sadio Mane have an advantage by being in an offside position in the build-up to the goal – yes. So for me he's offside. Whether or not the rules still state that, I have no idea. Both linesman appeared very flag happy watching in the stadium, although if they were in fact generally getting it right, then it demonstrated the efficiency of the offside traps on both sides.
There is a view that Ozil and Mkhitaryan cannot play in the same side, although the latter came in for Alex Iwobi. More surprising was that both Bellerin and Kolasinac passed fitness tests to give Arsenal a pair of full-backs without the need for someone to improvise in the position. This allowed Xhaka to partner Torreira in central midfield.
There were occasional errors, misplaced balls, but overall the team performed well and created chances. With their approach, Liverpool were likely to match them and so it proved, with the visitors enjoying a couple of very clear cut chances and their hosts a little fortunate to reach the interval with the scores goal-less.
The second half was saw the game stretched more, and it felt like Arsenal had more of the possession, although that never felt like it would be enough to prevent Liverpool scoring, with Salah especially looking permanently threatening. In the end it was actually James Milner who broke the deadlock when Bernd Leno palmed out a cross which the opposition captain converted.
Arsenal rallied and fought their way back to parity, helped by the introduction of Iwobi and Ramsey in place of Mkhitaryan and Aubameyang. It was a test of character and one they passed. Eventually, the equalizer came through Alex Lacazette, to riotous celebrations in the stadium. It was a goal that meant a lot. Arsenal remain four points behind Liverpool, but at least they were not defeated. If they had won, there would have been greater reason to get excited, but the game reminded us that – as works in progress go – Liverpool are a lot further down their journey than the Gunners. Hence they made a Champions League final last season and are credible title contenders. Arsenal need to get back to winning matches to gain any credence on that front, and especially against other big sides. A defensive meanness akin to Klopp's side is something to aspire to.
But there is certainly cause for optimism. Liverpool's chances were generally as a consequence of good play rather than defensive errors from Emery's team, although one does wonder if Bernd Leno could have kept palmed the ball into a less dangerous area than where Milner was lurking for the opening goal. He also missed the ball when coming our for Van Dijk's header which hit the post in the opening 45 minutes. There is work to do on the training field there.
Ultimately, the points were shared, which on the play, felt like the right result. And coming from behind rather than sacrificing a lead made the home fans feel a bit better upon departure. The Premier League now sees matches against Wolves and Bournemouth before Arsenal face Spurs and Manchester United. After a couple of draws, let's hope momentum is picked up again.
The current issue of The Gooner can be bought online here (price includes postage of £1 to UK addresses of £2.50 abroad) or if you wish to subscribe for this and the other four remaining issues this season, here's the page to do that.. It will also be on sale at the home game against Sporting Lisbon before issue 274 goes on sale v Wolves next weekend.
There are other ways of ordering the issue if you do not wish to order via credit / debit card through the website store…
Online Bank Transfer For the current issue, pay £6 UK / £7.50 abroad (or for a 2018-19 five issue subscription £25 UK / £35 abroad) via online bank transfer to –
Account name: The Gooner
Sort Code: 20-76-90
Account Number: 03004112
Swift / BIC: BUKBGB22
Iban: GB79 BUKB 2076 9003 0041 12
Please use the reference '273YourSurname' on the payment – eg '273Smith' and follow up the payment with an email to thegoonerfanzine@btinternet.com stating your name and address, and the reference that you used for payment (e.g. 273Smith or whatever).
Via direct PayPal payment to the email address thegoonerfanzine@bt internet.com. For the current issue, pay £6 UK / £7.50 abroad (or for a 2018-19 five issue subscription £25 UK / £35 abroad) via your PayPal account state in the message you are requesting issue 273 (although we'll assume this if there is no message from the amount paid). If doing this, please make your payment a 'friends and family' / personal gift payment – this helps keep our costs down. PLEASE remember to add the name and address for your issue(s) to be mailed to in the note with the payment.
Finally, you can pay by cheque made payable to 'The Gooner' to the address below. For the current issue, pay £6 UK / £7.50 abroad (or for a 2018-19 five issue subscription £25 UK / £35 abroad)
The Gooner
12 Buxton Court
Hanbury Drive
London
E11 1GB