Editorial
Big Result In Bournemouth
Online Ed: Arsenal win for first time in four Premier League matches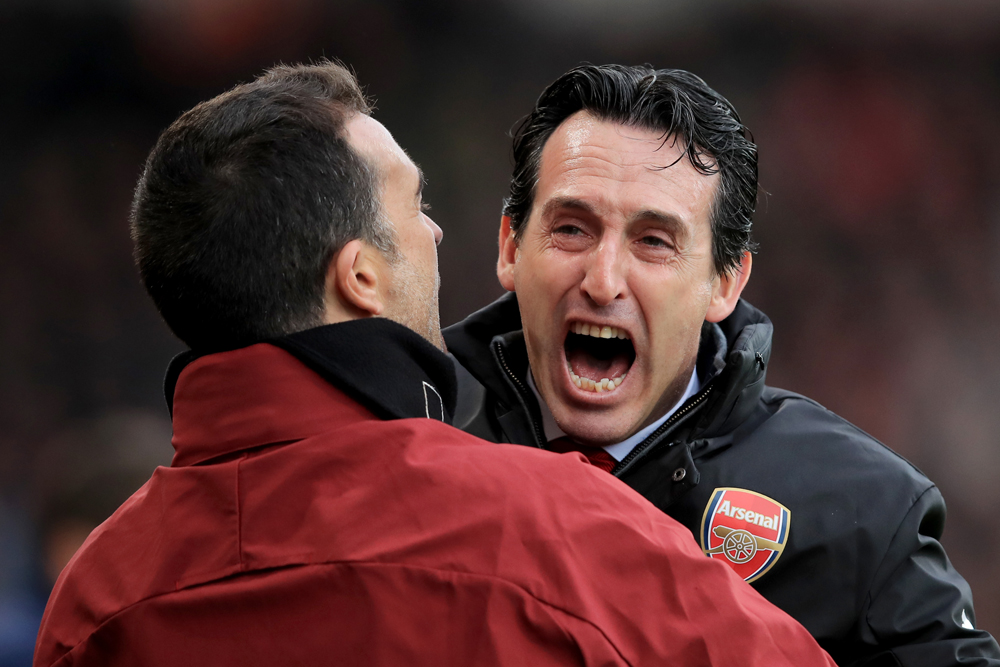 Unai Emery has fielded three at the back in Europe previously this season, but this was the first time he had put out such a formation in the league. A response to the three consecutive draws, including a very disappointing performance at home to Wolves. Significantly, Mesut Ozil was dropped, and Alex Lacazette was the other missing player from that home draw a fortnight ago, due to injury. Sokratis and Mkhitaryan came in.
The extra centre back gave more licence to the wide defenders to get forward, although arguably too much in Hector Bellerin's case, as the Bournemouth goal just before half time proved. The home side certainly started the brighter, and at times early on, it felt like one way traffic. Eddie Howe's team were certainly unfortunate to have a goal chalked off for offside before Arsenal had their first chance of any note, when Torreira hit the post. Alex Iwobi's skied attempt from the rebound typified a lack of clinicism (that appears to be a new word I've added to the English language according to my spellchecker, but I like it so it's staying) seen far too often from Arsenal's players when goal chances beckon. The other fault is not shooting first time (Mkhitaryan) or not at all (Ozil, although I can't fault him on that score yesterday as he didn't even get on the pitch). Aubameyang was also guilty of poor finishing, skying another good chance, although he got it right eventually. Think how more comfortable matches might be if they could convert a higher percentage of chances.
Arsenal's two best players were Bernd Leno and Sead Kolasinac. The latter provided far more danger from the left than Bellerin managed from his flank, getting numerous balls into the box. He had assists for both Arsenal's goals, although the first, an own goal, failed to pick out his intended target. It matters not – the goal was created by attacking pressure, so it was the consequence of good Arsenal play.
Granted, it was a lead that was probably not merited, but Arsenal have developed a habit of winning matches they may not have deserved to, and it's one that's hard not to love. They will of course, do plenty to try and shoot themselves in the foot, and within touching distance of going into the interval ahead for the first time in the League this season (from 12 games including 7 wins, they'd not achieved this yet), they reverted to type.
Alex Iwobi lost the ball in the Bournemouth area in injury time, and with too many of his team-mates too far forward, the counter attack resulted in an equalizer. The half-time analysis on Sky focused on the somewhat casual attempt of Hector Bellerin to rejoin the defence, which hopefully will not be repeated. Positionally, the Spaniard was under instructions to be where he was when his team were attacking, but failed to do the other part of his job once possession had switched. It highlights a lack of focus, awareness and commitment, a legacy of the Wenger era. There is inevitably going to be a hangover from how the team were not drilled or motivated properly by Emery's predecessor, and it's a shadow that will last a couple of seasons yet, and possibly even until the last player that served under the Wenger regime has been drummed out of the club. Emery can do things like benching Ozil, making every player fight for their place, but ultimately, only five fresh faces have arrived since Arsene's farewell, and two of those are not regular starters.
Still, Arsenal normally get better as the game goes on, right? It would be a nice luxury not to have to, but we've got used to it this season. And the result at the end of the second half is the one that matters. The second half was inevitably more open, which simply meant more chances for both sides. Halfway through the second period, not long after skying a very presentable chance, Aubameyang found the target, sliding in to convert a Kolasinac ball across the face of the goal. Relief.
Xhaka tried to play a long ball forward, which went straight to a Bournemouth player, with the subsequent move hitting the post. The team are still giving the ball away too cheaply in their own half, another old habit that looks unlikely to die, if only because Emery also likes his team to play from the back. Arsenal got away with it, and survived the inevitable pressure to take all three points, although their ability to control matches at crucial times needs work, with danger at the end of both halves that could have been avoided. There is a healthy element of cynicism in the team – Sokratis is a good example – but it needs to be used in the right way at the right moments to ensure results.
Defensively, it is, too often, hide behind the sofa fare. How this team will cope with Harry Kane and company next weekend is something that I really don't want to think about too much. Before that though, a visit to Ukraine. It will be fascinating to see what kind of squad make the journey east on Wednesday morning.
The current issue of The Gooner can be bought online here (price includes postage of £1 to UK addresses of £2.50 abroad) or if you wish to subscribe for this and the other three remaining issues this season, here's the page to do that. It will also be available at first team home matches (Spurs, Huddersfield, Qarabag) as you approach the stadium (in Gillespie Road near the Arsenal tube, and in Hornsey Road near the Little Wonder café by the two cannons roundabout). And if you are attending an away game, look out for Alex near the away entrance selling copies.
There are other ways of ordering the issue if you do not wish to order via credit / debit card through the website store…
Online Bank Transfer For the current issue, pay £6 UK / £7.50 abroad (or for a four issue subscription covering the remainder of 2018-19 £20 UK / £28 abroad) via online bank transfer to –
Account name: The Gooner
Sort Code: 20-76-90
Account Number: 03004112
Swift / BIC: BUKBGB22
Iban: GB79 BUKB 2076 9003 0041 12
Please use the reference '274YourSurname' on the payment – eg '274Smith' and follow up the payment with an email to thegoonerfanzine@btinternet.com stating your name and address, and the reference that you used for payment (e.g. 273Smith or whatever).
Via direct PayPal payment to the email address thegoonerfanzine@bt internet.com. For the current issue, pay £6 UK / £7.50 abroad (or for a four issue subscription covering the remainder of 2018-19 £20 UK / £28 abroad) via your PayPal account state in the message you are requesting issue 273 (although we'll assume this if there is no message from the amount paid). If doing this, please make your payment a 'friends and family' / personal gift payment – this helps keep our costs down. PLEASE remember to add the name and address for your issue(s) to be mailed to in the note with the payment.
Finally, you can pay by cheque made payable to 'The Gooner' to the address below. For the current issue, pay £6 UK / £7.50 abroad (or for a four issue subscription covering the remainder of 2018-19 £20 UK / £28 abroad)
The Gooner
12 Buxton Court
Hanbury Drive
London
E11 1GB
NEW! Subscribe to the Gooner news list to stay up-to-date with all the latest breaking Arsenal news.
Please note that we will not share your email address with any 3rd parties.
---