Online Exclusive
Arsenal send the stiffs and kids into the Warzone
Preview of this evening's game in Kiev against Vorskla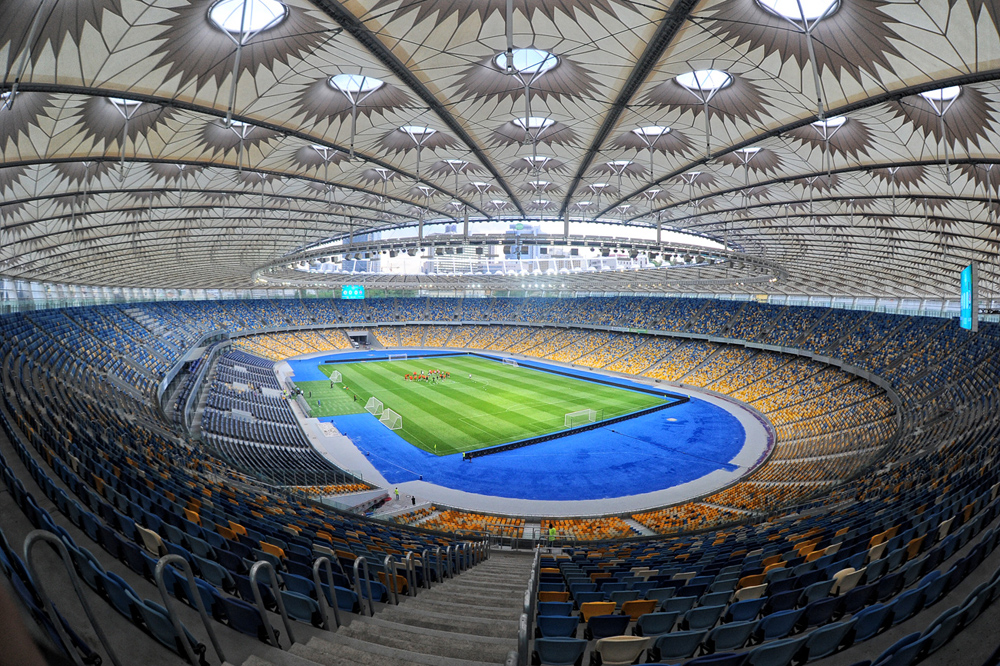 All eyes on Sunday's North London Derby
With Premier League outings against Spurs and Man United in the six days that followed this match in Ukraine, there was always a feeling that Unai Emery would select a line-up of second stringers, with plenty of youths in reserve, and so it proved. There are two really interesting choices in terms of those that travel and those that remain in England, from the travelling players list issued by the club yesterday. Rob Holding travels. Mesut Ozil doesn't. If no player that makes the trip is down to start against Spurs, this indicates that the team will revert to 4-2-3-1, with Ozil coming in and Mustafi and Sokratis in central defence.
Venue switch
Arsenal had zero chance of playing at the stadium in Kiev that hosted the Champions League final last season, although at least, with so few travelling fans, hotel prices will not be as drastically inflated as they were for Liverpool supporters last May. However, a few were already in Poltava, where the game should have been played when the announcement that the match was to be switched to Kiev was made. It's no inconvenience for the team itself, in fact, the trip has been made a little easier with the switch. However, the travel and accommodation plans of the supporters that are travelling will obviously have been thrown into chaos, and one doubts they will be able to, for example, get refunds on pre-booked accommodation in a place many will now have no reason to use. Have you ever been in a casino, and not had a clue what to punt your money on? It can feel like a bit of a lottery, and in fairness to Arsenal fans, when they booked their trips, they could not have foreseen that martial law would see UEFA change the venue. You cannot predict that even the best online casinos will see you end in profit, but at least you know the risks you are taking when you spend your money. That doesn't seem to be the case with booking a trip to watch Arsenal in eastern Europe after the events of the last 72 hours. One hopes the club will do the right thing and help them a little financially in some way. Given the numbers involved, such a gesture would not hurt the budget too much. Fair play to the club though for going the extra mile by trying to either phone fans who are travelling to ensure they are aware of the news, and reputedly trawling the bars and… wait for it, strip clubs, of Poltava on Tuesday evening. I'll say nothing more.
Atmosphere, I love a party with an…
It won't be a behind-closed doors game this evening, but the feeling may well be very similar. The Olimpiyskiy has a capacity of over 70,000. Arsenal will bring less than 300 hardy souls, and who knows how many Vorskla fans will make the trip to Kiev, a four hour train or car journey of around 350km. Remember this is pretty much a dead rubber, although there is a mathematical chance of Vorskla qualifying for the next round if they win tonight, beat Sporting in Lisbon and Sporting fail to win in Qarabag this evening. I don't doubt the novelty of entertaining a Premier League side would have seen a packed stadium (25,000 capacity) if the match had taken place at Vorskla's home ground. How many of them are dedicated enough to make the trip? We'll find out this evening, but my prediction is no more than 15,000 bodies rattling around in the Olimpiyskiy. And if Vorskla fans want another reason to stay at home and watch it on the box…
Brrrrrrrrrrr!
It's going to be a cold one. Were the game going ahead in it's original venue, it would have been minus 9 degrees, but feeling like minus 15 with the wind chill factor. Kiev though, is even colder, with minus 10 degrees forecast, although the wind is weaker, so it will only (!) feel like minus 12. Positively balmy, right? I wonder if Baso is still making these away trips in his shorts and half and half shirts?
Predicted line-up
From the travelling squad, I reckon the starting eleven will look something like this…
Cech
Lichtsteiner – Medley – Holding - Maitland-Niles
Guendouzi – Elneny
Mkhitaryan – Smith-Rowe - Ramsey
Nketiah
Whoever does play, I hope they make an extra effort to demonstrate their appreciation to the travelling support, given all they will have been through to attend the game.
Conclusion
It's a very difficult one to call. Arsenal have good enough players to secure the points, but whether they can gel as a unit looks unlikely. Vorskla will be far more motivated and probably accustomed to the temperatures. However, I get the feeling this will not be much of a thriller, so am going with a 0-0 draw. Sorry people.