Editorial
Business As Usual v Man City
Online Ed: Arsenal disappointing as they suffer expected defeat at the Etihad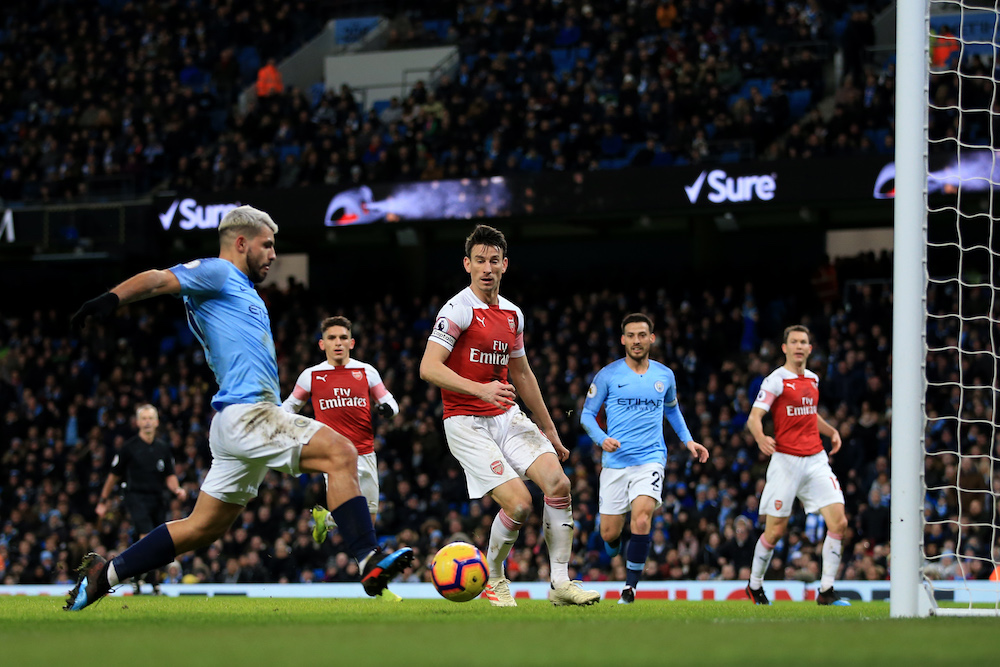 It took less than a minute for Pep Guardiola's side to take the lead against Arsenal, courtesy of a howler by Alex Iwobi, losing possession on the edge of his own box. It was too easy. Under Emery, the propensity for players to try and play too much football in their own third at times feels even worse than it did under Arsene Wenger. At least the Gunners gave some hope through a well worked set piece equaliser, Monreal flicking the ball on to Koscielny in the six yard box.
There followed Arsenal's best period of the game, when they actually had control of the ball for longer periods, and created some danger in City's half. It couldn't last. Shortly before the interval, Lichtsteiner was exposed, and Aguero had a tap in for his second goal. It was a bad time to concede.
Arsenal had started with a back five, Monreal joining the fit to play again Koscielny and Mustafi. Xhaka was not even on the bench which came as something of a surprise. Ozil was amongst the subs alongside Ramsey and new arrival Denis Suarez.
For the most part, Arsenal tried a different approach against Manchester City, giving them the ball and playing deep. It was a tactic that had worked back in January 2015 at the same venue when, partnering Coquelin and Cazorla in central midfield, Arsene Wenger's side won 2-0. It looked like the blueprint for future success, but ultimately, injury to Cazorla in the autumn of 2015 put paid to his contribution to the club. He never played for them again.
Sadly, there was nothing to build on from yesterday's game. Generally this season, Arsenal have performed better in the second half. Not yesterday. A stat as injury time approached, showed that after the interval, City had enjoyed 13 attempts on goal to Arsenal's none. They only scored one more goal, bundled in off the rib cage of Aguero to secure a hat-trick and the game finished 3-1 largely thanks to Bernd Leno. Arsenal brought on Ramsey and Suarez for Iwobi and Kolasinac but neither made much difference. Mavropanos got some first team minutes under his belt replacing the injured Mustafi.
It was an expected defeat for sure, but the nature of both this performance and the bulk of recent ones is a cause for concern. Chelsea at home was an exception, but you cannot see where a run of required victories is coming from. At home Emery's side can generally manage to do just enough to beat the lesser lights, but on the road they are struggling. The sequence of away results, forgetting Blackpool in the FA Cup reads, starting from Southampton: Loss – Draw – Loss – Loss – Loss. One point from 15. Three of those games were against Southampton, Brighton and West Ham. Arsenal need to be winning such matches. They certainly need to from here on.
13 matches left, 39 points to play for.
At home:
Southampton
Bournemouth
Man Utd
Newcastle
Palace
Brighton
and away:
Huddersfield
Spurs
Wolves
Everton
Watford
Leicester
Burnley
75 points achieved fourth place last season. No guarantees it would this time around, but to make that, Arsenal need to glean 28 points out of those 13 matches. They may have to beat United to overcome them and hope Chelsea continue to struggle under Sarri. I don't see Spurs dropping out of the top four given their ability to win matches late, even without Harry Kane.
So on paper, it's doable, but it's really hard to have confidence in a team that both lacks creativity going forward and is so evidently porous at the back. Emery may be given an extra season to put it right, but the 2019-20 is the last on his contract. He's on about £4 million a year (one imagines plus achievement bonuses), but can you really see the club letting him wind down that final season? The usual form is to either offer an extension or replace him in the summer.
My own belief is that, in spite of the injuries, he should have at least improved the defensive record. Since the wheels came off at Southampton, it's felt a lot like Arsene's last season. Emery's team has actually conceded two more goals after 25 matches compared to a year ago. The players have stopped believing in the manager because the results have not been coming. Certainly Emery inherited an unholy mess, no doubt about that. But does he have what it takes to turn things around? He has done good work in Spain, no question. And given PSG's financial advantage in France it is difficult to really assess his achievements there. He failed in Europe with a pretty decent and expensively assembled squad of players once he came up against one the big boys, which was exactly what we became accustomed to at Arsenal over the last decade.
He gave a very methodical breakdown of what was needed at the club in the interview process that secured him the job. However, he's not carried it through. The buzz of late May 2018 seems a very distant memory now. Sad to say, I think we may be looking at another Bruce Rioch-type tenure. It's my belief now that if Emery does not secure a top four place, he will be out of the door in May. The club were looking for improvement, progress. After 25 matches last season, they had 42 points and were lying 6th. A year on, they are five points better off but in the same position. The improvement needs to be more substantial if the head coach is to remain in post. I wish him luck.
The (now annual) campaign to save The Gooner so that we can continue publishing beyond the current season is underway. We need 1000 subscribers signed up for the 2019/20 campaign by March 23rd. £30 for six issues (UK), £42 if you are abroad. All the details can be found on this interactive downloadable form.