Online Exclusive
Arsenal's best European away performance?
For one writer, it was in Italy in 1980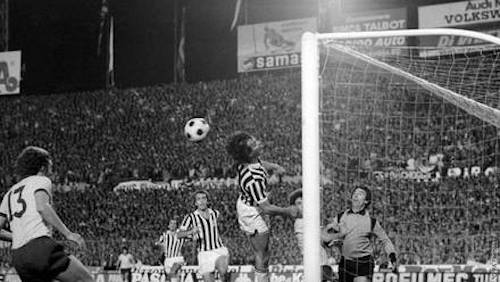 Growing up the benchmark for claiming a successful season was, short of winning a domestic cup or league, qualification for one of the three European trophies contested each season. A berth in the old UEFA Cup was sufficient to gild the season in a livery of achievement, and not be something that was at risk of becoming an irritation, condemning you to a season of Sunday afternoon kick offs. There was lustre and a sense of occasion to games in Europe, which given the present day ubiquity of Champions League and Europa League TV schedules has perhaps become tarnished and a little trite.
Before Arsenal's recent second leg victory against Bate there was circulating on social media a debate concerning what constituted Arsenal's best ever away performance in Europe. Perhaps given the frequency of games these days a performance has to be something special to stand out, and games from yesteryear are always likely to come bookended in misty eyed nostalgia, a quality augmented by the very rarity of the big European occasion in comparison with today.
Everyone will surely have their own favourite, a judgement based upon a great performance, a great result, or a game which signifies perhaps an unexpected achievement; a variety of contexts for choosing one game.
Of the modern era the two stellar performances which stand out are the 5-1 victory at Internationale, and the 1-0 first leg win at the Bernabéu when Thierry Henry scored a majestic goal worthy of victory in that great football arena.
Two other standout shows for me came in the early to mid-1990s, results that defined the sheer bloody mindedness of the club at the time: the 1-1 draw in Paris in the 1st leg of the Cup Winners' Cup semi-final in 1994 laid the foundation for a great night back at Highbury when a 1-0 victory took us to Copenhagen for the Final; a year later, and with the club under the cloud of Graham's sacking and in the midst of a poor run, the Gunners went away to Auxerre in the quarter-finals following a disappointing 1-1 draw at Highbury in the first leg, and a goal for Ian Wright capped a night of stoical defending and resolution which signalled the last great hurrah upon the back of what was still Graham's team.
All of them great nights: great attacking play, resolute defending, or a night's memory hung upon the hook of one breath taking moment of brilliance for Arsenal. One night though, for me, had it all: unremitting belief, resolution and determination, the achievement of the largely unexpected, and a fairy tale moment of last minute joy that silenced an entire city.
On the 23rd April, 1980 Arsenal travelled in hope rather than expectation to the industrial heartlands of northern Italy for their semi-final second leg against Juventus at the Stadio Comunale; a 1-1 draw at Highbury in the first leg meant that as things stood Juve were going through, and that Arsenal had to do what no English club had ever previously done: beat the 'old lady' on her own soil. Following the first leg a battle of words had ensued between the two clubs concerning the robust physicality of Juventus's approach, and exchange which ended with the Italians stating with some menace that they could not guarantee the safety of travelling Arsenal supporters who ventured to Turin.
With 10 minutes remaining, and the game at 0-0, the Italians who had been tense throughout began to celebrate for it appeared that Latin nous would cancel out Arsenal application and brave fortitude. Just then, with the instruction from Coach Don Howe of, "go and get us a goal Paul" ringing in his ears, substitute Paul Vaessen came on: and in the dying moments, Graham Rix, who 12 months earlier had played a similar arcing ball for Alan Sunderland to win us the FA Cup, played a teasing cross, caught forever in a million photos and blurry YouTube videos, for Vaessen at the far post to nod serenely past Dino Zoff and to silence the drums and whistles. I was 13 at the time and glued to my transistor in my bedroom the night that Arsenal team writ themselves into the annals of Arsenal folklore.
About a week later we beat Liverpool too in an FA Cup semi-final at the fourth attempt: two games which perhaps represent the high water mark of Terry Neill's reign. Of course we went on to lose the two cup finals in the space of five days in that mad spring of 1980; and neither did we know what tragedy would befall Paul Vaessen in the years ahead: forced to retire through injury and dead by his 39th birthday, yet that night in Italy his star blazed in the Turin sky with a magnitude rarely equalled.
So for me, Juventus away in 1980 has to be the one, perhaps will always be the one: a victory against the odds, with an outstanding team performance of good old fashioned backs to the wall Arsenal spirit: a brave performance that ultimately bore the mark of one young man's dance with destiny.
The (now annual) campaign to save The Gooner so that we can continue publishing beyond the current season is underway. We need 1000 subscribers signed up for the 2019/20 campaign by March 23rd. £30 for six issues (UK), £42 if you are abroad. All the details can be found on this interactive downloadable form.
The new issue of The Gooner will be on sale yesterday. It will be on sale for the forthcoming home matches against Bournemouth, Manchester United and Rennes. It can also be bought online and posted to you. UK addresses buy here, and overseas addresses buy here.
NEW! Subscribe to the Gooner news list to stay up-to-date with all the latest breaking Arsenal news.
Please note that we will not share your email address with any 3rd parties.
---