Editorial
Mixed Feelings After Excellent Performance At Wembley
Online Ed: Arsenal take point from visit to Spurs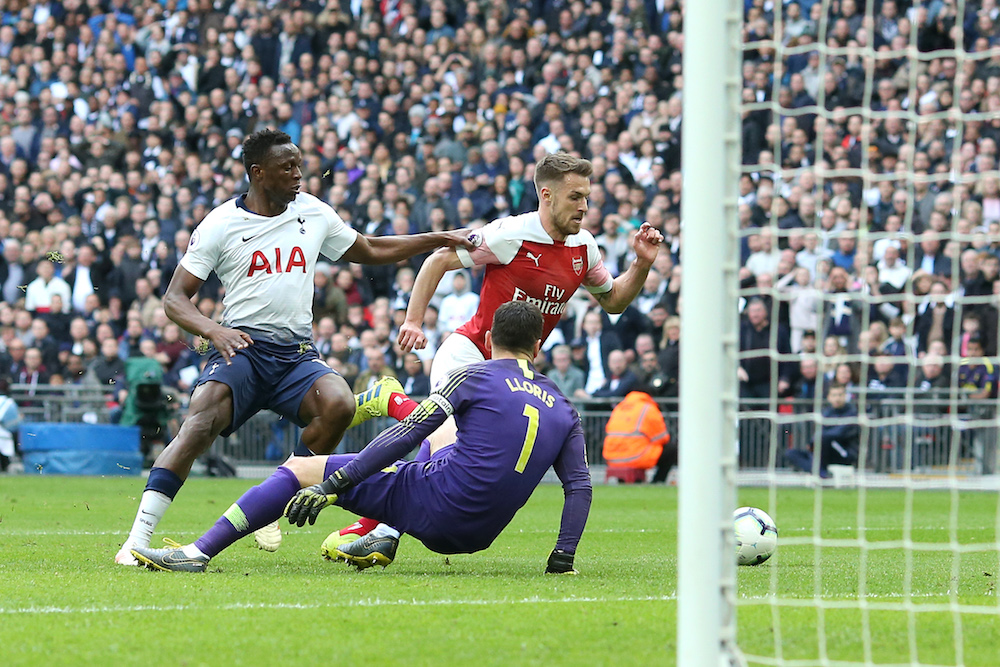 It's a pick the bones out of that one kind of 90 minutes. Arsenal played far better than they have managed away to a top side than on way too many other occasions in recent seasons, and ultimately, had the opportunity to take all three points. We wait to see how much the missed penalty, taken by Aubameyang at the beginning of five minutes of second half injury time will cost the Gunners. However, on paper, this was Arsenal's most difficult fixture of the ten that remained in the Premier League, and I suspect most fans would have happily settled for a draw were they offered it before the game.
It could have been very different though. Things started very well for Unai Emery's side, in a not quite sold out Wembley stadium, when Alex Lacazette put Aaron Ramsey through on goal and the Welshman took the ball round Hugo Lloris to slot it home. Pandemonium in the visitors' section and thoughts of another Ramsey Wembley winner, although it was very early.
Spurs were generally denied by far better defending than we have seen from Arsenal for a while, as Emery's players were evidently under orders to focus more on stopping their hosts than the creative side of the game. It was perhaps significant that an orthodox back four was played. Monreal got the nod ahead of Kolasinac on the left and Mustafi was played at right back. Sokratis partnered Koscielny in the centre. Both Sokratis and Monreal had outstanding matches. Sure, it wasn't perfect - there were times when a solid challenge from the players in front was notably lacking - but it was a definite improvement. Spurs did get the ball in the net with a typical Kane header from a free kick, but the flag went up for offside. Near the end of the first half, Benrd Leno made a fantastic double save when a goal looked almost certain.
For the most part though, Arsenal nullified their opponents. I was expecting more goal threat, but there were not too many nervous moments. The award of a penalty for Spurs should have seen an offside flag raised instead, although that doesn't excuse the lunacy of Mustafi's shove on Kane to concede it. What was interesting was that in the aftermath of Kane converting the resultant spot kick, there was no period of huge Spurs pressure with Mauricio Pochettino's side going all out for a winner. Arsenal took the sting out of the game through solid defensive work and the occasional threatening situation at the other end. Emery's team had as many good chances as Spurs – not that there were too many at either end.
As the 90 minute mark neared, Aubameyang was brought down in the area and his team was – even though it was a very soft penalty - given the chance to secure the three points their performance probably warranted. The number 14 has never completely convinced me from the 12 yard mark, and his effort was pushed away by Lloris. The ball came straight back in from wide, but Aubameyang's efforts to right his wrong were foiled as his close range effort was blocked by Vertonghen on the line. TV replays suggested the latter should have been done for encroachment and the spot-kick retaken. Roll on VAR? If it had been used yesterday, neither penalty would have been awarded.
The only real subsequent drama saw Torreira sent off for a late tackle, which might explain why he didn't start the game and only came on after 45 minutes. A passionate player, exactly the sort that gets red-carded in these type of fixtures. His challenge was definitely to get the ball but regardless of that was reckless. With Guendouzi and Xhaka both fit, it simply means that the Uruguayan will be used in the two European matches that will be played on the next two Thursdays. Emery is in rotation mode anyway, so this just makes his selections easier. With the huge gap between Arsenal's matches against Man Utd and Newcastle though, it means the Uruguayan will not kick a ball again in the Premier League until April 15th. This assumes a three match ban for a straight red card. By then, if his team progress past Rennes, Torreira will have played in the first leg of the Europa League quarter final. At least one assumes he will see some match action in the international break.
I was surprised at how flat the home crowd was. I did not attend this fixture last season, but wanted to experience what Wembley was like for Arsenal as an away side to Spurs. It was far from the cauldron I expected based on visits to the Lane. They made plenty of noise when the penalty went in, and a bit more when Aubameyang failed to convert his, but that was about it. We wait to see what kind of atmosphere their new stadium produces.
In the bigger scheme of things though, Arsenal remain four points behind Spurs but due to Manchester United's late win over Southampton, are now in fifth place. An ongoing theme in my pieces is the progress toward the 76 points mark that I believe will be enough to secure fourth spot. Arsenal now has nine matches left to attain a further 19 points that will give them the 76. In honesty, the result against Spurs was actually a bonus. If there are two matches one could see Arsenal losing (and they can afford to lose two and draw two of their last ten games), it was yesterday and next weekend's visit of Man Utd. I do still think Emery's side could make the top four even if they did lose next Sunday's match, but it would certainly make their lives easier if they won it. There is no doubt that it will be viewed by most as something of a decider between the two clubs, although that does a dis-service to Chelsea who are still very much in with a shout.
Let us hope we are not ruing that penalty miss at the season's end…
The (now annual) campaign to save The Gooner so that we can continue publishing beyond the current season is underway. We need 1000 subscribers signed up for the 2019/20 campaign by March 23rd. £30 for six issues (UK), £42 if you are abroad. All the details can be found on this interactive downloadable form.
The current issue of The Gooner will be on sale at the forthcoming home matches against Manchester United and Rennes. It can also be bought online and posted to you. UK addresses buy here, and overseas addresses buy here.
NEW! Subscribe to the Gooner news list to stay up-to-date with all the latest breaking Arsenal news.
Please note that we will not share your email address with any 3rd parties.
---