Editorial
Gunners (Eur)opeless
Online Ed: Ten man Arsenal lose in Britanny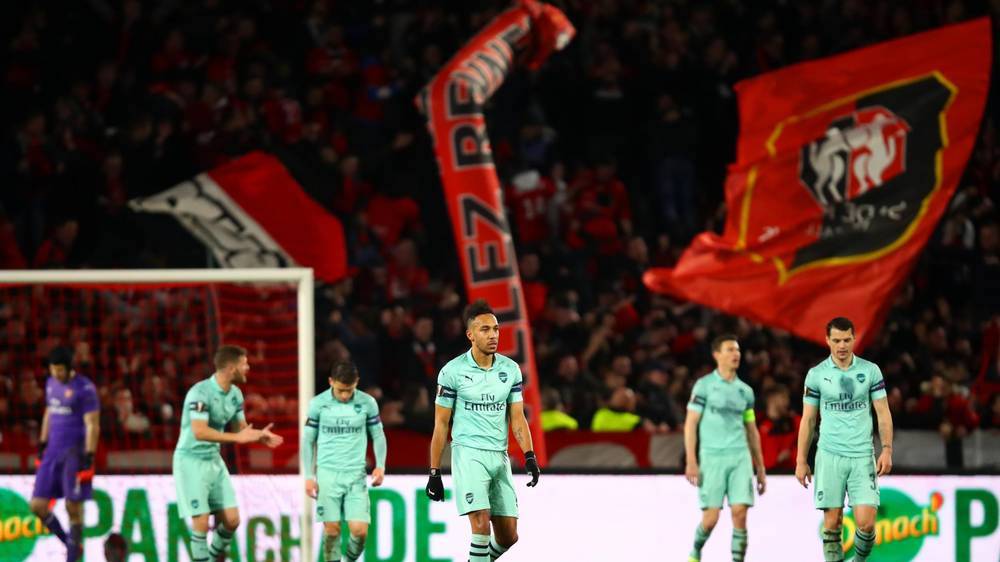 It all started so well in a packed stadium away to Rennes. Alex Iwobi was probably trying to put a dangerous ball into the six yard box for someone to get on the end of, but it managed to go in off the post without an Arsenal player near it. As Unai Emery's side fashioned more danger, it felt like a matter of time before another away goal.
Emery had selected a pretty strong line-up. The back four, significantly, remained unchanged after an impressive display at Wembley. The formation remained the same, although Arsenal did not spend so much time sitting back to soak up opposition pressure. The changes from Saturday were predictably Petr Cech in goal, and the spine of Torreira, Ozil and Aubameyang coming in for Guendouzi, Ramsey and the suspended Lacazette. This was certainly a strong enough eleven to come away with a result.
There's a movie called 'Gone In 60 Seconds' starring Nicolas Cage and Angelina Jolie. A car chase film. For Arsenal in Brittany last night, think car crash. In 60 seconds they had Sokratis dismissed for a second yellow as he was done for pace, and suffered an equaliser from the resulting free kick. We will know by this time next week whether that brief spell put paid to Arsenal's chances in this competition, but playing 50 minutes a man down against a team with pace in wide areas proved a difficult watch.
Emery put Mkhitaryan at right back and waited until 7 minutes into the second half to make a change – removing Iwobi and replacing him with Guendouzi. It was an interesting decision. The usual form in such situations is to remove the attacking player who is going to battle the least – think Robert Pires in the Champions League Final 2006. Emery, presumably thinking from 1-1 Arsenal could still create enough chances to get a better result, left Ozil on the pitch. The other consideration was that Ainsley Maitland-Niles was on the bench, in theory a better option on the right side of the defence than the number 7.
As it turned out, Rennes were pretty loose defensively and Arsenal did create some danger, but were found sloppy at key moments. Ozil had a shot at goal, but it was on his wrong foot and went tamely to the keeper. There were a couple of moments when the ball was waiting for a shot at goal from just outside the six yard box, but the player in possession failed to get the ball under control.
Yet the possibility of another away goal was far outweighed by the opportunities Rennes were carving out at the other end, not least when both Monreal and Mkhitaryan were being exposed for pace on their respective flanks. Ultimately, Monreal suffered the ignominy of an own goal as a cross deflected off him. 2-1 though, was not the worst of results under the circumstances.
Emery then switched Ramsey for Ozil and subsequently decided to take off his one forward by replacing Aubameyang with Kolasinac. So we had a team with Mkhitaryan at right-back, and no-one playing up front. Go figure. One thing you cannot throw at Emery is an unwillingness to try something different. I suspect the thinking was that Kolasinac and Ramsey, with fresh legs, might combine on the counter. What the formation was by this point in front of the backline though is one I can't be certain of. Gunedouzi, Torreira and Xhaka were definitely in midfield. Ramsey a false nine? Answers on a postcard.
It looked like Arsenal might be able to see it out, but losing possession near the corner flag at the end Rennes were defending, within a few seconds, the ball was in Petr Cech's net as the French side broke with pace. If there was one thing that last night confirmed, it was that the defenders Unai Emery was using largely looked past their prime and off the pace. What a contrast with the more disciplined display at Wembley, although the tactics last night were more ambitious. Arsenal played higher up the pitch and took more chances. It was not the kind of first leg European performance that makes you think this is a team likely to win the competition, belying Emery's reputation.
So Arsenal need to win by two clear goals back at home next week, and if Rennes manage to score twice, they will need to score five. Phew. Suddenly, the match on Sunday is looking a lot more significant than it already did. We may be looking at the stage where it actually benefits Arsenal to not have the distraction of the four European matches that would be required to reach the final in Baku, should they actually progress after the second leg next week.
Fundamentally, Arsenal were exposed by tactics that pointed out their defensive limitations all too clearly. So you have to point the finger at the head coach on this one. Much as he got it right in the North London derby, he got it wrong in Rennes. This was no European masterclass. The confidence established by the performances against Bournemouth and Tottenham will have taken a huge dent. A response will be needed on Sunday. God alone knows who will play and what we'll get.
The (now annual) campaign to save The Gooner so that we can continue publishing beyond the current season is underway. We need 1000 subscribers signed up for the 2019/20 campaign by March 23rd. £30 for six issues (UK), £42 if you are abroad. All the details can be found on this interactive downloadable form.
The current issue of The Gooner will be on sale at the forthcoming home matches against Manchester United and Rennes. It can also be bought online and posted to you. UK addresses buy here, and overseas addresses buy here.