Online Exclusive
Gooners face a 'Mike Ashley conundrum'
To attend and support, or to not attend to force change?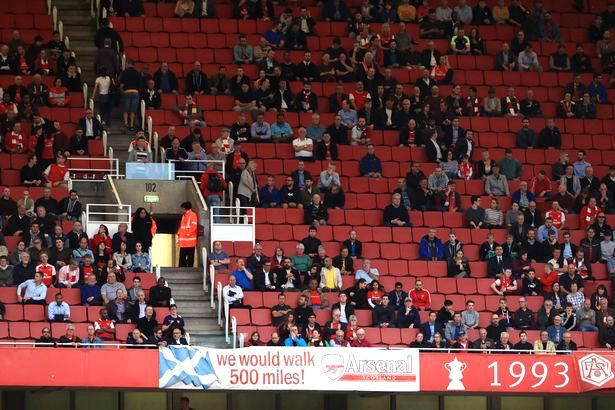 Those with a wider view of football matters will be familiar with Newcastle's plight. They have a very good manager and finished the season 13th in the Prem. The fans seem not to have much time for the owner Mike Ashley principally because he doesn't back Benitez with substantial amounts of money in the transfer window. The club currently are doing very little other than tread water.
Despite this state of affairs the fans loyally turn up to St James's in their droves. But the obvious question, and it's a difficult one to digest, is why would the owner pour money into the club? The best they could hope for is a move from 13th to say 7th. Yes the fans would be a lot happier but it just doesn't make any financial sense. Ashley, despite his wealth, is a relative pauper in financial football terms. He doesn't have the money to compete with the top 6. The maths just don't work out.
Higher up the table the same question applies to Arsenal. Why would Stan put substantial sums into the transfer kitty in an attempt to win the Prem? Yes he might collect another £50m from participating in the CL but at today's prices that's one decent player and his wages. No my view is that Stan has seen that City, Chelsea, Man U, and Liverpool (and maybe the Spuds) are all able to outbid him. And even if he did put some money in realistically Arsenal are still chasing 3rd/4th. Much better to act as if we are big club (decent PR) while paying and playing like a mid table side. The fans will still turn up either way. From his point of view it's a win win situation.
Our problem as fans is that we are in a deluded state. We live for the glory, the joy and the memories not for the money. What is going on at the club isn't a vision for success or glory, it's working out how to manage a slow decline while peddling us fans a vision of a glorious future.
My view is that the only way to shift this is to force Stan to sell the club to someone with more soul and vision and the way to do this is to boycott attending matches. It did for Wenger because the brand is damaged as pictures of a half empty ground get transmitted round the world. No other strategy will work. If we keep turning up nothing will change.
The current issue of The Gooner will be on sale from the ever reliable Alex in Baku at the Europa League Final. It can also be posted to you (£6 UK addresses, £7.50 overseas) if you wish to buy it through our online store or if you have a PayPal account you can simply send us payment direct click here for our paypal.me link (although please remember to put the name and address for sending your issue in the message, and if you forget, then email us at thegoonerfanzine@btinternet.com to let us know those details)
2019-20 season subscriptions still available!
Having reached our target of 1000 paid up subscribers to continue printing in 2019-20, we are welcoming further subscriptions. For £30 (UK addresses) or £42 (overseas addresses) you receive six x 68 page issues through your letterbox over the course of next season.
There are four ways to pay –