Editorial
Arsenal's Attack Bails Out Their Defence
Online Editorial: Shares spoiled in eventful North London Derby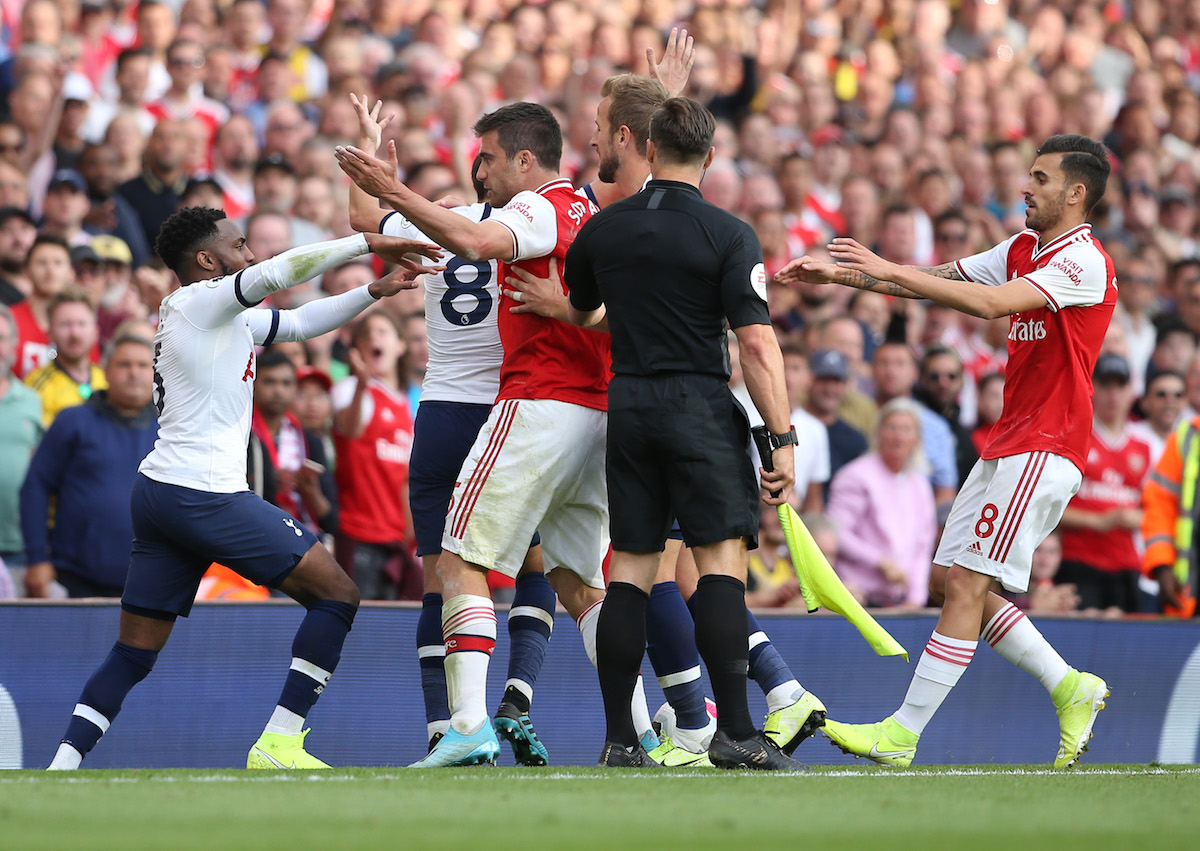 Very early on in yesterday's derby match, an announcement came over the PA system – "Will the stadium manager please report to box 20 to 24". That's almost certainly code for "there's a punch up in hospitality – all hands on deck". Booze on tap, away team supporting guests. Do the maths. Frank McLintock used to be in the corporate box ring on occasion, and I recall being told that at one previous North London Derby he got involved in the exchange of punches in the expensive seats himself. Ah, to have a bit more of that spirit in the side these days. However, I digress. I've decided to break down my thoughts on yesterday's game to 10 points….
It's time to admit we've bought a pup in Granit Xhaka.
Granted there were a few actual measured passes after the interval, but once again, as against Brighton last season, Xhaka's stupidity in and around his own penalty box knows no bounds. That's now five penalties he has conceded in an Arsenal shirt – and he's not even a defender. Quite simply, he is a liability and shouldn't be allowed anywhere near the first team, let alone wear the captain's armband. God alone knows what first Arsene Wenger and now Unai Emery see in him. My heart sunk when he re-appeared after the interval, so poor was his first half display.
Give the armband to Alexandre Lacazette.
You want spirit and attitude in your captain, and someone good enough to lead by example. Laca scored less goals than Aubameyang but still won player of the season in 2018-19. The reason for that was exemplified in his determination today before being taken off due to injury.
A comedy of errors.
Spurs' opening goal was down to errors by Sokratis, David Luiz and finally Bernd Leno. Two centre backs and the keeper not up to the job in hand. That is seriously worrying.
Better attacks will make mincemeat of Arsenal's defence.
Spurs could have had numerous second half goals on the counter attack, but conspired to blow all their chances. Manchester City and Liverpool are not going to be so generous at the Emirates. Perhaps the return of Bellerin and Holding, and the integration of Tierney might improve things. I wouldn't bet on it though.
Nicholas Pepe can't shoot.
Exciting build-up player, no doubt about that. But sadly, on the evidence of his shooting against Liverpool and Spurs… well, for £72 million, you simply expect better than that. I hope he proves me wrong, but I have a feeling we're going to be seeing a return of below 10 Premier League goals a season, which given the number of opportunities he looks set to enjoy, isn't suggesting a great conversion ratio.
Dani Ceballos once again looked very tasty.
It's a shame the Spaniard did not perform too well at Anfield last weekend, perhaps too easily contained given the relative lack of support around him. Yesterday was a much different story, although I will grant you he benefited from entering the fray from the bench as Spurs were starting to flag a bit.
Arsenal play too much Russian Roulette football.
Hence the number of breaks Spurs enjoyed. That's presumably down to tactics rather than personnel, so one for the head coach to ponder.
The Gunners' spirit to come back from two goals down was heartwarming.
Granted, they shouldn't have got themselves into that position in the first instance, but the reaction led to near total domination after the interval, and of course salvaged a point. Arsenal could and perhaps should have won this game in the end, given the multitude of second half chances.
Sokratis could start a fight in an empty bar.
Now I think we all like the no-nonsense approach to his game demonstrated by the Greek centre back, but it would be nice if he were a little clever with it. What exactly was the point of that bust up with Harry Winks over a throw-in? More to the point, what the hell was Sokratis doing playing right wing-back at the time?
Aubameyang continues scoring.
A lovely stretched touch on the ball to score the equaliser against Spurs, one suspects he will pass last season's 22 Premier League goal haul.
Conclusion
Given Arsenal were 2-0 down, most would accept that result if offered it before Lacazette's goal. The only counter to that is that the Gunners were so utterly dominant in the second half, you felt they could have scored three. Still, at least Spurs fans won't be crowing about a rare win at Arsenal. So we'll take it. However, when all is said and done, the defensive errors that led to Spurs taking a two goal lead would have surprised nobody who watched Emery's team last season, and in truth it is the reason that the club probably need to start looking around at who is going to succeed him next summer, even if he does manage to make the top four. I hope the return of the injured players proves me wrong, and that the issue is with the personnel being used at the moment. But my gut feeling is that the club cannot push on with Emery as long as they are shooting themselves in the foot in defence. David Luiz was made to look like a mug at Anfield leading to Mo Salah's goal. So it was with Tottenham's opener yesterday. I hate to say it, but I'm far from convinced the centre-back options have been significantly improved. Let's see whether or not the return of Rob Holding can make a difference there as something needs to change. Arsenal have seven points from their first four games, and tellingly, one from their two against top six rivals. At least now, there is a run of theoretically 'easier' matches. Let's see how these pan out…
________________________________________________________________
You can follow The Gooner on
Twitter
Facebook
Instagram
or subscribe to our
YouTube channel
________________________________________________________________
Current issue of The Gooner available from our website shop
Issue 278 of The Gooner can be bought online.
If you want to buy a copy to be sent to you, click here for UK, and if you are abroad click here. On these pages you will find the various methods to pay or you can order through the Gooner store with a credit/debit card via PayPal.
If you wish to subscribe to all six issue of the 2019/20 season, UK and abroad options are on this page.
Support your fanzine!