Editorial
Arsenal Overcome Pompey… and Mike Dean
Online Editorial: Gunners make last eight of FA Cup despite refereeing horrorshow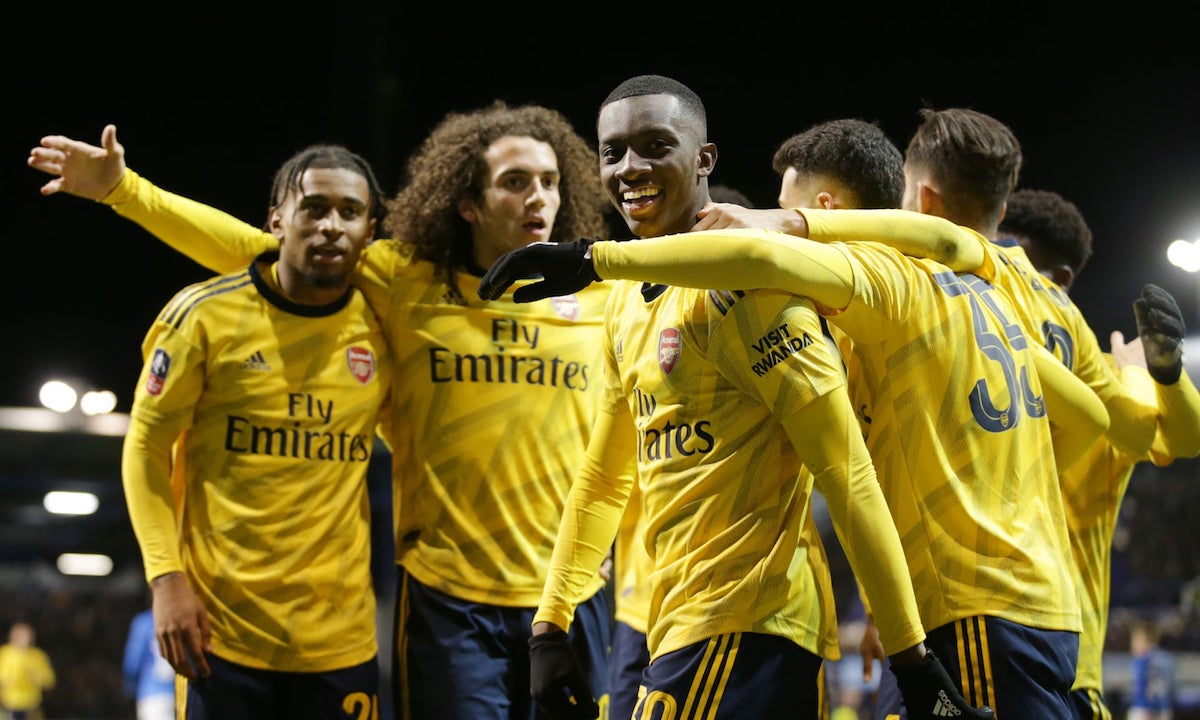 As expected, Mikel Arteta rang the changes for the FA Cup fifth round tie at Fratton Park, a venue where Arsenal last suffered defeat in the 1950s. Some of Portsmouth's challenges in the first half would not have looked out of place back then, but the game has thankfully moved on, not that anyone seemed to have informed referee Mike Dean. But more of that later.
Only two players were retained from Arsenal's defeat at the hands of Olympiacos, David Luiz and Bukayo Saka. Rob Holding and Ainsley Maitland-Niles might have thought they had a decent chance of starting, but both were on the subs' bench. Arteta featured six players of 20 years old and under, putting his trust in youth. Portsmouth manager Kenny Jackett fielded a mix and match side of his own, his priority understandably the attempt to get into the Championship next season.
As it turned out the home side's best performer in the opening half was referee Mike Dean, who, whilst having an absolute shocker, certainly assisted Pompey in an attempt to even up the odds – and if you ever feel like a flutter on how one of Dean's matches will turn out, use one of the bet365 promo codes for mobile before placing your bet (I'd advise not backing him awarding a penalty to Arsenal!). To start with last night he blew the whistle when Eddie Nketiah was elbowed in the face, giving a foul to Arsenal, but no yellow card to the offending player. He wasn't done yet though. I was under the impression that dangerous challenges do not go unpunished if a player happens to touch the ball before poleaxing his opponent. Lucas Torreira had to be stretchered off after a reckless challenge with an ankle injury, but Dean did not even see the lunge at the injured player as dangerous. It turned out to backfire on Pompey because Dani Ceballos entered in the Uruguayan's place and took control of the game.
Portsmouth may not have had too much in the way of possession, but they certainly got the ball forward a few times before the break. That they did not register a single effort on target in the first half suggested that ultimate their chances of progress would depend heavily on keeping a clean sheet.
Anyway, back to Mike Dean. After failing to give as much as a caution for an elbow in the head and a career-threatening slide tackle, decided to book Matteo Guendouzi for placing the ball for a free kick in an exaggerated manner. At times, I wondered if I had tuned into an episode of Monty Python instead, so farcical was the decision making of Mr Dean. Wags on Twitter suggested Gunedouzi's booking was actually in fact for taking the spotlight off of Dean, which if that were the case is normally a straight red.
Still, things picked up as half-time got closer, with Dean actually yellow carding Portsmouth's McGeehan for punching Joe Willock in the stomach as he took his legs away on the edge of his penalty area. It was a hallelujah moment. There was quite a bit of stoppage time before the interval, due to Torreira's injury, and justice was done as Arteta's team took the lead with Sokratis slotting home a cross from Reiss Nelson that followed the clearance of a Gunners' corner.
Perhaps Pompey had run out of steam or maybe the Arsenal head coach's half-time team talk had some effect, but in the second half, the visitors completely controlled the game, and a second goal followed six minutes after the restart, when Nelson once again turned provider, beating his man for pace and then placing the ball in the danger area for Eddie Nketiah to latch onto and poke home from within a yard of the upright. Happy days, and little danger of a comeback from the hosts, even when Pompey sent on their first choice attackers to try and claw the tie back. Realising that trying to intimidate the opposition with stray elbows and punches had not worked, the home side saved more of the rough stuff for another day, in spite of the referee's leniency.
Pablo Mari made his Arsenal debut in this game and did the little he was required to do capably. It's difficult to judge him on this performance, but it would have been good to get 90 minutes under his belt. Dani Ceballos and Joe Willock were the Arsenal players who kept the team moving, both heavily involved.
Ultimately though, the real memory of this cup tie will be the decision-making of Mike Dean in the opening 45 minutes. This man really cannot retire soon enough. How he must have wished VAR was in operation to find some reason to disallow Arsenal's goals. I recall when Alex Ferguson didn't like a referee, his team never seemed to be officiated by them again. What a shame the same cannot happen with the Gunners and Dean.
Nevertheless, it was important for the team to get back on track with their ambitions to climb the table, to at least secure Europa League football next season, with its attendant £30 - £40 million to help the bottom line. The lack of involvement in the rest of this season's competition will surely help them in this regard. A win against West Ham on Saturday is vital though.
_______________________________________________________________
The campaign to save The Gooner for the 2020/21 season has now been launched. If you wish to see the fanzine continue printing after the end of the current season, details of how to subscribe can be found here. If you wish to order with a credit card, go straight to our online store page here. We need to secure 1,000 subscribers by the end of March 29th to continue.

The currebt issue of The Gooner (282) is on sale from our online store. You can order your copy here (for UK orders) or if you are abroad, order here.
_______________________________________________________________
You can follow The Gooner on
Twitter
Facebook
Instagram
or subscribe to our
YouTube channel (where you can find the GoonerFanzineTV weekly podcast)
NEW! Subscribe to the Gooner news list to stay up-to-date with all the latest breaking Arsenal news.
Please note that we will not share your email address with any 3rd parties.
---