Editorial
Arsenal No Show In League Cup Final
Online Ed: Disappointing, but predictable defeat at Wembley to Pep Guardiola's Manchester City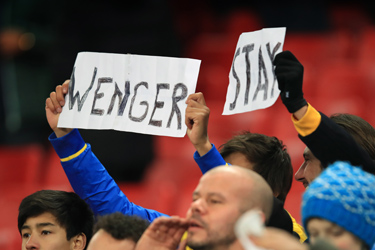 The one thing that struck me at Wembley yesterday afternoon was the amount of apathy in the Arsenal fanbase. There wasn't much in the way of chanting, or backing the team. Manchester City fans sang loud, as you'd expect with their team dominating proceedings, but there was not much in the way of response from the opposite end. There seems to be an osmosis going on between the players on the field and the support. It's as if both sides have kind of given up and are waiting for the other to lift them. And yet, these players are paid a great deal of money to put in a shift.
So, who motivates the millionaires? The manager. In 2018, a good manager needs to master how to get the best from a collective who, in reality, could retire tomorrow and never have to work another day in their life. Some manage it, although, if Antonio Conte is taken as an example, nothing is forever. And perhaps this is one of the key reasons that top clubs now rotate their first team coaches, rather than stick with an old style 'legacy' manager like Sir Alex Ferguson and Arsene Wenger. Because players don't fear the manager so much, they ultimately often have greater power than the first team coach. So it comes down to a mixture of personal ambition on the part of the guys on the pitch – how badly they want to win – and good man management, coaching and tactical preparation to maximise the chances of this happening.
Arsenal didn't look that hungry yesterday, with the arguable exception of Jack Wilshere. And technically, they were at times woeful. The first goal was straight out of Hackney Marshes, and yet Shkodran Mustafi was unable to prevent it by simply marking his man. The third goal was way too easy, as Calum Chambers might as well not have been there. That the manager has run out of capable centre backs is a condemnation of either his squad building or his work on the training field. Chambers came back to the club last summer after what was felt to be a decent campaign at Middlesbrough but his confidence looks as shot as it was after the manager decided he'd make a good right back.
The hope of course, was that Arsenal would surprise us. They'd beaten Manchester City at Wembley last season (with a bit of the rub of the green, but we'll take it) and eliminated Chelsea over two legs to reach this final. There was a belief that the players could up their game and – on the day – contain and overcome City. Of course, finals can be unpredictable, and Aubameyang was perhaps unfortunate not to open the scoring. But what was most damning was the lack of subsequent attempts on target from the Gunners. They were impotent. Unable to string a series of passes together until the game was beyond them and the City fans were chanting 'Ole' as their hapless opposition finally managed to keep the ball for a while – largely due to City winding down their intensity, the game effectively over.
The image of the more than half empty Arsenal end in the final minutes of the game said it all. Why stick around for any more of this sh*tshow? Why bother staying to applaud the losers when they hadn't seemed to bother that much for the entirety of the game?
There is definitely a feeling that the players are as fed up as the fans. They are probably all too aware that they are not being prepared for matches properly, that the squad isn't strong enough, in spite of plenty of transfer spending and high wages. They seem to be simply marking time, waiting to see what happens next. And if Arsene Wenger remains beyond the end of May, it will be more of the same next season, irrelevant of which players come in.
As for the manager – and he is definitely the problem – his lack of humility is a disgrace to the club. Never gracious in defeat, he could learn a thing or two from some of his peers in the Premier League, such at Sean Dyche or Eddie Howe. Even Mauricio Pochettino. It seems that the officials are more often than not the reason Arsenal lose a game. Nothing to do with his own work, his preparation of his team.
I can't understand why anyone would want to see another season of this. But there seem to be people that do. Maybe they are wind up merchants, who enjoy getting reaction more than seeing their football team succeed.
The FA Cup proved the manager's salvation in 2014 and 2017. That won't happen this year. The League Cup remains the domestic trophy he has never won, in spite of making three finals. It's not too significant in the greater scheme of things, but regardless of that, it won't save him his job now. Only qualification for next season's Champions League might do that, and it's difficult to see how the team can turn it around based on what we've seen so far this season. Frequently, the players seem to down tools, away from home especially. And yet, Wenger never seems to confront them, call people out. The only people he seems to enjoy conflict with is referees and journalists who don't pussyfoot around him.
Whatever he is doing, it isn't a recipe for success. Hopefully it will be over in three months' time and we can all move on. He'll always be remembered for his first decade at the club, but sadly, football's last 'legacy' manager will depart with his own legacy severely tarnished. A man who stayed on too long, lacked the self-awareness to sense that he had gone stale and ultimately left a mess for his successor to sort through. Goodbye Arsene, enjoy counting the money.
In case you have missed it, the campaign to keep The Gooner going beyond the end of the current season was launched last month. Please check it out if you did not see it then.
The current issue of The Gooner went on sale at the home match v Chelsea on 3rd January and includes a free 2018 'Classic Gooner Back Covers' calendar. It can be bought online here for £4.00 including postage. The price is higher if you are outside the UK due to the extra postage costs. A new issue will be on sale at the home game against Manchester City in early March.
Alternatively, you can simply pay £4.00 (postage included) (or £9 for a three issue UK subscription which gets you all the remaining issues before we (possibly) cease publication at the end of the current season) via online bank transfer to –
Account name: The Gooner
Sort Code: 20-76-90
Account Number: 03004112
Please follow up the payment with an email to thegoonerfanzine@btinternet.com stating your name and address, ideally with proof of payment such as a screen grab or pdf, or at least the reference that you used for payment (e.g. 269Smith). If the payment was made from an account with a different name, definitely inform us so we can match the received payment.
If you want to buy a three issue subscription to receive the current edition, you can subscribe through the Gooner's online store here (or here for Europe and here for the Rest of the World)

Other subscription options are available including next season's issues (if we do continue – we will refund any payments made for next season if we do not reach our target of 1000 subscribers). The list of all subscription options can be seen on this page
You also can bypass the online store by simply making a PayPal payment to the email address thegoonerfanzine@btinternet.com. Pay either £4.00 or £9 for a three issue subscription. If doing this, please make your payment a 'friends and family' / personal gift payment – this helps keep our costs down. (Overseas buyers add £2 per individual issue for Europe or £2.50 per issue for the rest of the world. Three issue subscription costs are £15 for Europe and £18 for the rest of the world).
Finally, you can pay by cheque made payable to 'The Gooner' to the address below, for either an individual issue (UK £4.00) or a three issue subscription (UK £9) (see above for overseas prices)…
The Gooner
12 Buxton Court
Hanbury Drive
London
E11 1GB
DIGITAL ISSUES
The Gooner is also available in digital form, through The Gooner App on iPhones and iPads, the Exactly App for Android devices and now Kindle Fire owners can also get their fix by searching the Amazon App Store for The Gooner.
You can also subscribe at www.exacteditions.com and read it through your internet browser as well as receiving a code which will enable you to access issues on all the above devices.