Online Exclusive
What was once Arsene's Project… is now Sven Mislintat's
Arsenal's position in the financial pecking order relies on head of scouting to give them any chance of glory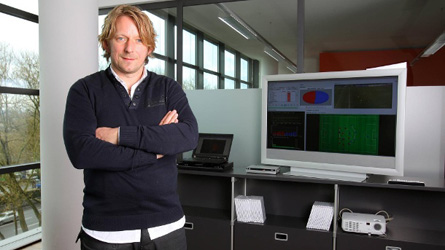 When Arsenal planned the building of the Emirates Stadium, around about the turn of the millennium, it was in an effort to keep up with Manchester United's financial firepower. Unfortunately, United were racing ahead on more than one front in that respect. Not only did they have a bigger stadium, their commercial development was years ahead of Arsenal's, a consequence of their being traded on the stock exchange and needing to make profit to pay shareholders dividends. A boardroom stacked with business knowhow, as opposed to old Etonians was highly significant.
This is why, in spite of United's relative lack of recent on-field success compared to the Alex Ferguson era, they are still posting significant profits, all the while able to invest in player transfers and wages at a level Arsenal can only dream of. Significantly, the Glaser family are not pumping in their own funds, they do not need to.
Arsenal's attempt to keep up with United partially failed because of the emergence of Chelsea. Between 2005 and Manchester City's first Premier League title in 2012, the title was won by either United or Chelsea. Aside from the remarkable intervention of Leicester in 2016, when Arsenal finished above United, Chelsea and Man City, the title has been shared by those three clubs.
Chelsea and City were artificially pumped with funds from their owners to raise them to the level at which they could win the league, and can continue to do so if required with artificial sponsorship deals. There are all kinds of ways of getting around the Financial Fair Play rules and ultimately, clubs that digress are never going to be thrown out of competitions because their organisers are aware that they add value to them. So they get fined (meanlingless) or suffer transfer bans (which does hurt short term) although points deductions are rare and have never been seen in the Premier League.
Which means that, for Arsenal, the ship has sailed. That Liverpool are now playing to a stadium with a capacity of 54,000 and Tottenham will (eventually) have a capacity in excess of Arsenal's means that the Gunners are probably looking at the teams behind them financially catching up rather than any once held ambition to compete with the more moneyed big boys.
When Arsene Wenger embarked on what became termed 'Project Youth' with the move to the Emirates, the idea was that, with less money to spend, he would develop a team with younger players who would become world class and remain with the club to ensure it could win trophies as it used to. He did develop a couple of world class players – Cesc Fabregas and Robin van Persie. However, once it became apparent that neither would be winning much by the way of silverware, they wanted out. There were many that did not fulfill their early potential. The faith placed in the likes of Alex Song and Denilson meant that Wenger decided against buying experience such as Liverpool's Xabi Alonso in 2009. Arsenal never finished better than third place in the seasons that followed and there was no silverware of any description until 2014's FA Cup. They were barren years in which the club's profits grew, at the same time as creeping frustration as fans saw Chelsea lifting the Champions League in 2012, followed weeks later by the sale of Van Persie to Old Trafford.
So Wenger's experiment failed, assuming the aim was to build a title-winning side. Sven Mislintat has been brought in to secure young quality that will improve at Arsenal and become world class. Long contracts will be used with the aim of securing the players so that, at least, if they demand a move, the income generated will allow the club to replace with further and more expensive quality identified by Mislintat.
CEO Ivan Gazidis explained over the summer how transfer target decisions are made. There is consultation between Mislintat and Unai Emery about players – and there would be no point in any decision to go after a player the head coach did not intend to use. Then, once a decision is agreed, Gazidis, director of football Raul Sanllehi and contract man Huss Fahmy get involved to negotiate and complete the deal.
However, Emery will not be recommending the players to buy. The discussions between himself and Mislintat may revolve around requirements for the squad, although in truth, such discussions have probably been going on between the 'IRS' (Ivan, Raul, Sven) since Raul Sanllehi's arrival at the club in February (when it had probably already been decided Arsene Wenger was to be sent packing), and the January arrivals of Aubameyang, Mkhitaryan and Mavropanos had the hallmark of Mislintat all over them. Wenger was not even aware the club were trying to buy the young Greek centre-back Mavropanos and at that point probably realized the writing was on the wall.
So Emery will be presented by the head scout with options about potential purchases, but ultimately, will probably trust the judgment of Mislintat, certainly at the level of a player like Guendouzi, who he is unlikely to have seen a great deal of. How aware would he have been of the merits of Lucas Torreira? Sokratis? It would really depend how much Italian and German football he had time to watch. The same goes for Bernd Leno – although here, a discussion about the need for a ball-playing keeper required for Emery's tactics will have been significant. Lichsteiner was secured early in June and one imagines the decision to sign him was made before Emery was even appointed, although was the one player the new manager would doubtless have had plenty of knowledge about.
Also, we are in a new era for the club now. Managers can be sacked if they are not delivering, there are is no longer the situation where the man in the dugout is a sacred cow. So in terms of the strategy, the new set up is specifically designed to cope with managerial changes, to establish some kind of continuity. The selection of Emery suggests the priority on attractive attacking football as a starting point for the team's tactics remains. One imagines that will remain, so it is really a matter of the variations in this that different managers will bring.
Ultimately though, the quality of the players is what will be the deciding factor in Arsenal's future success. Mislintat has the nickname 'Diamond Eyes' because of the players he brought to Borussia Dortmund, his previous employer. He'll have no choice but to scout targets that the club can afford, and for the immediate future, with income set to fall as a consequence of their decline since 2016, he'll need to deliver if Arsenal are to rise again. In conclusion, on the football side, he is the most important figure at the club right now. We wait to see how good Konstantinos Mavropanos and Matteo Guendouzi turn out to be, but the discovery of young stars are Mislintat's hallmark, so let's hope his reputation is enhanced further in seasons to come.