Online Exclusive
Arsenal v Everton Preview
Looking ahead to this afternoon's Premier League fixture at the Emirates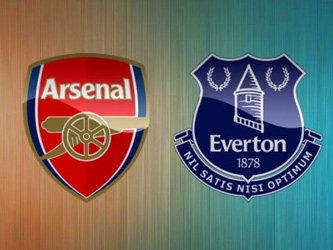 No preview piece for the Vorskla game because I was abroad and well short of time. Also trying to get the next issue of The Gooner to press today as well as attending the match this afternoon. Anyhow, five discussion points with the game in mind…
Can Everton's poor form continue?
Everton had an acceptable start to the season, winning once and drawing twice in their first three outings with two of those being away from home. However, a home draw to lowly Huddersfield, followed by a home defeat to West Ham has people asking whether Marco Silva's bubble has burst. This, remember, with the funding from Alisher Usmanov's business partner Farad Moshiri, were supposed to be the team, at the start of last season, who were likely to break into the top six under Ronald Koeman. Where did it all go wrong? With relegation feared, the Dutchman was sacked, Sam Allardyce was bought in and Theo Walcott purchased in January. Fat Sam can keep a team in the top flight, but fans don't warm to him, so flavour of the month Silva replaced him in the summer. However…
Everton is not a happy camp
Good news people, it's just possible that the Everton players might be playing to get Silva his cards ASAP. They don't like the number of hours he has them in for training, and feel the tactical preparation for matches is overdone. Ah, the pampered life of a Premier League footballer, eh? Theo Walcott is a fixture in the starting line-up. He didn't pull up any trees when the Toffeemen visited Arsenal in the spring, so let's hope for a repeat today. With Theo though, you just never can tell.
Arsenal starting eleven unchanged again?
From the last Premier League game that is, v Newcastle. Only Sokratis, Monreal and Aubameyang from that eleven began v Vorskla on Thursday, and it's highly unlikely any of that trio will step down. So it would be a surprise to see any changes from last weekend, although there is still that seemingly eternal question…
When will Lucas Torreira actually start a Premier League game?
Unlikely to be today folks, in spite of the Uruguayan turning around the team's performance against Newcastle. It's my belief that, currently, Unai Emery sees Torreira as some kind of supersub, who can come on and impact a match after the interval. Additionally, he may feel that he does not need Torreira's defensive ability for home matches against supposedly lesser sides. That Torreira started on Thursday suggests that Xhaka and Guendouzi were being rested for the weekend, and the bottom line is that Arsenal have won their last three league fixtures starting this pair in the middle. Is it a winning formula? The jury is very much out, although some have made their mind up about Xhaka. His contribution to Arsenal's second goal at Newcastle though, in addition to his pearl of a free-kick for the first, does make you wonder if Emery can improve him as a player. A Xhaka-Torreira starting partnership is more likely that a Guendouzi-Torreira one, although the most likely scenario remains Torreira entering the fray at some point in the second half.
History is on Arsenal's side
It seems astonishing to note that the last time Everton won at Arsenal was in 1995-96, the season when Bruce Rioch was in charge. The law of averages alone suggests this has got to end sometime, as much as the law of averages also may apply to Everton putting in a decent performance after a pair of very disappointing ones. Still, my money's on a player revolt. Silva is struggling to motivate his men, which seems less of a problem for Unai Emery. Still, they do have some decent players in their ranks, so you cannot write them off completely. I think it's fair to say they have not yet gelled this season though, and a bit of me suspects they might not until Silva gets the boot. One thing is certain, Everton have an owner that can pump in money if it is required, including paying off the first team coach. I wonder how long it will be before Alisher Usmanov is officially part of the picture?
Conclusion
Given the problems there seem to be at Everton, and Arsenal's decent form, it really would be a shock if this were not a home win. The shock, perhaps, would be a clean sheet for Emery's side. However, I'm going to go back to that law of averages once again and believe it will work in Arsenal's favour – with a first shut-out since the change of manager. So 2-0 to Arsenal is my prediction for this afternoon.
The Gooner has teamed up with Fansbet.com this season, so if you do have a punt on the football, and select The Gooner Fanzine as your 'branch' when signing up as an Arsenal fan, 50% of any profits Fansbet make from your bets go towards maintaining the fanzine. If you fancy a bet, why not do it with Fansbet and help support The Gooner. But remember, when the fun stops, stop. Please gamble responsibly.