Online Exclusive
Do Emery's Arsenal Have Cojones? (And new Gooner out today!)
Preview of this afternoon's Arsenal v Watford fixture at the Emirates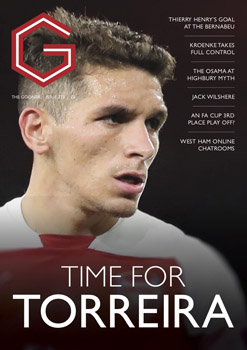 First up, the second issue of The Gooner this season goes on sale this afternoon. You can buy it 20 yards right out of the Arsenal tube station exit, in the traffic island in the middle of the Hornsey Road outside the Little Wonder café (near 2 cannons / Bear roundabout), just before the railway bridge on Hornsey Road on your approach from the Tollington pub, in the Matchday store on Hornsey Road as you come from Holloway Road, and on the photo stall opposite the entrance to Highbury House in Drayton Park. UK subscribers should be hearing their copies land on their doormats this morning assuming the Royal Mail are operating with their advertised efficiency (ahem!). Subscribers abroad will have to wait a little longer, although their copies are in the system. Details of the issue's contents can be found here, and if you wish to buy a copy through our online store, that's here (price includes postage of £1 to UK addresses of £2.50 abroad), or you can subscribe for this and the other four remaining issues this season here.
So now onto the match preview for this afternoon. Usual formula – five discussion points. And given it's Watford, where else can we start but…
Cojones?
Watford skipper Troy Deeney famously accused Arsenal of lacking 'cajones' (Google translate tells us that's Spanish for balls, bollocks or nuts) after his side beat Arsene Wenger's team at Vicarage Road last season. Talking post match about the game, he stated, "It's having a bit of cojones. Whenever I play against Arsenal, I'll go up and think 'let me whack the first one and see who wants it'. I came on today and jumped up with Mertesacker - I didn't even have to jump, actually. I nodded it down, the crowd got up - 'yeah we've got somebody who can win it' - and they all just backed off. For me as a player, I just think 'happy days'. That's my strength - if you're going to let me do my strength against you, you're going to have a tough afternoon." Arsenal were at least able to respond in the return match at the Emirates, winning 3-0, although the reality that this came off the back of a three game losing streak tells you that maybe, looking at the bigger picture, Deeney had a point.
Are the Gunners more physical under Unai Emery
This lack of appetite for the fight seems to have been partially addressed in the summer transfer window. Tougher competitors such as Torreira, Sokratis and Lichtsteiner were recruited. Fortunately, the Greek centre-back returns from a short-term injury, and from what we have seen so far this season, is likely to provide more resistance to Deeney than the pair who lined up at Vicarage Road last October (Mertesacker and Koscielny). There is a view that if the ball or the man can go past Sokratis, but not both. Laurent Koscielny may be ready to return to first team action in the new year. At present, it looks more likely that Mustafi would be the defender sacrificed to make room for the club captain.
Starting with steel in the midfield
It looks, finally, as if Lucas Torreira has now become a first choice starter after getting the nod ahead of Matteo Guendouzi last weekend against Watford. One assumes that the reason for the Uruguayan's delayed entrance into the starting eleven was that he needed more time to bed in with Emery's tactics, due to his World Cup involvement and general unfamiliarity with his new team-mates. Given how critical a player of Torreira's nature was to Arsenal's deficiencies in recent seasons, it had the fans scratching their heads. Guendouzi performed well, given his lack of experience, but in fairness, Torreira is the real deal. I suspect if fans were polled they would choose a Guendouzi / Torreira pairing ahead of the Xhaka / Torreira one. It's highly likely we'll get the latter this afternoon though. Let's just hope the Swiss international plays better than he did against Everton last weekend.
The winning run
Six wins in a row in all competitions is the kind of run we can all enjoy. The opening pair of defeats surprised nobody, but since then, victories have bred confidence. We even had the pleasure of a clean sheet last weekend, although that was largely down to Petr Cech's brilliance than a solid defensive display. Watford are probably the best team Arsenal have faced since the defeat at Chelsea, but home advantage means three points are expected. Things get tougher soon enough. Before the visit of Liverpool, Arsenal's two Premier League away trips are to Fulham and Crystal Palace – neither easy places to take all the points. Frankly, if the Gunners are to return to Champions League participation next season, Watford at home is the kind of game they have to win.
Home, sweet home?
It's the fourth home match in 10 days. Sometimes they are, indeed like London buses. After today, we through October with just one home game (v Leicester) before three in nine days (Liverpool, Sporting Lisbon and Wolves) at the beginning of November. It has to be a factor in the decision of some season ticket holders to pick and choose which games they attend when there is a glut of them. There could be another October home game if the League Cup draw (made late this evening) gives Arsenal another home match, but otherwise, it seems to be a case of feast or famine. However, one bright spot. This afternoon is a home match Saturday 3pm kick off. Make the most of it guys, they are a bit of a rarity these days.
Conclusion
Watford these days seem to be a better team than they have been since the mid-1980s, an established top flight team that will always get enough points to ensure they remain in the Premier League. There is no longer any big shock when they defeat Arsenal, so this is no gimme. However, I think the Gunners' ability to score goals will outweigh the likely defensive deficiencies we continue to witness, even under a new regime. My prediction for today is a 2-1 win for Unai Emery's team, in a nervy game.
The Gooner has teamed up with Fansbet.com this season, so if you do have a punt on the football, and select The Gooner Fanzine as your 'branch' when signing up as an Arsenal fan, 50% of any profits Fansbet make from your bets go towards maintaining the fanzine. They have some Arsenal specials this weekend such as Aubameyang to Score and Arsenal to win. If you fancy a bet, why not do it with Fansbet and help support The Gooner. But remember, when the fun stops, stop. Please gamble responsibly.
Regarding the new issue of the Gooner, here are the other ways of ordering the issue if you do not wish to order via credit / debit card through the website store…
Online Bank Transfer
For the current issue, pay £6 UK / £7.50 abroad (or for a 2018-19 five issue subscription £25 UK / £35 abroad) via online bank transfer to –
Account name: The Gooner
Sort Code: 20-76-90
Account Number: 03004112
Swift / BIC: BUKBGB22
Iban: GB79 BUKB 2076 9003 0041 12
Please use the reference '273YourSurname' on the payment – eg '273Smith' and follow up the payment with an email to thegoonerfanzine@btinternet.com stating your name and address, and the reference that you used for payment (e.g. 273Smith or whatever).
Via direct PayPal payment to the email address thegoonerfanzine@bt internet.com. For the current issue, pay £6 UK / £7.50 abroad (or for a 2018-19 five issue subscription £25 UK / £35 abroad) via your PayPal account state in the message you are requesting issue 273 (although we'll assume this if there is no message from the amount paid). If doing this, please make your payment a 'friends and family' / personal gift payment – this helps keep our costs down. PLEASE remember to add the name and address for your issue(s) to be mailed to in the note with the payment.
Finally, you can pay by cheque made payable to 'The Gooner' to the address below. For the current issue, pay £6 UK / £7.50 abroad (or for a 2018-19 five issue subscription £25 UK / £35 abroad)
The Gooner
12 Buxton Court
Hanbury Drive
London
E11 1GB