Editorial
Lucky Arsenal!
Online Ed: Winning run continues at home to Watford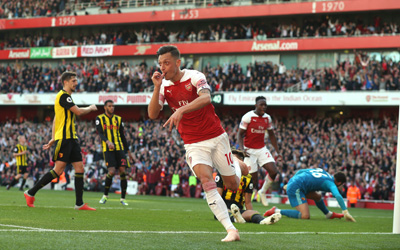 Arsenal took their Premier League winning run to five matches with a somewhat fortuitous victory over Watford. I'd argue that Watford looked the best team that Unai Emery's team has faced since Chelsea, and they could easily have taken all three points from their hosts. A little too often, the Gunners seem to not really get going in the first half of matches. There was some early promise – Lacazette was denied a penalty when being too honest, something he will have to learn from, as well as missing a one-on-one with the keeper. Yet it was Watford that created greater danger, in spite of having far less of the possession.
Sokratis had been declared fit to play the day before the game, although did not even make the bench, so Rob Holding remained at centre-back. The other players were the same as started against Everton the previous weekend. There were plenty of oohs and aahs as Watford went close, but as long as they didn't score, the crowd, which looked about 5,000 short of capacity, stayed patient.
At this point, I think there is a general understanding that points are more important than performance, and on that front, you cannot argue with the current run. Arsenal have climbed to fifth place, and whisper it quietly, but are only four points off top place. So fans have got used to the team frustrating in recent matches, but still coming out with a result. This has certainly bought Unai Emery some time in an atmosphere where fans have become quick to condemn and make quick judgements, impatient to see improvement on the last couple of seasons.
Emery's tactics in terms of attack are generally one of two approaches. Either play the ball quickly, ideally on the floor, through the lines to set up an attacking player making a run, or get the full backs so far forward that their overlapping creates the chance for a cutback from the goal-line. The former requires quick thought and action when possession is won, the latter comes at the price of defensive solidity. For much of the game, Arsenal were too ponderous for the first tactic to work, and the second assisted Watford when they broke.
Petr Cech pulled something taking a goal-kick just before the interval and Bernd Leno made his Premier League debut, leaving Emery with only two subs to change the game in the second half. The first of those, Alex Iwobi, came on after 62 minutes for Aaron Ramsey. Frankly, Emery could have hooked any of the front four, as none had really impressed. However, the Nigerian's entrance flicked some kind of a switch as his running seemed less predictable and more energetic, raising the level of his colleagues around him. This was enhanced further when Danny Welbeck replaced Aubameyang.
In the 81st minute, Iwobi played a ball from wide across the face of the goal, and in attempting to prevent Alexandre Lacazette reaching it, Watford's Cathcart put it into his own net. Cue delirium in the Emirates. Two minutes later, Iwobi played the ball to Lacazette in the box, and the Frenchman squared it for Mesut Ozil to apply the finishing touch and take the game beyond Watford's reach.
Winning is a good habit when the team is not playing well. It's certainly one that Arsenal have not really demonstrated for a long time, so it can only be welcomed. The obvious concern is that they cannot get away with giving the opposition so many chances on a long-term basis. It is reassuring that Bernd Leno was able to pull off some decent saves, although there was one moment when he came out for the ball and missed it completely. However, there were simply too many chances for Watford, and the real question is how this is going to be improved. The tactics employed mean that the opposition are often going to get opportunities, just on the law of averages. The full backs, especially Bellerin, are too prone to being caught upfield. I won't criticise Bellerin because he is following orders.
At present, I think Emery's game (the high press) requires a high amount of energy and that energy isn't uniform throughout the team. It requires a joint commitment with everyone pulling their weight, and it was no surprise to see Mesut Ozil pulling out of a tackle yesterday. That the German scored his first goal at home since December tells you plenty. He isn't getting into the areas where he can score enough.
The more I see, the more I think that Emery is simply biding his time, working with what he has, and waiting for players more suited to his style to arrive in the next two transfer windows. It's encouraging that he is winning matches, but we all know it can't last.
This season, The Gooner and onlinegooner.com are partnered with Fansbet. If you enjoy a flutter on your football, sign up as an Arsenal fan and select The Gooner Fanzine as your 'branch' from the drop down menu. In the event that Fansbet make any profit from your bets, 50% of that goes to help fund the continued survival of The Gooner fanzine. However, if you cannot gamble responsibly, please do not bet.
The current issue of The Gooner can be bought online here (price includes postage of £1 to UK addresses of £2.50 abroad) or if you wish to subscribe for this and the other four remaining issues this season, here's the page to do that.. It will also be on sale at the home games v Leicester, Blackpool and Liverpool, and existing (UK based) subscribers should have received their copies in the post yesterday morning.
There are other ways of ordering the issue if you do not wish to order via credit / debit card through the website store…
Online Bank Transfer For the current issue, pay £6 UK / £7.50 abroad (or for a 2018-19 five issue subscription £25 UK / £35 abroad) via online bank transfer to –
Account name: The Gooner
Sort Code: 20-76-90
Account Number: 03004112
Swift / BIC: BUKBGB22
Iban: GB79 BUKB 2076 9003 0041 12
Please use the reference '273YourSurname' on the payment – eg '273Smith' and follow up the payment with an email to thegoonerfanzine@btinternet.com stating your name and address, and the reference that you used for payment (e.g. 273Smith or whatever).
Via direct PayPal payment to the email address thegoonerfanzine@bt internet.com. For the current issue, pay £6 UK / £7.50 abroad (or for a 2018-19 five issue subscription £25 UK / £35 abroad) via your PayPal account state in the message you are requesting issue 273 (although we'll assume this if there is no message from the amount paid). If doing this, please make your payment a 'friends and family' / personal gift payment – this helps keep our costs down. PLEASE remember to add the name and address for your issue(s) to be mailed to in the note with the payment.
Finally, you can pay by cheque made payable to 'The Gooner' to the address below. For the current issue, pay £6 UK / £7.50 abroad (or for a 2018-19 five issue subscription £25 UK / £35 abroad)
The Gooner
12 Buxton Court
Hanbury Drive
London
E11 1GB