Online Exclusive
Arsenal Travel To The Scene Of Next May's Europa League Final
Preview of this evening's Qarabag v Arsenal Europa League game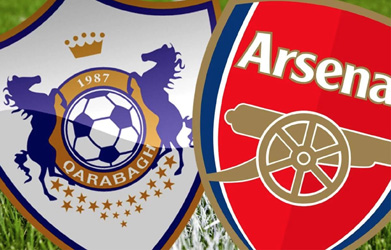 So, as traditional five discussion points looking ahead to the 5.55pm kick off this evening in Baku.
Qarabag
Rather patronisingly re-named Carrier Bag in some quarters, the Azerbaijan champions qualified through the play-offs for the Champions League group stage last season, and were largely responsible for dumping Atletico Madrid into the Europa League as they drew twice with Diego Simeone's side (in spite of having a man sent off in both games), meaning the Spanish club finished third in the group. This had knock-on effects for Arsenal's own Europa League campaign as we know all too well. Qarabag did though fail to qualify for the Champions League groups this time around, and had to win a Europa League play-off tie to make Arsenal's group. They lost their opening group match away to Sporting Lisbon, but one imagines will be a tougher nut to crack in their native Azerbaijan.
Henrikh Mkhitaryan
Doubtless the Armenian could have travelled to Azerbaijan if the club had forced the issue through UEFA. Their influence meant he could have travelled there as a Borussia Dortmund player back in 2015, but ultimately, he remained in Germany. There's a ban on Armenian citizens entering the country due to a political conflict over disputed territory. Sport and politics, eh? It will actually weaken Arsenal's hand as the number 7 would have surely played. Apparently the Azerbaijan journalists were pushing Unai Emery hard in their questioning about his absence, trying, doubtless, to score points. Arsenal probably felt that the atmosphere would be stoked up enough in the 68,000 seater stadium without the need to add fuel to the fire by having the Armenian there.
A Strong Squad
Aside from Mkhitaryan, of the fit first team regulars, only Aubameyang (ill) and Ramsey (due to his wife's pregnancy) are remaining back in England. The players that have travelled are - Leno, Martinez, Bellerin, Lichtsteiner, Holding, Mustafi, Sokratis, Kolasinac, Monreal, Xhaka, Elneny, Torreira, Guendouzi, Smith-Rowe, Iwobi, Ozil, Welbeck and Lacazette. So much for resting players. Sure, Monreal, Xhaka, Torreira and Ozil may remain on the bench, but the return flight alone will be physically draining ahead of the visit to Fulham on Sunday lunchtime. It suggests Emery is taking the competition more seriously than might have been anticipated.
Probable Starting Line-Up
Leno - Lichtsteiner, Holding, Sokratis, Kolasinac – Elneny, Guendouzi, Smith-Rowe – Welbeck, Lacazette, Iwobi. Expect to see a shot of Mesut Ozil on the bench at some point with a 'What the f*** have I travelled all this way for?' expression (That would be because you are being paid £50k a day and the club are not going to let you put your feet up and play FIFA at home on a point of principle). I'm looking forward to seeing Kolasinac again after his return from injury, as well as seeing if Alex Iwobi can be as influential as last weekend.
Emile Smith-Rowe
Smith-Rowe is the one youngster who saw exposure in pre-season that Unai Emery has decided to give an opportunity to. The others have gone on loan or returned to the U-23 side. Smith-Rowe also plays for the U-23s, but is given chances in the first team as well. He has shown flashes of real potential, although has also been understandably inconsistent. Arsenal need a quota of home-developed players, so there will always be room for a certain number of English squad members (if for no other reason that buying them in once more established is very costly and not good use of the club's dwindling playing budget). Assuming Ozil will be rested for Fulham, Smith-Rowe will surely start tonight, with the number 10 to come on if required.
Conclusion
It's genuinely a tough one to call, because Qarabag cannot be written off in front of their own crowd. Arsenal's first job will be to silence the stadium by killing the pace of the game and controlling possession. It will be interesting to see Emery's European tactics in such an environment. One expects a little more caution, given the priority is not so much gaining points as simply getting out of the group. A draw would certainly be an acceptable result, although truth to tell, with the quality at Emery's disposal, Arsenal should win. I'm predicting a 3-1 Gunners victory and hopefully they will be returning to this stadium next May, ideally with Mkhitaryan.
The Gooner has teamed up with Fansbet.com this season, so if you do have a punt on the football, and select The Gooner Fanzine as your 'branch' when signing up as an Arsenal fan, 50% of any profits Fansbet make from your bets go towards maintaining the fanzine. If you fancy a bet, why not do it with Fansbet and help support The Gooner. But remember, when the fun stops, stop. Please gamble responsibly.