Online Exclusive
Gooner Daily: Smells Like Team Spirit
Happy days at London Colney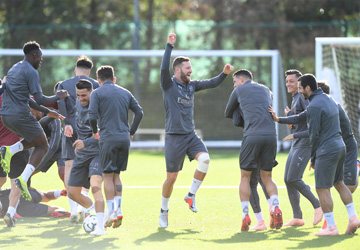 I was having a delve through the more recent offerings on the treasure vault that is club photographer Stuart MacFarlane's excellent Flickr account and was struck by the sheer number of smiling faces in his photos of Arsenal players during training at London Colney. Not that there weren't smiles in recent seasons, but the proliferation of them suggests there is a great deal of enjoyment between the players whilst they are training under Unai Emery. Maybe there is a bit more fun in the sessions the head coach and his team lay on, even though reputedly, the players train far more than they did under Arsene Wenger.
Of course, it may also be simply down to MacFarlane's selection of which shots to use, but the sheer number of smiling faces seem to counter this. Winning certainly lifts the mood, no question about that. Equally, the squad appear more a unit this season, with no sulking faces. There were stories that Alexis Sanchez did not get on with too many of his colleagues in the latter period of his time at Arsenal, reputedly evidenced by some of them not celebrating his goals with him, nor indeed him celebrating those of others.
How much does this matter? Whether or not players will get along can be as random as meeting women on foreign dating sites, and how is a club to know ahead of bringing in a new arrival whether or not they will gel? I recall Andy Cole and Teddy Sheringham did not get on at all at Manchester United, although they did not always play together, with Dwight Yorke and Ole Gunnar Solskjaer being their regular strike partners – Cole and Yorke would start matches with the latter two replacing them from the bench. Yet even when they were paired they developed enough of a relationship on the pitch to bring success.
However, from my distant memories as a Sunday pub team player, I recall that when mates played in tandem, they tended to play better. There was a natural empathy between them and they were more willing to go the extra yard for each other. The undoubted bond that exists between Aubameyang and Lacazette, recently joined by Matteo Guendouzi is something of a contrast between, for example, that of Nicklas Bendtner and Emmanuel Adebayor – strike partners who, on occasion, would not even pass to each other.
At the end of the day, players that get on are less likely to bring each other down when adversity does happen. The blame culture is not healthy for moving forward in a positive manner, although accountability is necessary and can exist without people falling out. It's interesting to see Mesut Ozil smiling a lot in the training shots. This does not suggest a great deal of resentment about the reality that his deal pays him at least twice as much as his colleagues (a quirk whereby renewals of star players more or less include an amount akin to a percentage of a transfer fee, simply to save the cost of a replacement).
The other thing that will assist with the mood in the camp is that the manager does not seem to have real favourites, so everyone will feel like they are being treated fairly. If you are a second stringer, a good display in a cup game can lead to a Premier League start, as we evidenced against Fulham last Sunday. So no one feels marginalised as long as the manager is seen to be fair and reward good form. There develops an appreciation that the team is more important than the individual, perhaps something that wasn't happening with Sanchez or previous wantaways. The celebrations during games when the team has scored confirm this.
It's my belief that a group of players that enjoy being together and their work are generally going to produce better results. The midfield quartet in 2007-08 of Hleb, Fabregas, Flamini and Rosicky were very socially tight and produced great things until Rosicky, and then Flamini got injured. In the end, that lack of continued unity saw the team fall short at the business end of the season. So let's hope the current squad stay fit, and happy.