Editorial
Who is this team!? Where have Arsenal gone!?
Online Ed: Gunners winning run continues v Leicester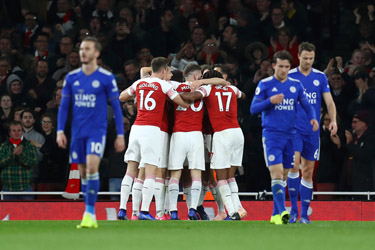 Ed's note – I am abroad, five hours behind UK time, so this is a little late today. As I could not catch the game yesterday, my thanks to David Oudôt for filling in for me for the piece on the match against Leicester.
Ten successive wins. For a team that's very much at the beginning of a big changeover after 22 years of Wengerball, that lost its first two games of the season, and which has been trying to integrate eight new first team players since the turn of the year and is still trying to find out what its best starting eleven is, that is quite an achievement. And not something that has to stop for the sake of it. Another great second half performance featuring two more delicious team goals sees this side seeming only to improve.
An interesting team showed Lichtsteiner starting at left-back despite no news of a Monreal injury, which immediately raised eyebrows all around the ground, and in seeing unused centre-back, Zech Medley, on the bench rather than Kolasinac suggests that the first offer we receive in January will see the not-quite-a-cult-following Serbian leave the Club (the same could also be said of Elneny). Now first-choice-sub Ramsey started on the bench with Aubameyang, with in-form Iwobi and Mkhitaryan playing around skipper-of-the-day, Özil.
Despite being on a great run of form and us being at home to a very inconsistent side, the international break of 15 days since the Fulham game seemed to have done more harm than good with a very slow start. Leicester began their time-wasting shortly after the kick-off (60 seconds to take a corner in the fourth minute of a game? Really?), but pressed on us early with shots on target, two of which brought off very good saves by Leno (whose song should be 90s Dance classic 'Boom, boom, boom. Let me hear you say 'Leno' ('LENO!')'), the second being a head-turning reflex save from a textbook downward header fro the beast that is Harry Maguire.
With pressing being a key part of Emery's game plan as we have seen this season, the defence always looks iffy at times but last night gave one of their best performances so far as whilst the pressing is continuing, when the ball is lost the back four have learned to back track immediately. After 25 minutes there was only one outfield player in our own half as we were attacking, but after losing the ball, the players got back, standing off of the attackers (rather than your standard Mustafi-on-his-arse slide-in), and by the time the attacker in possession was at decision time there were seven in front of him and the ball was suitably disposed of. Sadly, that could not stop us going a goal down as a very mouthy but impressive Chilwell skinned Bellerin and in sending the ball across goal saw it deflect off the right back's stretched leg to leave Leno stranded. 0-1.
But this is a different Arsenal to the one we've seen in recent seasons. The heads didn't go down on-pitch or in the stands – the game kicked off again with a roar from the Gooners, and the players acting as though nothing happened, and shortly before half-time we saw Özil calmly place a Bellerin cross in off the post to equalise. First half done, and the second half saw the afterburners go on with teamwork akin to the Fulham game producing two delicious goals and Özil very much rising to the occasion.
Whilst Mesut will always have more critics than fans amongst us, when he's playing like he did against Leicester he's the man the likes of Ramos, Ronaldo, and Benzema were lamenting Real Madrid's sale of when we brought him over. The man who can see through balls that the Fifa '19 version of him on a PS4 couldn't even imagine. His pass to Bellerin to cross for Aubameyang to stroke home had all of us go "awwwwwwwwwww" and our heads turning to the big screens for replays as soon as possible. But the third was a virtual repeat of Ramsey's goal against Fulham with dink-dink-dink one touches from Torreira, to Özil, to Guendouzi, Bellerin, an Özil dummy, Lacazette through Özil, and a gorgeous touch across goal for Aubameyang to finish off again.
All in all, another good performance and the times are still-a-changin', hopefully for the better. Christ, it can't get much worse than the majority of last season. Thursday will see a mixture of the starters and the bench playing in Lisbon, and the quick turnaround to Selhurst Park on Sunday seeing another group but let's just hope this continues. To say we were fearing the home game against Liverpool after our losing to Man City and Chelsea is an understatement, but to say we'd be looking forward to it if we manage to win the next two games ahead of it is an even bigger one.
This season, The Gooner and onlinegooner.com are partnered with Fansbet. If you enjoy a flutter on your football, sign up as an Arsenal fan and select The Gooner Fanzine as your 'branch' from the drop down menu. In the event that Fansbet make any profit from your bets, 50% of that goes to help fund the continued survival of The Gooner fanzine. However, if you cannot gamble responsibly, please do not bet.
The current issue of The Gooner can be bought online here (price includes postage of £1 to UK addresses of £2.50 abroad) or if you wish to subscribe for this and the other four remaining issues this season, here's the page to do that.. It will also be on sale at the home games v Blackpool and Liverpool.
There are other ways of ordering the issue if you do not wish to order via credit / debit card through the website store…
Online Bank Transfer For the current issue, pay £6 UK / £7.50 abroad (or for a 2018-19 five issue subscription £25 UK / £35 abroad) via online bank transfer to –
Account name: The Gooner
Sort Code: 20-76-90
Account Number: 03004112
Swift / BIC: BUKBGB22
Iban: GB79 BUKB 2076 9003 0041 12
Please use the reference '273YourSurname' on the payment – eg '273Smith' and follow up the payment with an email to thegoonerfanzine@btinternet.com stating your name and address, and the reference that you used for payment (e.g. 273Smith or whatever).
Via direct PayPal payment to the email address thegoonerfanzine@bt internet.com. For the current issue, pay £6 UK / £7.50 abroad (or for a 2018-19 five issue subscription £25 UK / £35 abroad) via your PayPal account state in the message you are requesting issue 273 (although we'll assume this if there is no message from the amount paid). If doing this, please make your payment a 'friends and family' / personal gift payment – this helps keep our costs down. PLEASE remember to add the name and address for your issue(s) to be mailed to in the note with the payment.
Finally, you can pay by cheque made payable to 'The Gooner' to the address below. For the current issue, pay £6 UK / £7.50 abroad (or for a 2018-19 five issue subscription £25 UK / £35 abroad)
The Gooner
12 Buxton Court
Hanbury Drive
London
E11 1GB