Editorial
Iberian Joy
Online Ed: Another Arsenal away win - against Sporting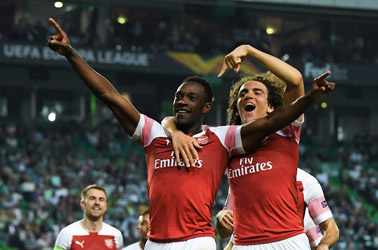 So the winning run extends to eleven matches. Granted, Leno, Sokratis, Lichtsteiner and Guendouzi in the starting line-up were not at the club last season, but are these players actually better than those that were so poor last season? I'd argue probably not, which suggests that Unai Emery's coaching is having a genuine impact, and it's still early days.
The other thing that yesterday's early evening kick off suggests is that the system is more important than the players. So we had a mix and match team with several so-called second stringers, and Granit Xhaka playing at left back! And he didn't get booked either, which came as a pleasant surprise.
No matter. Arsenal played a good game and could have won by more. Granted, they got away with a couple of things. A poor pass from Lichtsteiner straight to a Sporting attacker might have been punished, and few could argue that Sokratis should have remained on the field after his shirt pull as the last man. I have lost track of which tournaments VAR is being used in and which it is not, but conclude that it must not have been here (although I was watching the game in the legendary Blind Pig in New York with Spanish commentary, so there was no indication from the commentator that I could understand at any rate).
In terms of the two halves, it was what we had become accustomed to. The first was fairly even with a limited amount of genuine chances. In the second, Arsenal slowly took control. Aubameyang will be disappointed he could not find the net from two excellent opportunities, but in the end Danny Welbeck proved more clinical, although there seemed little wrong with his earlier header that went in, only to be disallowed for a supposed push.
Torreira, Lacazette and Iwobi came on at various stages to mix things up, Emery taking a relatively strong bench to give him options. One area in which there is a problem is full back though. Hector Bellerin was presumably rested, and Emery preferred playing Xhaka at left back rather than switching Lichtsteiner over to that flank and giving Carl Jenkinson a first start under the new regime. The right back was on the bench, with Monreal, Kolasinac and Maitland-Niles all injured. It will be interesting to see what solution Emery comes up with for the visit to Crystal Palace on Sunday. Monreal and Kolasinac are hamstring injuries, and unlikely to be rushed back for fear of a repeat. Unless Emery is going to play a centre back out wide (an option he passed on against Sporting), it looks as if Xhaka will remain there, and Guendouzi will partner Torreira in the centre. As stated earlier, given the quality of the performance yesterday, the system does look more important than the personnel, so for now we have to believe the manager can continue to come up with a winning solution.
On that note, this was apparently Arsenal's first victory in Portugal in after six failed attempts. In terms of the club's supposed easy run of games, this was no way straightforward. Often we are told that there are no easy games in the Premier League anyway, and in the winning run, on occasion, victories have been certainly far from straightforward. But ultimately, it doesn't matter how you win. The fact of the victory imbues confidence and belief, and critically, the players will accept and invest in the changes the head coach has been making because they can see the results. In fairness, this happened in Wenger's first double season. He allowed the players to retain the 3-5-2 system they were accustomed to when he arrived a few weeks into 1996-97 and the team finished third. He then went to his favoured 4-4-2 and two trophies were won.
I think the progress Emery has made with the squad he inherited, and some selective, but relatively inexpensive additions, has made people who were previously in denial that Arsène was allowed to stay way too long realise that they might have been wrong. The league positions alone indicate that. Sure, it is too soon to declare Emery an unqualified success, but because his methods are still being embedded, I think it's fair to say that optimism about the future is justified, and that, given time, Arsenal can challenge again.
This season, The Gooner and onlinegooner.com are partnered with Fansbet. If you enjoy a flutter on your football, sign up as an Arsenal fan and select The Gooner Fanzine as your 'branch' from the drop down menu. In the event that Fansbet make any profit from your bets, 50% of that goes to help fund the continued survival of The Gooner fanzine. However, if you cannot gamble responsibly, please do not bet.
The current issue of The Gooner can be bought online here (price includes postage of £1 to UK addresses of £2.50 abroad) or if you wish to subscribe for this and the other four remaining issues this season, here's the page to do that.. It will also be on sale at the home games v Blackpool and Liverpool.
There are other ways of ordering the issue if you do not wish to order via credit / debit card through the website store…
Online Bank Transfer For the current issue, pay £6 UK / £7.50 abroad (or for a 2018-19 five issue subscription £25 UK / £35 abroad) via online bank transfer to –
Account name: The Gooner
Sort Code: 20-76-90
Account Number: 03004112
Swift / BIC: BUKBGB22
Iban: GB79 BUKB 2076 9003 0041 12
Please use the reference '273YourSurname' on the payment – eg '273Smith' and follow up the payment with an email to thegoonerfanzine@btinternet.com stating your name and address, and the reference that you used for payment (e.g. 273Smith or whatever).
Via direct PayPal payment to the email address thegoonerfanzine@bt internet.com. For the current issue, pay £6 UK / £7.50 abroad (or for a 2018-19 five issue subscription £25 UK / £35 abroad) via your PayPal account state in the message you are requesting issue 273 (although we'll assume this if there is no message from the amount paid). If doing this, please make your payment a 'friends and family' / personal gift payment – this helps keep our costs down. PLEASE remember to add the name and address for your issue(s) to be mailed to in the note with the payment.
Finally, you can pay by cheque made payable to 'The Gooner' to the address below. For the current issue, pay £6 UK / £7.50 abroad (or for a 2018-19 five issue subscription £25 UK / £35 abroad)
The Gooner
12 Buxton Court
Hanbury Drive
London
E11 1GB