Editorial
All Good Things Must Come To An End…
Online Ed: Arsenal's winning sequence ends at Selhurst Park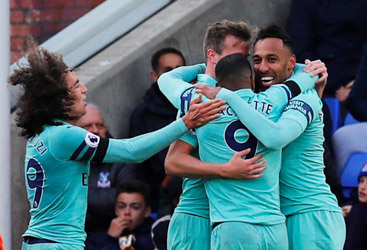 When I saw Arsenal's fixture list at the season's start, it was apparent that after the first two matches, the team would have a run of eight games in which they could collect a lot of points before facing another 'top six' side. In the end, they secured 22 out of 24, which I am certain everyone would have accepted, given the time needed for a new regime to begin effecting the necessary changes at the club. The two trickiest games in that run, on paper, appeared to be Fulham and Palace away. However, come yesterday, with Palace so poor at home all season and Unai Emery's players winning matches left, right and centre, it looked like a highly likely away win.
Roy Hodgson's team were yet to win at home in 2018-19, and still haven't, but they denied Arsenal two points with two penalties. Replays showed their opener, shortly before half-time, came from a corner that should never have been given, with a shirt pull on Rob Holding strong enough to rip his top before he put the ball out. Having said that, Shkodran Mustafi's hack to try and take the ball was ill-judged to say the least, and although the German has had some good moments this campaign, if the team are to progress they will be looking for an upgrade on him. I don't expect to see him start too many league games going forward after such an error. Palace's equalizer with about ten minutes to go was a consequence of good play by Wilfried Zaha, always the most dangerous threat to Arsenal's goal, who was fouled by Granit Xhaka's as he went to take the ball past the fill-in left back.
The result reflected a fairly even game. Palace edged the first half with a couple of excellent opportunities spurned early on. After the interval, a goal down, Arsenal came out and dominated until they had established a lead of their own. A peach of a free-kick from Xhaka was a pleasure to watch, before the visitors went ahead thanks to the technology of the goal-line camera. Palace complained about the ball brushing Lacazette's hand from the corner before it fell to Aubameyang to finish from the angle, although that ignored that Lacazette was being held by his marker. It almost looked as if he was raising his hand to appeal for the holding. The sooner we get VAR the better as it made corners far more dangerous at the World Cup once defenders realized they would be penalized for holding.
Unai Emery decided to retain Grant Xhaka at left back and the Swiss midfielder did not disgrace himself there by any means. Better defenders have been exposed by Zaha. Hector Bellerin's apparent injury meant he is likely to remain there in the short term, the Spaniard withdrawn at half-time. Aubameyang returned to the Premier League starting eleven with Alex Iwobi retaining the other wide position. Not to blame the individuals, but Arsenal were only truly fluent for about a 15 minute period in the second half, when they scored both of their goals. Perhaps, finally, their midweek exertions are becoming a factor, or maybe Palace simply defended better than other recent opponents.
Arsenal have conceded winning positions before this season but recovered – Cardiff away is a notable example. They need to learn to manage games a little better before they can seriously eye another shot at the title. It was telling that Chelsea won away at Burnley to re-establish a clear gap between the top three (all still undefeated) and the rest. Of course, the real test awaits next weekend when Arsenal entertain Liverpool – the first home match against purportedly superior opposition since the opening day of the season. Then, we will get a true measure of the short term progress under Emery.
It was certainly disappointing to drop two points yesterday, not least because the team were ahead on the 80th minute mark, but in honesty, they have rode their luck in certain of the victories in the winning sequence. It only feels like a bad result because Palace have had a bad run, but a visit to Selhurst Park is not a guaranteed gimme. Teams have to earn whatever they get there.
Blackpool on Wednesday should be a relative formality with a shadow team, few of whom will start next Saturday against Liverpool. Arsenal have 22 points from their first ten matches. Given the upheaval at the club, fourth place and four points off the lead is not bad going at all. I thought the beginning would be more painful than this, so I'll take it. I did not anticipate a genuine title challenge from Arsenal until 2020-21 given the wreckage of the past two campaigns and the legacy the previous manager left behind (in terms of overpaid players who will be difficult to sell), but at the present rate, there is hope that we might see one even sooner.
The current issue of The Gooner can be bought online here (price includes postage of £1 to UK addresses of £2.50 abroad) or if you wish to subscribe for this and the other four remaining issues this season, here's the page to do that.. It will also be on sale at the home games v Blackpool and Liverpool.
There are other ways of ordering the issue if you do not wish to order via credit / debit card through the website store…
Online Bank Transfer For the current issue, pay £6 UK / £7.50 abroad (or for a 2018-19 five issue subscription £25 UK / £35 abroad) via online bank transfer to –
Account name: The Gooner
Sort Code: 20-76-90
Account Number: 03004112
Swift / BIC: BUKBGB22
Iban: GB79 BUKB 2076 9003 0041 12
Please use the reference '273YourSurname' on the payment – eg '273Smith' and follow up the payment with an email to thegoonerfanzine@btinternet.com stating your name and address, and the reference that you used for payment (e.g. 273Smith or whatever).
Via direct PayPal payment to the email address thegoonerfanzine@bt internet.com. For the current issue, pay £6 UK / £7.50 abroad (or for a 2018-19 five issue subscription £25 UK / £35 abroad) via your PayPal account state in the message you are requesting issue 273 (although we'll assume this if there is no message from the amount paid). If doing this, please make your payment a 'friends and family' / personal gift payment – this helps keep our costs down. PLEASE remember to add the name and address for your issue(s) to be mailed to in the note with the payment.
Finally, you can pay by cheque made payable to 'The Gooner' to the address below. For the current issue, pay £6 UK / £7.50 abroad (or for a 2018-19 five issue subscription £25 UK / £35 abroad)
The Gooner
12 Buxton Court
Hanbury Drive
London
E11 1GB