Editorial
Arsenal Make Hard Work Of League Cup Progress…
Online Ed: Gunners defeat Blackpool to line up North London Derby quarter final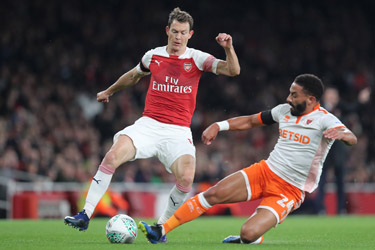 It was a surprise to see the name of Julio Pleguezuelo in the starting eleven against Blackpool last night, and another surprise was the return of Ainsley Maitland-Niles, as his return from injury was not expected when people (including myself) were predicting the line-up for this 4th Round League Cup tie.
Both, along with another youngster, Emile Smith-Rowe played competently enough, as it was some more experienced names that put the home side in danger of elimination from the competition. Petr Cech had an uncomfortable evening and will have done little to persuade Unai Emery that he should think about replacing Bernd Leno in goal for Saturday's visit of Liverpool.
Shkodran Mustafi was the principal individual to blame for the concession of a goal that gave the visitors – by that time with a man advantage – hope that they might get an equaliser and take the tie to a penalty shoot-out (apparently there being no extra time in this competition any more). I doubt either Cech or Mustafi will be starting the next game.
A crowd of approximately 35,000 witnessed lots of empty seats in the more expensive upper tiers, although I was surprised that Ivan Gazidis was in attendance, having read on the BBC website that he was down to start his job at Milan yesterday. Looks like they got that wrong. If you can't rely on the BBC for accurate information… Anyway, it appears that yesterday was his final one as an Arsenal employee, a few weeks short of serving a decade at the club. Ultimately, his best work was done in his final year, as he finally ushered in much needed change to the organisation. Now his work is done and as far as a link between the owners and the support, Raul Sanllehi seems a lot more credible in terms of you believing he means what comes out of his mouth.
Back to the on-field fare, and until Blackpool scored, it was a fairly pedestrian affair, with limited excitement. It was an inevitability that Arsenal's line-up meant the fluidity we see from the first choice team on occasion was largely lacking. Playing Carl Jenkinson at left back is hardly going to grease the wheels, although fair play to the forgotten man for getting an assist for the second goal. The first, a very nicely taken volley by Lichtsteiner getting on the end of Guendouzi's cross was the highlight of the opening half. When Smith-Rowe converted Jenkinson's cross after the keeper flapped at it not too long after the interval, things looked comfortable.
Then, Gunedouzi received a second yellow that puts him out of contention for a place on Saturday. Will Ainsley Maitland-Niles revert to left back, allowing Xhaka to partner Torreira? Or will Xhaka stay where he is with AMN going central? Maybe it's too early for AMN to play two games within four days, meaning Aaron Ramsey plays in a deeper role than he has done under Emery until last night.
The Welshman looked a little off colour last night, possibly disappointed that he is effectively now one of the shadow team, a Premier League sub when everyone is fit. Of course the snub from the club, having withdrawn a contract offer which he claims he had more or less agreed to, will surely also be a factor. For the sake of his football, he might be better moving in January, although financially, seeing out the whole campaign would benefit him far more. It's an unfortunate state of affairs, but at the end of the day, it's his agent who is probably responsible. In one way, it is good to see the club making a stand. That will make future negotiations with others more straightforward. Effectively, Ramsey is the first playing casualty of the new regime. This would never have happened under Arsene Wenger, but Le Boss has long been guilty of overpaying his players.
So against ten men, Blackpool made a fist of it and the game became rather concerningly entertaining for all the wrong reasons. Their defender Paudie O'Connor headed against the bar from a corner, but soon after had a similar chance and found the net, as Mustafi moved forward to head a ball that sailed over him, only to be met by O'Connor. There was a near calamitous moment afterwards when Cech tried to pass the ball out, only to be dispossessed, but the resultant goal was fortunately offside. Things calmed down when the Blackpool goalscorer himself was red carded and Arsenal played out the rest of the game in a more controlled manner.
It was a performance with few highpoints, although at least some fringe players and youngsters got some game time. At League Cup ticket prices, I am sure the quarter final against Spurs will sell out, although Arsenal will have to field a stronger eleven than last night to progress. The quarter final comes in the midst of a run of seven matches in 20 days around the Christmas period, which will inevitably see plenty of rotation. Depending on the strength of the Spurs team, it might be a round too far, but at least Arsenal have home advantage. Next up, Liverpool and the return of A team.
The current issue of The Gooner can be bought online here (price includes postage of £1 to UK addresses of £2.50 abroad) or if you wish to subscribe for this and the other four remaining issues this season, here's the page to do that.. It will also be on sale at the home games Liverpool and Sporting Lisbon.
There are other ways of ordering the issue if you do not wish to order via credit / debit card through the website store…
Online Bank Transfer For the current issue, pay £6 UK / £7.50 abroad (or for a 2018-19 five issue subscription £25 UK / £35 abroad) via online bank transfer to –
Account name: The Gooner
Sort Code: 20-76-90
Account Number: 03004112
Swift / BIC: BUKBGB22
Iban: GB79 BUKB 2076 9003 0041 12
Please use the reference '273YourSurname' on the payment – eg '273Smith' and follow up the payment with an email to thegoonerfanzine@btinternet.com stating your name and address, and the reference that you used for payment (e.g. 273Smith or whatever).
Via direct PayPal payment to the email address thegoonerfanzine@bt internet.com. For the current issue, pay £6 UK / £7.50 abroad (or for a 2018-19 five issue subscription £25 UK / £35 abroad) via your PayPal account state in the message you are requesting issue 273 (although we'll assume this if there is no message from the amount paid). If doing this, please make your payment a 'friends and family' / personal gift payment – this helps keep our costs down. PLEASE remember to add the name and address for your issue(s) to be mailed to in the note with the payment.
Finally, you can pay by cheque made payable to 'The Gooner' to the address below. For the current issue, pay £6 UK / £7.50 abroad (or for a 2018-19 five issue subscription £25 UK / £35 abroad)
The Gooner
12 Buxton Court
Hanbury Drive
London
E11 1GB