Online Exclusive
Merci Arsene?
Unai Emery's interview with Marca paints a more realistic picture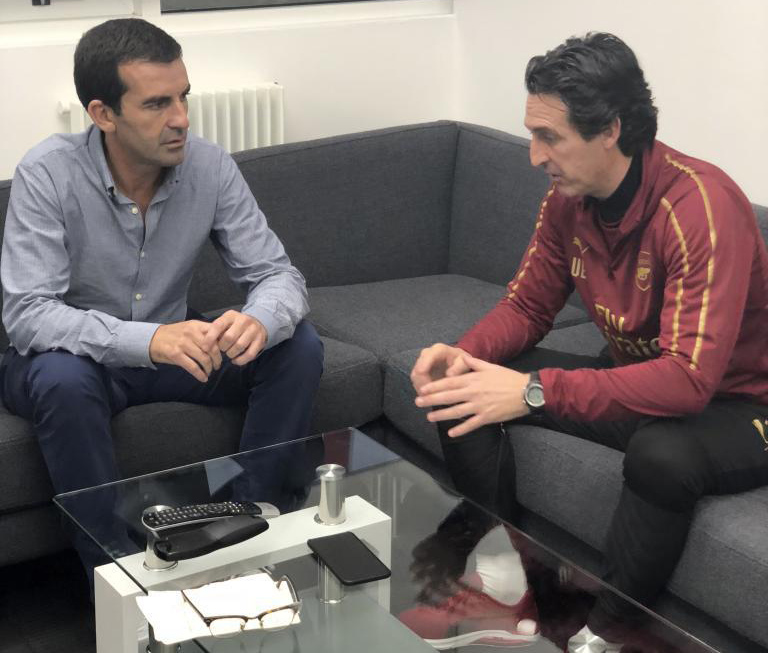 Firstly apologies that things have been rather quiet on the website of late. Truth to tell, much of the time, it can be a bit of a one man band here (unlike the printed fanzine, which it is far easier to get contributions for). And that one man has been very busy over the international break doing other stuff I won't bore you with. Anyway, I was intrigued to read this morning that Unai Emery had done an interview with 'Marca' in which he talked about taking the Arsenal job and his time there so far. There's a link to a translated version here if you have not already read it in full. And of course, meanings can get skewed in translation.
However, what it does indicate is that Arsene Wenger's successor has a different view of the state the club was left in by his predecessor. At the end of October, the now departed man from Alsace said, 'When Arsenal win I am happy. I felt I worked very hard and I think I left it in good shape. As a manager you have an influence, not only on the careers of players, the style of play and results but on the structure and impact you give to the club and overall that is very important – that the club can always continue at a very good level.'
There is no longer any need to protect Wenger's legacy on the club's part, although I am pretty certain that Marca did not have to go through the copy approval process because Emery would have had an existing relationship with the Spanish press and the interview could have been organised without going through the Arsenal press office. What he said was enlightening. On the changes that had to be made, he reflected, "The chairs had to be moved in all sectors of the club. And not because of previous negligence, but to motivate everyone again: to shake it up, to sweep things under the carpet, to open the windows, all positive things."
Now, the lost in translation dilemma. Is he stating 'previous negligence' as a fact, or saying it didn't happen. This is clarified later on when he said, "Arsenal were falling. We had to stop that and start to lift them."
He spoke about the post-Invincible years in the following terms: "with time, you can only take care of technique and attacking freedom, losing your defensive structure. What I want to do is unite the two and become more competitive." Interesting use of the word "you" as if to suggest it was generic. I'd say here, this is another case of Spanish and English getting confused. Of course you can take care of the defensive structure, it's just that this did not happen at Arsenal. What Emery surely meant is that his predecessor only took care of technique and attacking freedom.
More interesting though is the notion that Wenger tried to give the new man some pointers, the benefit of his knowledge about what Emery was inheriting. Asked whether Emery spoke to Arsene, he stated, "Not about the team. I ran into him once and not many more times. I respect him a lot, but no matter how much information he gave me, I had to change things. I told the players 'we are starting at ground zero'. Even now, four months later, I still say 'we are just at the beginning!'"
The real eye-opener though was the changes in nutrition, the area in which Arsene developed his reputation in England. Emery recalled, "There were habits that we could improve on in terms of nutrition. Together with the nutritionist and the fitness coach, we decided to get rid of juice with sugar, but that's normal and what I do at home: eat without sugar, less fat, healthier food."
Everyone knows things have been shaken up at the club, with an attendant upturn in performances, although the gains have so far been marginal in terms of points – the team are only two points better off after 12 games than last season. But as Emery has stated this is just the beginning. You can't turn around a juggernaut quickly, and the club fell into bad habits that still linger and will do until all of Wenger's players have been moved on.
Certainly, six dropped points from their last three Premier League matches have been a setback, but there is currently optimism that things can only get better. Realistically, Emery needs two more summer transfer windows before the club can compete for the title again, and given the likely squeeze on finances, for that to happen the club need to shop smart. There is a difficult sequence of matches coming up, and unfortunately, I suspect patience amongst the fanbase will start to run out for those who anticipate more immediate results.
Frankly, getting the team back into the top four this season, given the improvements made by Spurs and Liverpool since their respective managers arrived, will be a laudable achievement. That, sadly, is how far Arsenal slipped.
The current issue of The Gooner can be bought online here.
NEW! Subscribe to the Gooner news list to stay up-to-date with all the latest breaking Arsenal news.
Please note that we will not share your email address with any 3rd parties.
---