Online Exclusive
Unai Emery's First North London Derby
Preview of this afternoon's home game against Spurs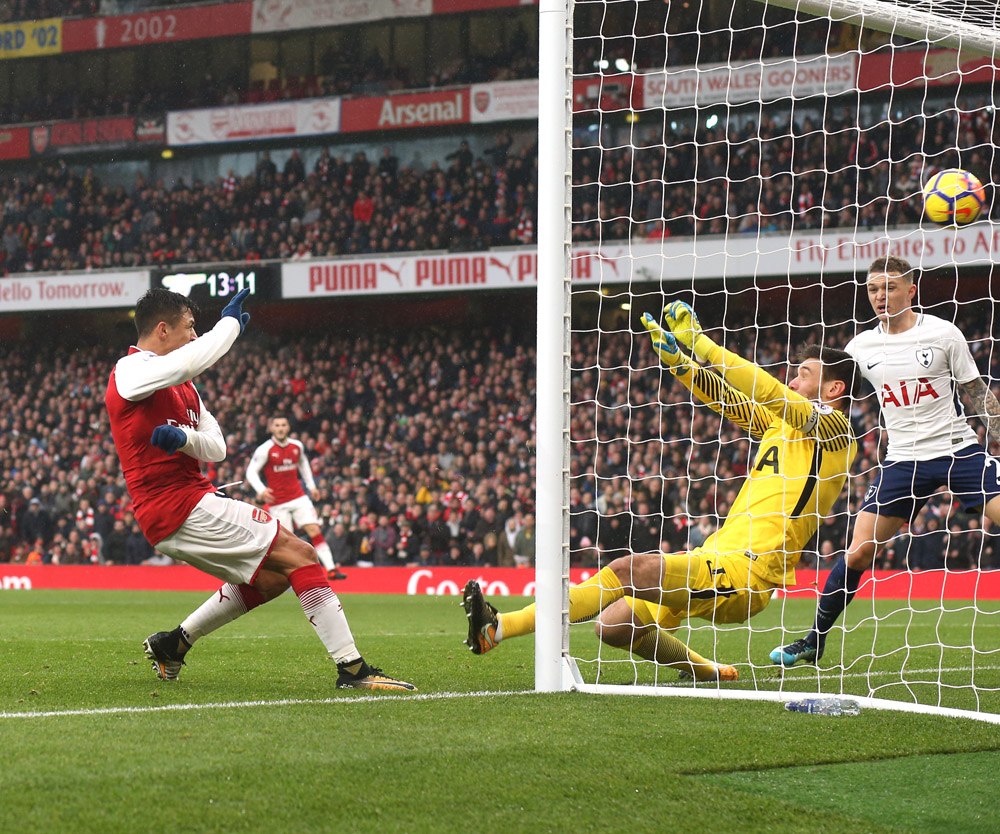 The usual five talking points ahead of today's Premier League match at home to Tottenham…
Players refreshed and ready for battle?
Spurs had a must-win Champions League match against Inter on Wednesday evening at Wembley. They did ultimately win, and Mauricio Pochettino got away with an element of rotation, starting the match with Eriksen, Son and Dier on the bench, although all three came on. Arsenal, on the other hand, rested their likely starting eleven by leaving them at home as they made the trip to Ukraine on Thursday evening. So no excuse for a post-European trip hangover on Arsenal's side. Although there won't be any noticeable difference between the two sides in terms of fitness for the first three quarters of the match, the last 20 minutes should see Emery's team benefit from their lack of exertion in the days before.
Home is where the form is
Arsenal, in spite of having a disappointing season overall in 2017-18, were generally impressive, results-wise, at home in the league. However, it was notable that the four matches they failed to win were against four of the five other top six sides. Their solitary victory while entertaining their direct rivals for a Champions League spot was in the derby against Spurs, 2-0 in mid-November with goals from Mustafi and Alexis Sanchez. Looking back, Arsenal have a pretty good record against their noisy neighbours, having lost just once in the last 29 occasions Tottenham have visited Highbury or the Emirates in all competitions. The last Tottenham win came in 2010, and in the other 28 matches there have been 17 wins and 11 draws.
The Mike Dean factor
There is a view that Dean is a Spurs fan, although refs are not allowed to officiate the matches of the teams they declare their support for. Dean lives on the Wirral, and cannot ref either Liverpool or Everton games. He has certainly taken charge of both Arsenal and Spurs many times, and he has reacted rather oddly to a couple of Spurs goals in the past. In September 2015, Arsenal fans launched a petition to prevent Dean from refereeing their Premier League fixture against Chelsea, with 100,000 signatures being raised within a week. The authorities ignored the petition, although after the game, which Chelsea won, The FA rescinded a red card Dean issued to defender Gabriel with Chelsea's Diego Costa getting a retrospective three-match suspension for violent conduct. However, it's not all bad news. Dean refereed last season's Arsenal v Spurs game, which as stated earlier, was a home win.
A real test for the defence
There's no question that the team's weak point so far this season has been the number of chances the opposition have enjoyed on Arsenal's goal. Fortunately, opposition players have proved profligate on several occasions and there is certainly an argument that Emery's team have gained more points than they perhaps deserve. It's a real concern, and Rob Holding playing against Vorskla on Thursday suggests that Mustafi and Sokratis will be given the task of dealing with Harry Kane, unless Emery sticks with the three at the back formation he played at Bournemouth last weekend. Whatever he chooses, if Arsenal are to take anything from this match, they will simply have to be tighter than they have generally been. We may not like to admit it, but Spurs have the quality of players to take advantage where lesser sides have failed to do so.
Two draws or a win and a loss in next two matches?
I was asked on Twitter whether I would take two draws (and two points) rather than a win and a loss (three points) from the next two matches (v Spurs and Man Utd). I opted for the two draws because denying both the opposing sides three points could benefit Arsenal come the end of the season. I realise there is a school of thought that United's season is already over, but either Mourinho will come good (unlikely given his relationship with the players) or a new manager will come in the there will almost certainly be an uplift in their results. Sure, they aren't going to win the title, but neither are Arsenal. Spurs on the other hand, have title aspirations, and it is critical the Gunners do not allow them to leave at the end of this afternoon's game with three points. The gap between the two sides would then be six points, and Arsenal still have to visit Man City, Liverpool and Spurs (presumably at their new stadium?)
Conclusion
History is on the side of Arsenal at least avoiding defeat, although recent Premier League form favours Spurs, with their winning seven of their last eight matches, the only reverse being against Manchester City. But, form goes out of the window in derbies, right? Let's hope so. I cannot bring myself to predict a Spurs win, but I am anticipating a torrid afternoon, with not a chance in hell of an Arsenal clean sheet. So I'll go for a 1-1 draw and my nails being a couple of millimetres shorter by full time.
If you fancy a flutter…
The Gooner has teamed up with Fansbet.com this season, so if you do have a punt on the football, and select The Gooner Fanzine as your 'branch' when signing up as an Arsenal fan, 50% of any profits Fansbet make from your bets go towards maintaining the fanzine. If you fancy a bet, why not do it with Fansbet and help support The Gooner. But remember, when the fun stops, stop. Please gamble responsibly.