Online Exclusive
A Tale Of Two Dodgy Defences
Online Ed: Arsenal win point at Man Utd, but could have had more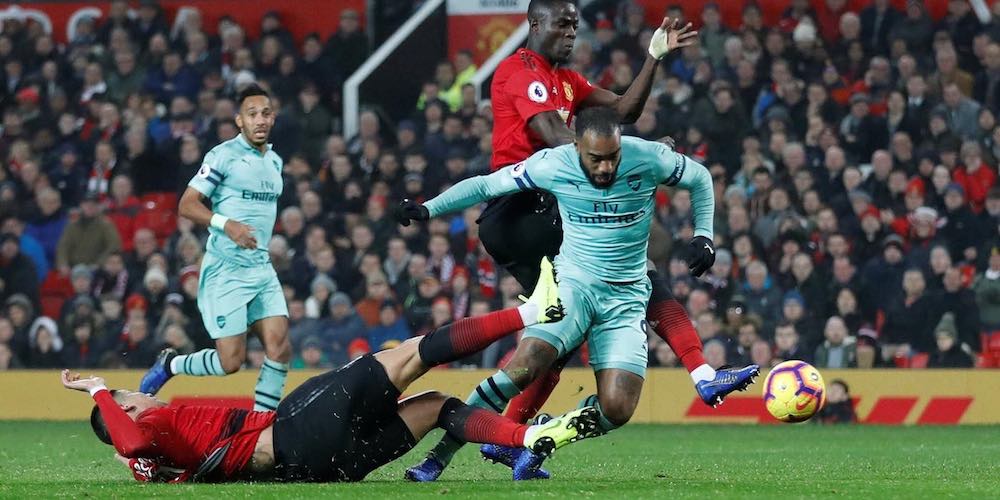 It was a visit to Old Trafford laced with far more optimism than normal. Arsenal's performance in the North London Derby combined with the inconsistency of United had some believing Emery's team could win a league match at United for the first time since 2006. And on the chances created, they certainly could have. If you score two goals away from home, you should expect to win. Yet the Gunners weak point in recent seasons has been defensive lapses, and it hasn't gone away. And the reality is that defence has never been Emery's strong point.
Guendouzi and Ramsey came in for the suspended Xhaka and the benched Mkhitaryan. Mesut Ozil did not travel with the squad. Three at the back were retained and Shkodran Mustafi recovered from his knock on Sunday. Early on United were aggressive and went forward with signs of intent, but soon enough Arsenal established a foothold in the game. Iwobi frustrated a little with his attempted crosses always seeming to get blocked when he had the opportunity to create danger. However, once Ramsey switched to the left hand side, the visitors created a lot of danger through combinations involving the Welshman, Gunedouzi and the overlapping Kolasinac.
Eventually the pressure told, when Mustafi headed in a corner that De Gea fluffed. Goal-line technology determined the award of the goal when it looked to the naked eye like a goal-line clearance. It was a nice break. Arsenal being Arsenal, and this being the first half, it couldn't last. United own a free kick outside the area, which Rojo took, forcing a save from Leno. Ander Herrera was marginally offside at the time, but not spotted so was able to put the ball across the face of goal where Martial was in position to finish more quickly than Arsenal's players, notably Holding and Iwobi. A lack of focus that will need to be picked apart on video.
Things were about to get worse. Rob Holding was stretchered off. Arsenal's centre back options were not helped by Laurent Koscielny being subbed with what looked like his ankle playing up in the U21 match at Pompey on Tuesday evening. Mavraponos has hardly featured this season due to injury. Holding was replaced last night with Stephan Lichtsteiner. As half-time neared, it was obvious Aaron Ramsey would be unable to continue for long and so it proved, with Mkhitaryan coming on for the restart. Emery's men seemed to be dropping like flies. It was a quite a physical match with a lot of fouls, but the worst injuries seemed innocuous. One hoped the law of the ex might mean Mkhitaryan scoring against his old side.
Lacazette replaced Iwobi with a quarter of the game left, and not before time. Arsenal went ahead again thanks to a defensive howler from Rojo who lost possession in his own half. The resultant attack saw Lacazette in the wars after the ball had entered the net, although whether the striker or Rojo got the final touch was difficult to say. Unfortunately, it didn't last long, United scoring straight from the re-start as the Arsenal defence failed to clear a high ball into the box, with Kolasinac unwittingly passing the ball into the path of Jesse Lingard to poke it past Leno. There are times when safety first is the best policy and Kolasinac would have done better to just leather the ball away from the area.
The danger from Kolasinac continued into the second half, and chances were certainly there for the taking. Arsenal rallied, and both Aubameyang and Mkhitaryan had glorious chances in front of goal, both set up by Kolasinac. They also found the net twice, but were ruled offside on both occasions. As the game neared the end, Lichtsteiner killed momentum as the team ensured they would at least not concede a late goal, something of a United speciality. Overall, United's three subs – Lukaku, Pogba and Fellaini has less influence than you would have expected, which pays some credit to Arsenal's play.
Ultimately, it was a match of drama more than quality, as symbolized by the goals. Most Arsenal fans would have settled for four points out of six before the matches with Spurs and United, although the reality is they deserved to win both. Now they have matches against Huddersfield, Southampton, Burnley and Brighton to rack up as many points as they can muster before visiting Anfield before the New Year.
Emery still has time to work on the defence so that this can still be a successful season, but the continual concession of cheap goals might ultimately cost. Certainly, there has been progress, but not in all areas. Arsenal slipped back into fifth place as a result of last night's games. Even allowing for the defensive howlers, there were enough chances for the Gunners to win this game. So a sense of what might have been, but the unbeaten run continues, and United's woes under Mourinho this season do the same.
The current issue of The Gooner can be bought online here (price includes postage of £1 to UK addresses of £2.50 abroad) or if you wish to subscribe for this and the other three remaining issues this season, here's the page to do that. It will also be available at first team home matches (Spurs, Huddersfield, Qarabag) as you approach the stadium (in Gillespie Road near the Arsenal tube, and in Hornsey Road near the Little Wonder café by the two cannons roundabout). And if you are attending an away game, look out for Alex near the away entrance selling copies.
There are other ways of ordering the issue if you do not wish to order via credit / debit card through the website store…
Online Bank Transfer For the current issue, pay £6 UK / £7.50 abroad (or for a four issue subscription covering the remainder of 2018-19 £20 UK / £28 abroad) via online bank transfer to –
Account name: The Gooner
Sort Code: 20-76-90
Account Number: 03004112
Swift / BIC: BUKBGB22
Iban: GB79 BUKB 2076 9003 0041 12
Please use the reference '274YourSurname' on the payment – eg '274Smith' and follow up the payment with an email to thegoonerfanzine@btinternet.com stating your name and address, and the reference that you used for payment (e.g. 273Smith or whatever).
Via direct PayPal payment to the email address thegoonerfanzine@bt internet.com. For the current issue, pay £6 UK / £7.50 abroad (or for a four issue subscription covering the remainder of 2018-19 £20 UK / £28 abroad) via your PayPal account state in the message you are requesting issue 273 (although we'll assume this if there is no message from the amount paid). If doing this, please make your payment a 'friends and family' / personal gift payment – this helps keep our costs down. PLEASE remember to add the name and address for your issue(s) to be mailed to in the note with the payment.
Finally, you can pay by cheque made payable to 'The Gooner' to the address below. For the current issue, pay £6 UK / £7.50 abroad (or for a four issue subscription covering the remainder of 2018-19 £20 UK / £28 abroad)
The Gooner
12 Buxton Court
Hanbury Drive
London
E11 1GB