Online Exclusive
The Ramsey and Ozil Situations
Thoughts on the whys and whats of how the club have handled two of their most high-profile players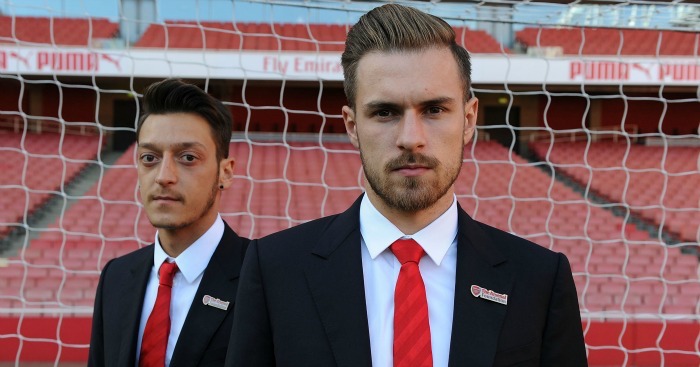 I was asked for my views regarding what is going on with Ramsey and Ozil by a regular email correspondent earlier this week. So with the (sometimes unfulfilled) aim of trying to get content on this here website on a daily basis, here goes.
One seems to be committed to the club this season and for the other, there are doubts. As far as Ramsey in concerned, it does appear as if there is unlikely to be any chance of a resolution that means he remains at Arsenal. The club have withdrawn the contract offer for a reason, and given that Ramsey will receive a healthy signing on fee at his next club, he is unlikely to wish to re-open talks with a willingness to accept less than he was being offered originally.
I'd speculate there were two major reasons that Arsenal decided to cut their losses on the player. Firstly, the amount the agent was asking was so far removed from what the club were prepared to offer that continuing talks was just a waste of time. The club need to plan now, and part of that will mean knowing what they need to do next summer. They can't be hanging on for a player to agree a compromise at the last minute, knowing he could just as easily depart.
The other reason is financial. The club are operating under a different model now, one that accepts Champions League football may not be a reliable source of income for a while. This has occurred because Liverpool and Tottenham – clubs with lesser financial resources than Arsenal, have become regular contenders for the top four, mainly due to better use of the transfer market and better coaching in recent seasons. We'll get onto Mesut Ozil shortly, but with Arsenal's failure to qualify for the Champions League for a second consecutive season, their wage bill now looks to be disproportionate to the squad's achievement. The club are in the process of cutting back now. The other consideration in this is that it is highly likely that Stan Kroenke will be taking circa £17 million out of the club's annual revenues to cover the interest payments on his Deutsche Bank loan to buy out Alisher Usmanov. This money has to come from somewhere it is currently being spent. The model for the immediate two or three years will be to buy young or developing talent at cheaper prices, and if the price is right, once that talent is fulfilled, selectively sell off the crown jewels, the departing players being replaced with cheaper options that the club feel they can get as much from. Think Nicolas Anelka leaving for Real Madrid to be replaced by Thierry Henry.
So Ramsey is the first casualty of this approach. Yet in spite of his impending departure the player look motivated and displays a very professional attitude. This benefits himself as much as the club, because when he gets on the field, he is in the shop window. Interested clubs will not look too negatively on his not being a regular starter, viewing his demotion to the bench as Unai Emery wanting to develop his team without Ramsey, given he will not be around after May.
As for Mesut Ozil, firstly an explanation of the deal he signed back in January. The club effectively weighed up the cost of recruiting a player of the German playmaker's perceived quality, in terms of transfer fee and wages. Let's say for the sake of argument, they'd have had to spend £75 million and pay the new player £200,000 a week on a three year deal in the summer of 2018 (it would have been longer, but this is for comparison). So £31 million in wages added to £75 million = £106 million. Ozil being paid £350,000 a week for three and a half years = £63 million. A saving of £43 million. The reality would be that a new arrival would have probably been on a five year deal and that the club could have sold them after three years (or negotiated an extension), whereas Ozil could leave on a free then. However, securing an existing player also means that there is no large outgoing payment to another club (although doubtless Arsenal would have tried to stagger the payments), on top of which the club would have believed it was not a good move to allow their two biggest marquee stars (Alexis Sanchez being the other) to depart within the space of a few months by letting Ozil's deal expire.
What is interesting though is that, with the situation at the club being what it was last season, it seems unlikely the Ozil deal was one determined by Arsene Wenger. Remember that Wenger had little input into the deals that brought the January arrivals (principally Aubameyang and Mkhitaryan) to the club. He probably simply expressed a willingness to buy them when it was suggested. Raul Sanllehi had not started work by this point, and the contracts are nothing to do with Sven Mislintat, so the Ozil offer would seem to have been a decision made by Ivan Gazidis and the Arsenal board.
So Ozil is sitting pretty financially, and it comes down to his motivation. A place in the national side is no longer a factor, so it comes down to pride and ambition. It is known that in previous seasons, Ozil has often phoned in sick on the morning of departure to an away match he didn't fancy, and that Wenger used to give him a week off during the Christmas / New Year period. Added to this, his playing style is not one based on the kind of physical 'put your body on the line' attitude that English supporters love to see. Fans love a tryer. More worrying for the player though is that in a pressing tactical gameplan, an element of physical presence is required from Unai Emery.
How the Ozil issue is resolved is a tricky one. I don't see Emery building the team around him. My suspicion is that if he doesn't adapt his game (which looks unlikely), the club will cut their losses and arrange a loan deal where they are paying a percentage of his salary. No-one is going to buy him because of his wages and current level of performance. The displays against Spurs and United confirmed Ozil is not integral to the team creating chances and it's fair to say he would have added nothing defensively. It seems he has become an expensive problem, a legacy left the club by the now departed Ivan Gazidis. Thanks Ivan.