Online Exclusive
Time For Arsenal To Get Imaginative Re: Empty Seats
Club should facilitate giveaway of unwanted seats for games like Thursday evening's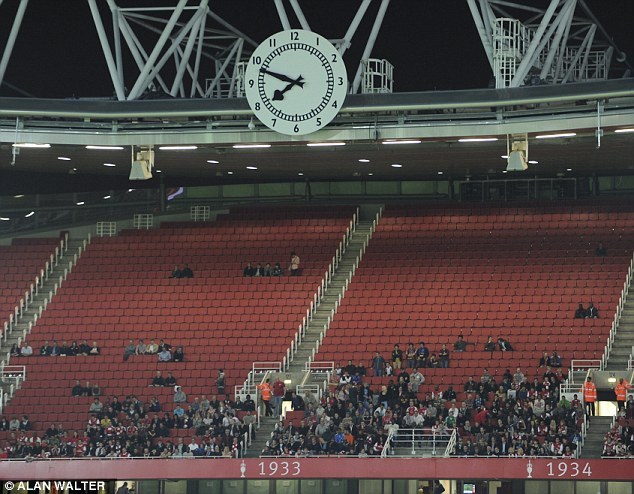 Arsenal do not run any kind of scheme whereby season ticket holders who don't wish to use their seat and either cannot or do not want to sell it through the club's re-sale portal to another member can simply give their ticket away to someone they do not know who might wish to attend for free.
And with such games as the one against Qarabag on Thursday night, the folly of this policy will be visible in the more than half empty stands at the Emirates. I predict a crowd of circa 25,000 but it might be even lower. 48,000 season ticket holders have paid for the final home match of the Europa League group stage, but the match is a dead rubber as far as everyone's concerned. Qarabag cannot overtake Sporting Lisbon to qualify for the knockout round and whatever the results on the night, the Gunners will finish top of the group. I doubt there have been too many sales to silver and red members of the approximately 12,000 non season ticket seats (of which a couple of hundred might go to Qarabag).
So it will come down to how many diehards feel motivated enough to see what will most likely be a mix of fringe first team squad players and a few youngsters. In a game that is effectively meaningless.
Arsenal have no scheme to facilitate the donation of unused seats, unless the owner is going to transfer them to a named fellow member. And even if they did, chances are it would not be used for Qarabag because the club still have seats to sell.
Yet there is a lack of forward thinking in such a policy. Sure, they might sell an extra couple of hundred tickets for the game if they didn't facilitate a mass giveaway. But just imagine this. 15,000 locals take up the offer of a free ticket. A fair proportion of them would buy food, drink and possibly merchandise at the stadium, especially as they have paid nothing to get in. The income would be far greater than 200 ticket sales (especially at Europa League prices), and we'd have something more like an atmosphere because there would be more bodies backing the team and as a rule, greater enthusiasm amongst those who only rarely, if ever attend.
So just a thought for those now making the business decisions at the club, as they take in the view of a more than half empty stadium on Thursday evening. For those that do use the seats they paid for at the start of last summer, it's a great opportunity to assess the quality of the younger talent at the club, and see some players that most of us are not yet familiar with. It should be a very useful exercise for Unai Emery as well.