Editorial
Arsenal Picked Off In Derby Disappointment
Online Ed: League Cup run ends at home to Spurs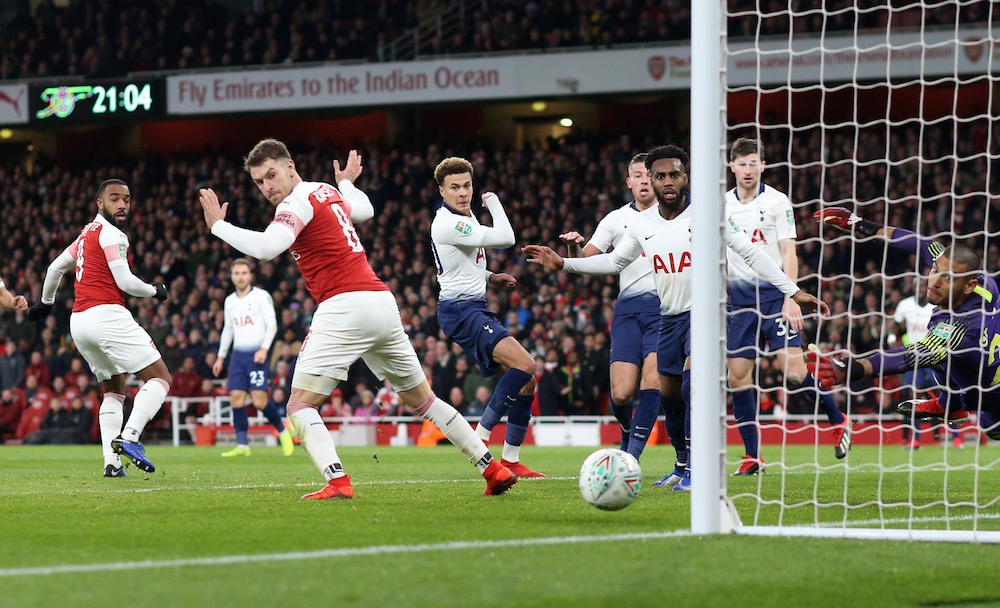 It was no surprise when Laurent Koscielny did not start last night, but it was something of a surprise that Granit Xhaka was selected as one of the two central defenders. Part of a back three at Southampton, two goals were conceded there before he moved into central midfield in a tactical shuffle. I'm not laying the blame for the Carabao Cup exit at Xhaka's door, but in terms of defensive solidity and understanding, you have to wonder. He was not up to the mark as a holding midfielder, so he is hardly going to be good enough as one of the backline.
At least, either side of the central defenders, there were players more familiar with the full back position, in the form of Monreal and Maitland-Niles. Guendouzi and Torreira were included, whilst the switch to a back four enabled Ramsey to start, alongside the three other attacking starters from the defeat at Southampton. It meant Alex Lacazette remained on the bench and Mesut Ozil was not even on the bench. For tactical reasons, Unai Emery explained before the game. Hmmmm….
The attacking selections indicated Emery was taking the tie seriously and his team started the game well. Certainly, over the course of the 90 minutes, Arsenal fashioned more chances, but the bottom line is that Spurs were more clinical. It was summed up in two one-on-ones in the first half, both of which should have been converted, but only one was. Mkhitaryan was clean through but failed to beat Gazzaniga in the Spurs goal. Perhaps if it had been Gazza between the sticks, he might have scored. At the other end, Son showed how it should be done by putting his side 1-0 up. Aaron Ramsey's shot was tipped onto the post as the home side responded, but it was not to be.
Still, Arsenal are never ahead at half-time right? Always come good in the second half? Not this time. Koscielny came on for Mkhitaryan as the team reverted to three at the back, and Lacazette followed soon after for Iwobi. Not many Arsenal players had good games last night and sad to say, Iwobi was one of them. He is a busy player, but too often he loses possession, or plays gets the wrong weight on his pass. The club do need a quota of domestically developed players, but let's face it. Much as we want Iwobi to succeed, he isn't at the level the club need to return to the glory days of old. Ainsley Maitland-Niles is a year younger, and perhaps there is more to come from him as he gets more first team exposure, but his delivery from wide last night was disappointing. Arsenal did hit the woodwork again in the second half, but it was one of those nights. Spurs doubled their lead as once again, a high backline was exposed and Dele Alli lobbed Petr Cech. It pretty much killed the game off.
Spurs managed to control Arsenal's threat and this felt like one game too many as, despite the backing of a full house, the players were unable to create many clear cut opportunities. The defence has looked vulnerable all season, even when it was made up entirely by actual defenders. Against better teams, they are going to be punished more severely. So then it's down to the ability of the attacking players to bail them out. Spurs scored two in the Premier League game recently as well. No problem, Arsenal scored four. Last night, Spurs scored twice again. Different result.
Unai Emery has certainly brought a lot of changes to the club, but he needs to come up with a solution to the flow of goals against. They have only kept clean sheets in three Premier League matches so far this season. So the recent defensive injury crisis provides an element of mitigation, but the underlying problems are the same. Arsenal get caught out too easily, especially when the backline is high up the field. It needs to be sorted out, or the season will end up no different to 2017-18.
Fans are not expecting to see miracles overnight. But progress is key. In some respects, this has happened. The team do seem to get the ball forward more quickly and the manager is far more pro-active during games. But it's all for nothing if they are to continue conceding with the frequency they do.
It's bad enough losing the derby – and we should appreciate that his is only the second such defeat at home since 1993. But unfortunately, the throwing of a bottle at Dele Alli lumps Arsenal fans in with the recent unfortunate incidents involving Chelsea and Spurs fans. Granted, the throwing of a bottle at a player who happens to be categorised as ethnic minority can't be classed as racist, but even so, I'd like to think Arsenal fans are above such behaviour. The reality is that, like at all clubs, there is good and bad in the stands. It's a sorry incident that doesn't reflect well on Arsenal. Doubtless, the perpetrator, if identified, will be banned. But the damage is done.
Back to the football, and in the greater scheme of things, it's two matches in January that Unai Emery probably doesn't feel like he needs. The League Cup is the least of Arsenal's priorities every season and let's face it, if they had won last night and avoided Man City in the last four, we'd probably have had another losing final in February. Unlike Arsenal, City's defence has been improved by Pep Guardiola, although even there, it took time, and changes in personnel. This might be what Emery needs, time will tell.
Arsenal need to recover, and get two wins under their belts either side of Christmas Day. The next issue of The Gooner went to press before last night's match, but after the defeat at Southampton. The cover line is 'We Go Again'. And that is what Arsenal need to do. They recovered well after two defeats at the start of the season, and put together a good run. They need to do the same again, and stop shipping as many goals.
The current issue of The Gooner can be bought online here (price includes postage of £1 to UK addresses of £2.50 abroad) or if you wish to subscribe for this and the other three remaining issues this season, here's the page to do that. There will be a new issue on sale at the match v Burnley this weekend as you approach the stadium (in Gillespie Road near the Arsenal tube, and in Hornsey Road near the Little Wonder café by the two cannons roundabout). And if you are attending an away game, look out for Alex near the away entrance selling copies.
There are other ways of ordering the issue if you do not wish to order via credit / debit card through the website store…
Online Bank Transfer For the current issue, pay £6 UK / £7.50 abroad (or for a four issue subscription covering the remainder of 2018-19 £20 UK / £28 abroad) via online bank transfer to –
Account name: The Gooner
Sort Code: 20-76-90
Account Number: 03004112
Swift / BIC: BUKBGB22
Iban: GB79 BUKB 2076 9003 0041 12
Please use the reference '274YourSurname' on the payment – eg '274Smith' and follow up the payment with an email to thegoonerfanzine@btinternet.com stating your name and address, and the reference that you used for payment (e.g. 273Smith or whatever).
Via direct PayPal payment to the email address thegoonerfanzine@bt internet.com. For the current issue, pay £6 UK / £7.50 abroad (or for a four issue subscription covering the remainder of 2018-19 £20 UK / £28 abroad) via your PayPal account state in the message you are requesting issue 273 (although we'll assume this if there is no message from the amount paid). If doing this, please make your payment a 'friends and family' / personal gift payment – this helps keep our costs down. PLEASE remember to add the name and address for your issue(s) to be mailed to in the note with the payment.
Finally, you can pay by cheque made payable to 'The Gooner' to the address below. For the current issue, pay £6 UK / £7.50 abroad (or for a four issue subscription covering the remainder of 2018-19 £20 UK / £28 abroad)
The Gooner
12 Buxton Court
Hanbury Drive
London
E11 1GB