Editorial
Few Angels As Arsenal Battle Their Way To 3 Points
Online Ed: Welcome home win v Burnley sends Gunners into a Merry Xmas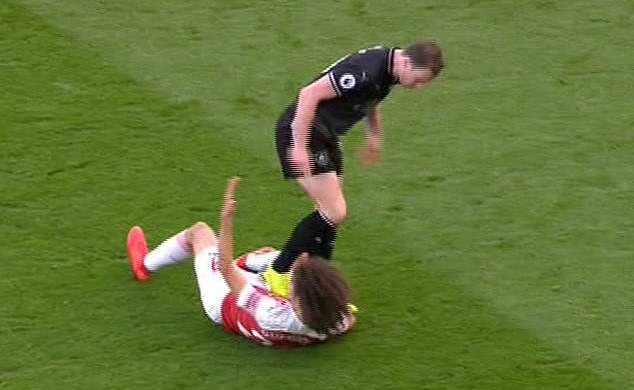 Let's start with a different tack in reviewing the 3-1 home victory over Burnley. I was interested to hear the comments that Roy Keane made on BBC Radio 5 Live when discussing what had went wrong at Manchester United this season. Footballers have changed since his playing days. "I was very lucky with the dressing room I was in," he said. "There were good men, good leaders and characters, but that is in shortage in the game now. It (referring to the lack of effort perceived in United's players under Mourinho this season) would not have happened in our dressing room. We would not have tolerated lads not putting a shift in."
Ironic then, that Mesut Ozil was named captain yesterday on his return to a first team starting place in the Premier League for the first time in over a month. However, what I wish to take away from yesterday's game, aside from the impressive finishing of Aubameyang, is the know-how and… well, cynicism of a couple of experienced pros. Specifically Lichtsteiner and Sokratis. These guys have got all the dirty tricks, and it's no wonder Arsene Wenger, with his purist ideals about football would not have contemplated signing such players. But you know what, everyone else is doing it. It's a combination of pretending they've been fouled, subtle fouls on the opposition, disrupting momentum through stopping the restart of the game and winding up the opposition. It's the kind of thing I see in spades when Arsenal play abroad against Spanish opposition. The bearpit of Valencia's Mestalla stadium comes to mind, and more recently Atletico's Wanda Metropolitano.
It isn't pretty, but it's effective. A card in Arsenal's deck they have lacked for far too long. If football was played fairly, there would never be any fouls. So, yes, I accept Unai Emery's team may not have impressed many yesterday, but I could see a method in the chaos. And three critical points at the end of it.
The starting line-up has become a subject of fascination these days, rarely predictable. With the return to fitness of Kolasinac, who had a decent match in my view, and can occasionally use the dark arts himself, we started with a back three of Sokratis, Xhaka and Monreal. This is undoubtedly now the favoured formation for Emery. Monreal got injured during the first half, so Stephan Lichsteiner replaced him, with Sokratis moving into the middle and Xhaka shifting left. A clean sheet was more than we could hope for, although in truth, Burnley should have scored in the opening minutes, so things could have been worse.
Arsenal's first two goals were nicely fashioned. The opener in the opening 45 minutes saw a good combination from Ozil and Kolasinac to tee up Aubameyang. The second saw Kolasinac breaking to play the ball to Lacazette who laid on Aubameyang for his second. The contribution of the wing backs in Arsenal's attacking play, especially Kolasinac, cannot be underestimated. Their impact is the reason for the change in formation, but the team will not function at their optimum until they have the right personnel available to play in the back three. Burnley's goal was a result of some ping pong in the Arsenal box with the failure to clear the ball. It put the jitters into the crowd, but at this point, I think the game management came to the fore. It wasn't perfect, but it was good enough. Sub Iwobi's goal in injury time after Ozil's shot was blocked eased tensions and ensured the win. Ozil seemed peripheral, but it can't be denied he played a big part in two of the goals. I think he will start at Brighton, but his role is a quandary. If he does not contribute to the creation of goals, he becomes a total luxury in Emery's system.
Mohammed Elneny started in midfield for the first time in the league this season. This was as much about giving Torreira a rest as anything. We wait to see whether Guendouzi is given a break at Brighton. Elneny didn't pull up any trees, but was efficient enough. In fairness, he is an example of a squad player who the club need to improve on if they are to progress, but against Burnley, you can get away with playing him. Torreira replaced him in the second half to add some bite to the Arsenal midfield.
Sean Dyche didn't seem to want to listen to Unai Emery's pleasantries at the end of the game, and was unhappy with some of the gamesmanship of Arsenal's players. He should take a look at his own players, such as Ashley Barnes stamping on Guendouzi's chest. One wonders if this had been committed by an Arsenal player whether it might have been a subject of some discussion on 'Match of the Day'. As it was, it was not even shown.
It wasn't Arsenal's most authoritative performance. The game was often scrappy and niggly. However, winning was key after the recent setbacks and it gave Mesut Ozil the chance to re-establish his match fitness. The number 10 looked shattered at the end. They now need to improve their solidity at the back with a controlled performance on Boxing Day so that they can at least go to Anfield with some hope of stemming the flow of Jurgen Klopp's side. Four points from the next two matches would be a fantastic return.
Even if the crowd was at least 10,000 light with so many prioritising other things, the supporters go into Christmas with a win under their belts, and the players will be feeling happier about going into training while the rest of us have our feet up.
The new issue of The Gooner went on sale yesterday. It included a 2019 calendar, with details on the back of the campaign to secure enough subscribers so that we can continue past the end of the current season. We are operating on a 'one more year' model these days, so this will be an annual drive until there is no longer enough demand for us to continue. We'll launch the campaign properly on January 1st, but feel free to commit now, should you wish to. Details of how to subscribe either in the UK or abroad can be found on this page.
The current issue of The Gooner (275, with free 2019 calendar) can be bought online here (UK addresses) or if you for overseas, click here (prices includes postage of £1 to UK addresses of £2.50 abroad) or if you wish to subscribe for this and the other three remaining issues this season, here's the page to do that. It will also be available at forthcoming Arsenal home matches you approach the stadium (in Gillespie Road near the Arsenal tube, and in Hornsey Road near the Little Wonder café by the two cannons roundabout). And if you are attending an away game, look out for Alex near the away entrance selling copies.
There are other ways of ordering the issue if you do not wish to order via credit / debit card through the website store…
Online Bank Transfer For the current issue, pay £6 UK / £7.50 abroad (or for a three issue subscription covering the remainder of 2018-19 £15 UK / £21 abroad) via online bank transfer to –
Account name: The Gooner
Sort Code: 20-76-90
Account Number: 03004112
Swift / BIC: BUKBGB22
Iban: GB79 BUKB 2076 9003 0041 12
Please use the reference '275YourSurname' on the payment – eg '275Smith' and follow up the payment with an email to thegoonerfanzine@btinternet.com stating your name and address, and the reference that you used for payment (e.g. 275Smith or whatever).
Via direct PayPal payment to the email address thegoonerfanzine@bt internet.com. For the current issue, pay £6 UK / £7.50 abroad (or for a three issue subscription covering the remainder of 2018-19 £15 UK / £21 abroad) via your PayPal account state in the message you are requesting issue 275 (although we'll assume this if there is no message from the amount paid). If doing this, please make your payment a 'friends and family' / personal gift payment – this helps keep our costs down. PLEASE remember to add the name and address for your issue(s) to be mailed to in the note with the payment, or if you forget, simply email thegoonerfanzine@bt internet.com to let us know your address and that you have made payment.
Finally, you can pay by cheque made payable to 'The Gooner' to the address below. For the current issue, pay £6 UK / £7.50 abroad (or for a three issue subscription covering the remainder of 2018-19 £15 UK / £21 abroad)
The Gooner
12 Buxton Court
Hanbury Drive
London
E11 1GB