Editorial
Arsenal do themselves little credit at the Amex
Online Ed: Points shared at Brighton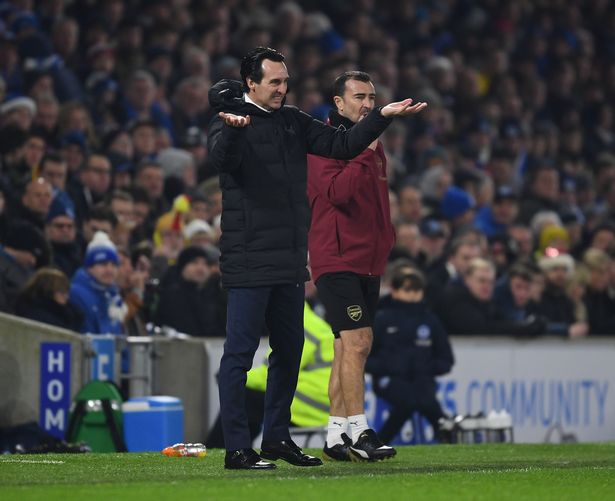 Let's start off with an email from contributor Ian Henry, received a few minutes after the final whistle. He wrote as follows –
Subject: Over to you Sven and Raul
I started writing this as half time approached against Brighton. Leaving aside the typical Arsenal manner of conceding the equaliser, and whatever happens in the 2nd half, it seems to me that Sven and Raul have some work to do in the January transfer window for Arsenal to maintain their potential challenge for a top 4 finish.
The squad is clearly stretched and the serious injuries to Welbeck and Holding have to be addressed by signing players. Add to this the continued absence of Mavropanos, occupying a vital place in the squad with no sign of him playing, and the unavoidable conclusion that neither Koscielny nor Monreal can play more than a game a week without risking injury and it is clear where reinforcements are required.
And this is where it gets interesting …. The first team squad lists 25 players on the website of which 8 are home grown and 17 overseas; Guendouzi, as u21, allows one over 21 overseas player to be bought without letting another overseas player go. Ozil's departure (inevitable surely after being hooked at half time?) would allow another overseas player to be bought but other than perhaps Elneny, I can't see which other overseas players would be sold. With two of the home-grown slots occupied by long term injuries (Welbz and Holding, neither of whom are likely to play this season) and at least one effectively redundant home-grown place (Jenkinson), it seems to me that reinforcements are likely to have to come from home grown contingents at other PL clubs.
I think we need at least one centre back, preferably two, a 3rd striker (Nketiah is too raw) and a player to replace Ozil/Ramsey; I would like a proper winger but Emery doesn't seem to like that kind of player. However, I can't see the necessary strengthening happening myself. Which is why, sadly, I think we will have to settle for a battle for 5th with a resurgent ManU. And we can imagine how that one is going to play out.
The second half performance kind of confirms that; very stodgy, no sign of a killer pass, in fact barely a forward pass at all of note in the 2nd half, and a defence which will be ripped apart at Anfield I have no doubt. (Ends)
________________________________
It was a case of Arsenal shooting themselves in the foot, again. They had started so well, with Aubameyang nearly lobbing the keeper out of the blue, before not long after, determination from Torreira and Lacazette gave the number 14 another chance, and this time he found the Brighton net. It could have been 2-0 before Brighton seriously threatened, but Aubameyang's low shot was tipped away by the keeper. Arsenal looked in control of the game, but then came the sucker punch.
From an overhit Arsenal corner, the ball was punted upfield, Lichtsteiner got something of a head on it, but merely teed up the onrushing Brighton forwards. Leno tried to beat Locadia to the loose ball, but lost, and seconds later it was 1-1. At half-time the pundits pointed out Ozil failing to track the scorer. Emery doubtless saw the same, and hooked the German at half time. I'm not even certain Ozil came back out to sit on the bench after the interval. I doubt he's ever been asked to work as hard when the ball is with the opposition as he has under Emery, and his default is not to do it. What's his incentive to change? Answers on a postcard to the head coach. It really seems a matter of when rather than if he plays for another club, although the how is the real teaser. Ozil wasn't solely culpable for the goal, but it was unfortunately his man who scored, given he was closest to him as the ball was moved forward. Defending as a team sometimes means covering for colleagues out of position, as will often be the case with a break from a corner.
Arsenal had started the game with a back four and two recognized central defenders. It didn't stop the full backs bombing on as if they were wing backs, although there was an element of compensation with three bodies in central midfield.
In the second half, Chris Hughton instructed his players to press Arsenal from their goal kicks and the team struggled to adapt. There was less possession and less time spent in Brighton's half. Sad to say, Hughton seemed to have outwitted Emery. Iwobi had replaced Ozil, and with his front two starved of service, Emery then decided to put Aaron Ramsey on for Lacazette, whose displeasure at being withdrawn was obvious. In the end, Emery even tried a back three, by removing Koscielny, presumably with Liverpool in mind, and Xhaka and Lichtsteiner filling in either side of Sokratis. Ainsley Maitland-Niles came on to play the right wing back.
The best chance in the remainder of the game fell to Brighton when Solly March missed the chance to lob Leno.
It was the kind of game that Arsenal need to win if their ambitions of a top four place are to be realized in May. As it is, in spite of the good run since August that ended at Southampton, there remains a feeling that Emery has got as much as he can from this group of players, some of them signed under his watch. There are valid doubts about Leno, Guendouzi and Lichtsteiner, although it must be remembered that the club did not have much to spend last summer. And of course, he has had to work with players he has inherited, such as Ozil, Iwobi, Xhaka and company. Emery has brought back exciting times in terms of the team's forward play, although the way that Brighton were able to nullify them without Ozil is a concern. Then again, the game should have been put to bed before the home side scored, Arsenal were that much on top. But the weakness at the back, in terms of individual abilities and getting caught out gung-ho on the break, has cost them plenty of points.
It's not over. Emery's team has now played against every other Premier League side once, so we wait to see what he brings to the table when he faces them a second time. Yet as Ian Henry said in his email, there needs to be some movement in and out of the squad, a process that will need to continue until Emery gets the right blend. There are moments of quality from this Arsenal side, but there is a lot of chaff as well. It's going to take a while to get it right, and we must be patient, even if games like yesterday's seem to leave us with more questions than answers.
Liverpool next…
The current issue of The Gooner (275, with free 2019 calendar) can be bought online here (UK addresses) or if you for overseas, click here (prices includes postage of £1 to UK addresses of £2.50 abroad) or if you wish to subscribe for this and the other three remaining issues this season, here's the page to do that. It will also be available at forthcoming Arsenal home matches you approach the stadium (in Gillespie Road near the Arsenal tube, and in Hornsey Road near the Little Wonder café by the two cannons roundabout). And if you are attending an away game, look out for Alex near the away entrance selling copies.
There are other ways of ordering the issue if you do not wish to order via credit / debit card through the website store…
Online Bank Transfer For the current issue, pay £6 UK / £7.50 abroad (or for a three issue subscription covering the remainder of 2018-19 £15 UK / £21 abroad) via online bank transfer to –
Account name: The Gooner
Sort Code: 20-76-90
Account Number: 03004112
Swift / BIC: BUKBGB22
Iban: GB79 BUKB 2076 9003 0041 12
Please use the reference '275YourSurname' on the payment – eg '275Smith' and follow up the payment with an email to thegoonerfanzine@btinternet.com stating your name and address, and the reference that you used for payment (e.g. 275Smith or whatever).
Via direct PayPal payment to the email address thegoonerfanzine@bt internet.com. For the current issue, pay £6 UK / £7.50 abroad (or for a three issue subscription covering the remainder of 2018-19 £15 UK / £21 abroad) via your PayPal account state in the message you are requesting issue 275 (although we'll assume this if there is no message from the amount paid). If doing this, please make your payment a 'friends and family' / personal gift payment – this helps keep our costs down. PLEASE remember to add the name and address for your issue(s) to be mailed to in the note with the payment, or if you forget, simply email thegoonerfanzine@bt internet.com to let us know your address and that you have made payment.
Finally, you can pay by cheque made payable to 'The Gooner' to the address below. For the current issue, pay £6 UK / £7.50 abroad (or for a three issue subscription covering the remainder of 2018-19 £15 UK / £21 abroad)
The Gooner
12 Buxton Court
Hanbury Drive
London
E11 1GB