Online Exclusive
My memories of Peter Hill-Wood
Tribute to the former Arsenal chairman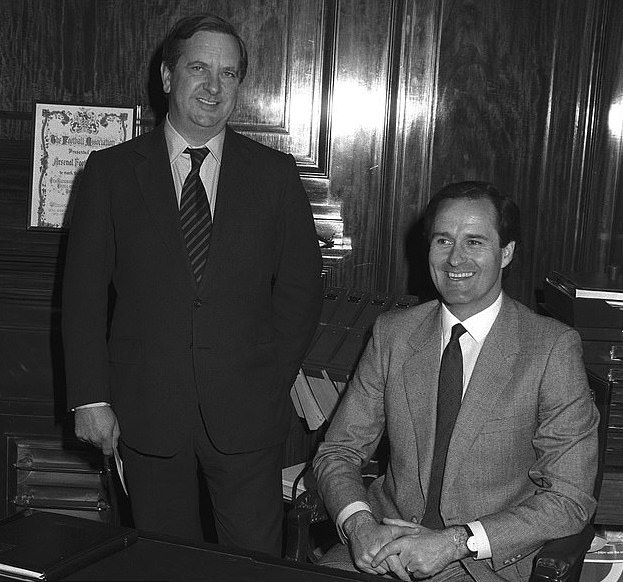 Once when one used the phrase Stewardship of Arsenal Football Club, shortly afterwards the Hill-Wood family would be mentioned. The Hill-Wood dynasty began shortly after Woolwich Arsenal Football Club became the Arsenal in the early 1900's having relocated from south London to a North London site near to Tottenham Hotspur. This gentleman's game played by ruffians, as football was apt to be called, was going through a financial downturn when a notorious Henry Norris was alleged to have manipulated the promotion of Arsenal from the second to first division of the FA football league. This happened after failing gate receipts and a costly move to North London almost saw the club vanish into non-existence. He was also alleged to have fiddled the accounts for his own personal gain, yet it was the appointment of Herbert Chapman from Huddersfield Town by Norris which he will truly be remembered for.
It was Peter Hill-Wood's grandfather Sir Samuel Hill-Wood who became the first Chairman of that dynasty, followed by his son Denis Hill-Wood and latterly of course Peter. The Hill-Wood brought a swagger to North London and were renown for their shrewd business dealings. The family was extremely wealthy and they looked after Arsenal Football Club well. The Marbled Halls of Highbury was a mark of the touch of class brought to this North London Club by the Hill-Woods who with the Bracewell-Smith family in co-ownership ensured that the very best players in the football league came to the club. Much like Manchester City today, it was The Arsenal who used to break transfer records. The class extended to the club's motto in 1949 'Victory through Harmony'
Fast forward to our era and my memory of Peter Hill-Wood was seeing him outside the Directors' Box on the ground floor puffing on a cigarette and sharing bonhomie with passing Gooners. Despite his press utterances and appearances at Board meetings, those who shared this brief contact with him, found him to be very amusing with a wicked sense of humour. The jokes were often liberally highlighted with the odd profanity but never used in an offensive way. In later years the press seized upon some of his comments, most recently the comment relating to our current owner Stanley Kroenke. Peter Hill-Wood was alleged to have said, 'We don't need his sort here'
Peter Hill-Wood deserves to have the plaudits and kind words spoken about him in his passing. Tributes will pour in, such is the measure of the man. He loved this club and was Arsenal through and through. Much of the silly stuff said about him can be ignored, especially when you bear in mind what he provided here at the club. A firm hand on the tiller and good business contacts which enabled our club to punch well above its weight. So here at Online Gooner we salute his passing and with a small tear of sadness bid him farewell and may he rest in peace.