Editorial
Looks Familiar?
Online Ed: Arsenal suffer heavy defeat at Anfield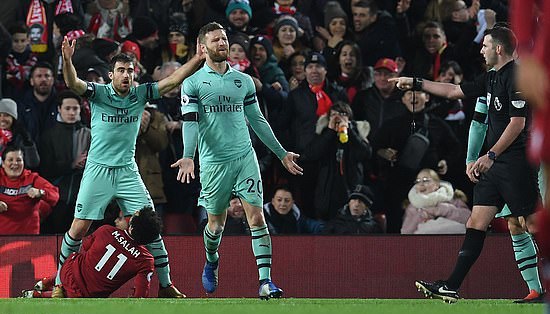 We could analyse Liverpool's goals one by one, but there's little to be gained from that for anybody reading this. They were plain enough to see. Every goal Jurgen Klopp's side scored was down to identifiable (and fixable) defensive errors. They point to the bigger principle that urgent surgery is required, and even with a full complement of fit defenders, the pool Unai Emery has to choose from simply isn't up to it. That might not be true under a different coach, but that's a moot point. It's too early to say Emery won't work out, but as it seems he cannot coach the defence effectively, he needs individuals who can work it out themselves. Think the defence that Arsene Wenger inherited, and remember that Ashley Cole became arguably the world's best left back around the time of the Invincibles because of the on-field coaching he received from Tony Adams in his first two seasons. Sadly, a player as experienced as Stephan Lichtsteiner isn't going to listen to Shkodran Mustafi when he is telling him to get into line for the offside trap. And although Mustafi is no Tony Adams, he knew his right back was not doing his job properly.
Unai Emery used the word 'protagonist' a lot when he arrived. The definition is "The main figure or one of the most prominent figures in a situation". I didn't see too much of that at Anfield, a game in which Arsenal were dominated. Not in possession, but in terms of effectiveness. Sad to say, but the truth is there was not a lot to tell between a number of latter day Arsene Wenger managed displays away to Liverpool. What changes has Emery made? There is more attitude in the side, a little more cynicism, and he does not indulge players, with little regard for reputation. But the tactics leave his side too exposed, which presents us with the question of whether or not the underlying problem is Emery's gameplan or the players he has to work with. It's probably a bit of both.
One assumes Sven Mislintat has some potential targets lined up, although the defenders signed under his watch have not wholly convinced so far (Mavropanos, Lichtsteiner, Sokratis). Sure there have been injuries, but that does not excuse rank bad defending, and let's face it, it's not as if what happened at Anfield is anything new. The Gunners have been presenting opportunities to the opposition all season. Liverpool simply exploited them in a more clinical manner than other sides.
There were a couple of positives, but not many. The two players responsible for Arsenal's goal, Iwobi and Maitland-Niles, had better matches then their colleagues. Aaron Ramsey could not be accused of lack of effort. But apart from that, although Emery's side did have space to play, they were not good enough to create many chances. Aubameyang was starved of service. And Liverpool played the Gunners' offside trap much better than the visitors played theirs.
Arsenal now have matches against Fulham, Blackpool and West Ham to start trying to rebuild their confidence. And of course we wait to see how financially restrained the club are now that Stan Kroneke has 100% control (and is likely siphoning off funds to pay his interest on his buy out of Alisher Usmanov). Emery will be given the chance to put things right, and the best chance he has of that is if there are funds available to upgrade on his current selection. It was pointed out to me in an email after the game that Liverpool had two major deficiencies last season - goalkeeper and central defence. Within six months they spent the money to sort out the problems. It took big money but they did it.
Jurgen Klopp took over at Liverpool after they had played eight games in the 2015-16 season. He ended the season with his team in eighth position. If Arsenal are to return to the top table under Emery, this isn't going to be an overnight process. But at least the areas that need immediate work on are obvious.
The current issue of The Gooner (275, with free 2019 calendar) can be bought online here (UK addresses) or if you for overseas, click here (prices includes postage of £1 to UK addresses of £2.50 abroad) or if you wish to subscribe for this and the other three remaining issues this season, here's the page to do that. It will also be available at forthcoming Arsenal home matches you approach the stadium (in Gillespie Road near the Arsenal tube, and in Hornsey Road near the Little Wonder café by the two cannons roundabout). And if you are attending an away game, look out for Alex near the away entrance selling copies.
There are other ways of ordering the issue if you do not wish to order via credit / debit card through the website store…
Online Bank Transfer For the current issue, pay £6 UK / £7.50 abroad (or for a three issue subscription covering the remainder of 2018-19 £15 UK / £21 abroad) via online bank transfer to –
Account name: The Gooner
Sort Code: 20-76-90
Account Number: 03004112
Swift / BIC: BUKBGB22
Iban: GB79 BUKB 2076 9003 0041 12
Please use the reference '275YourSurname' on the payment – eg '275Smith' and follow up the payment with an email to thegoonerfanzine@btinternet.com stating your name and address, and the reference that you used for payment (e.g. 275Smith or whatever).
Via direct PayPal payment to the email address thegoonerfanzine@bt internet.com. For the current issue, pay £6 UK / £7.50 abroad (or for a three issue subscription covering the remainder of 2018-19 £15 UK / £21 abroad) via your PayPal account state in the message you are requesting issue 275 (although we'll assume this if there is no message from the amount paid). If doing this, please make your payment a 'friends and family' / personal gift payment – this helps keep our costs down. PLEASE remember to add the name and address for your issue(s) to be mailed to in the note with the payment, or if you forget, simply email thegoonerfanzine@bt internet.com to let us know your address and that you have made payment.
Finally, you can pay by cheque made payable to 'The Gooner' to the address below. For the current issue, pay £6 UK / £7.50 abroad (or for a three issue subscription covering the remainder of 2018-19 £15 UK / £21 abroad)
The Gooner
12 Buxton Court
Hanbury Drive
London
E11 1GB