Online Exclusive
Who will remain in Emery's team in three years' time?
Attendee at the 5-1 defeat gets it off his chest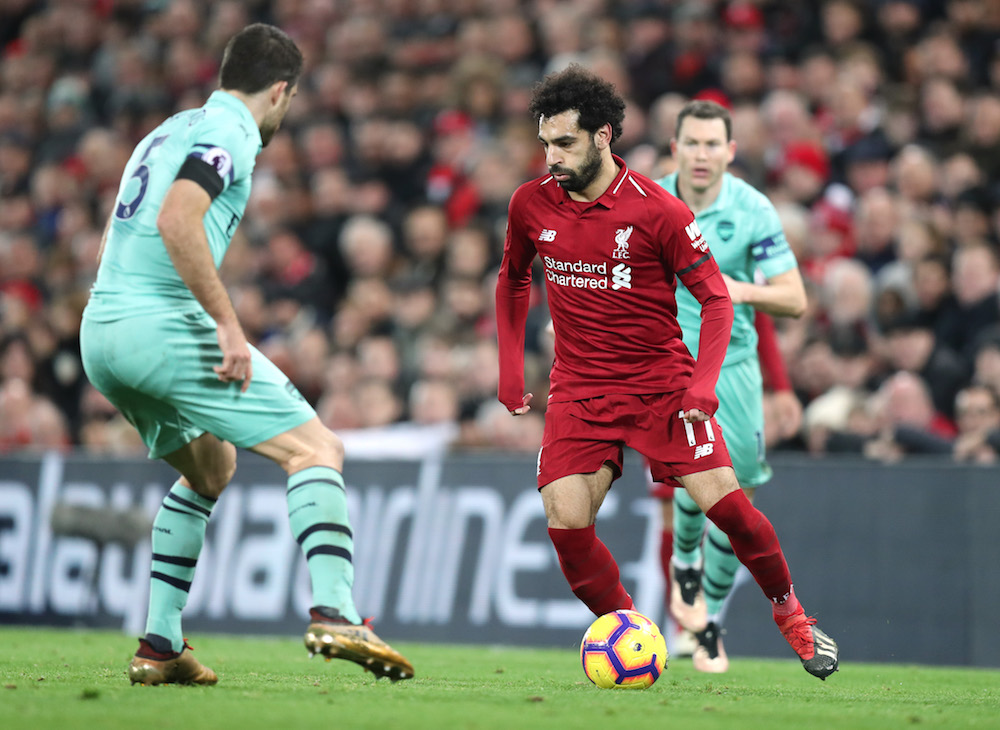 Dear Readers
Do not expect any piercing new insights from this piece but, to get some inner peace after Saturday evening's shellacking at Anfield, there are a few things I wanted to get off my chest.
My away day chum, Andy, and I had resolved before the game not to get too stressed in the face of what we considered to be an inevitable defeat. It worked to a goodly extent. Trudging away from Anfield, I did not feel as depressed as I had walking away from Southampton or Brighton, but some things still rankled.
Why were we set up in the way we were? A ramshackle back three with two wing backs left great holes down the flanks which were readily exploited by Liverpool. That situation was made worse by the fact that the guy who was nominally on the right of the back three spent a fair amount of time playing on the right wing. Mind you, with his speed of recovery (ha ha) that should not have been a problem should it? I know it is not the Arsenal way but was there a case for our keeping it tight and at least making Liverpool work for their goals? Instead we, ably assisted by Michael "The Scouser" Oliver, donated all five to them. Folk tell me that the penalties were "soft". Be that as it may, I think that Oliver's worst decision from our point of view was not sending Xhaka off when he had the chance.
Let's face it, we were stuffed.
I read somewhere (that would be this very website's preview of the Liverpool game! - Ed) that of the eleven players who represented Liverpool in Klopp's first game in charge only Milner remains as a regular starter. Jordan Henderson missed that game because of injury and Clyne, Lallana, and Moreno are still around but struggle for game time. So, there's been a significant personnel overhaul since then. I know that Emery has been in charge for about 25 to 30 games but of last night's squad how many can you see being an integral part of the Arsenal squad in 2021/22? Or how many would you want to be?
Leno: Perhaps. Seems ok but by no means the greatest goalkeeper we've had – insert your own Dracula and crosses joke here
Lichtsteiner: NO NO NO. A thousand times no
Mustafi: Might be more reliable than most bus services in that you know you won't have to wait long for his next mistake, so I certainly hope not
Sokratis: Will certainly be a veteran in three years' time and, in Premiership terms he's only slightly above average – dogged with a good attitude at best. So, no
Kolasinac: needs to improve defensively but intermittently dangerous going forward. Must improve
Maitland_Niles: like to think so, perhaps has to ensure that his "too cool for school" demeanour does not prevent him fulfilling his potential
Xhaka: Can any one explain why we extended his contract in the summer? Overall too slow and ponderous on and off the ball for me
Torreira: Yes please
Ramsey: well, we know the answer to that one don't we?
Iwobi: played Ok last night but that comes after weeks of ineffective dross so a bit like Kolasinac really – a definite maybe.
Aubameyang: Will be 32ish in three years' time but let's hope he's still going
Looking at the bench, I would like to think that Guendouzi and Lacazette will still be around but Cech and Koscielny will have ridden off into the sunset and who knows how the young Guns will have developed? Be nice to think that Smith Rowe and Nelson, and perhaps another one or two, will be first teamers.
Of course, it would not be Arsenal if there was not an injury list and of those injured Bellerin (seemingly revitalised under Emery), Holding and Mavropanos (perhaps) could be big players for us. As Mkhitarayan has continued the inconsistency of his time at Manchester United it's currently hard to make a strong case for his retention. It does not appear that Ozil will be with us at the end of January, let alone in the next decade. I have been kind to him, and included him on the injured list.
So, changes in personnel will have to be made on the playing side. I am assuming that Emery will be given time to complete his "process" but that's another issue. Anyway, if it's taken Liverpool three years to assemble a title winning squad, how long will it take Arsenal?
Liverpool has certainly bought big players, although they have also sold players to raise money: think Coutinho. And that's a big difference between them and us. For various reasons, mainly to do with commercial mismanagement, our most realisable players are not going to generate significant money on the transfer market. Ozil's very generous contract, as well as his iffy form and age, limits his sell on value. It looks likely that Danny Welbeck will follow Ramsey out of the door for nothing or next to nothing if we do not extend his contract. Would we want to sell Torreira, Bellerin or Lacazette as part of a squad rebuilding exercise? I would not but it is hard to see who else could be sold to realise significant cash.
Does it really matter that we have little in the way of realisable assets to fund the necessary squad rebuilding, when we have a munificent owner ever willing to dip into the corporate pocket to fund his beloved Arsenal? Cue hollow laughter.
One of the chants heard on the terraces this season has been "We've got our Arsenal back". Really? In ownership terms, that ship has well and truly sailed. What about those Arsenal values of tradition, decency, fair play etc? Well, despite all the PR and social media puffery, the relationship between them and us has changed fundamentally from club and supporter to one of commercial machine and customer. 'Kerching!' should be on the badge. So, I reckon that the only Arsenal we, as true supporters, stand a chance of getting back is the one that plays great football and challenges for titles.
And that is going to take some time.