Online Exclusive
'El Maestro', the Authorised Biography of Unai Emery - Review
Romain Molina's book explains how Arsenal's manager developed through his experience of coaching his six previous clubs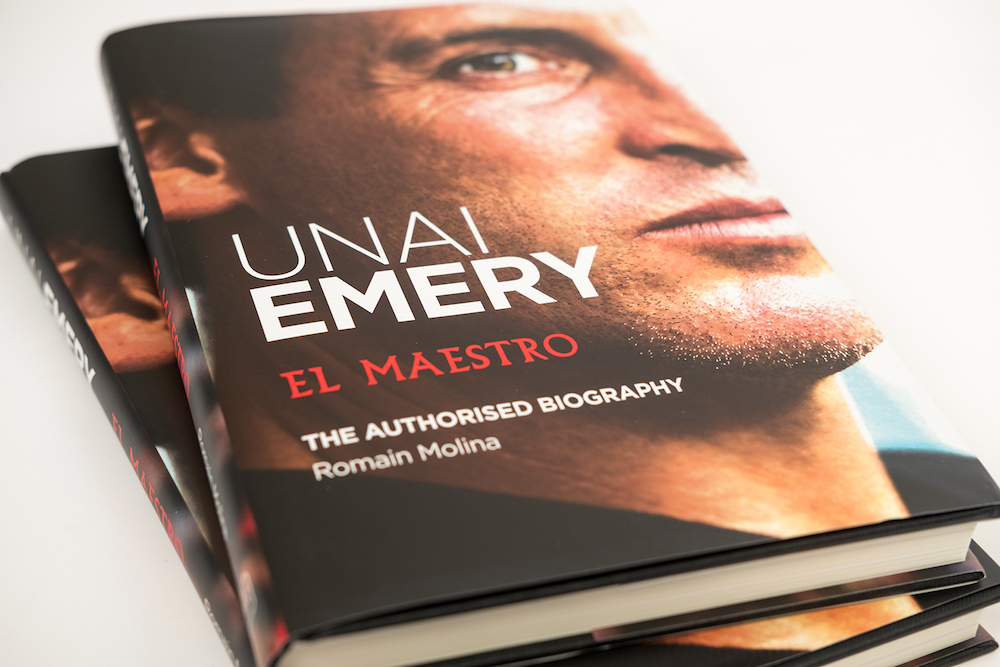 There are some very telling quotes in Romain Molina's authorised biography of Arsenal's current head coach. Emery's first team was Lorca, where he was promoted to coach as his playing career wound down. One of his team-mates and then players Xavier Moro, recalled "We could be playing away from home or against one of the favourites, Unai didn't care. He focussed completely on winning and scoring goals." Defender Inaki Bea speaks about the team's tactics: "We could dominate all the other teams with our pressing tactics. We kept a high defensive line which led to lots of offsides".
Emery has certainly remained true to that approach at Arsenal, having coached five teams in between Lorca and his arrival in north London. This book looks back at his story from his playing days through to his second season at Paris St Germain. As well as speaking to a multitude of those that have worked alongside him and played for him, there is also a long interview with Emery himself at the book's conclusion. In places throughout the book, the narrative is put on hold for transcripts of interviews with former colleagues and players, including Alvaro Negredo and Juan Mata.
The book gives an insight into Emery's approach behind the scenes that one can picture happening at Arsenal, such as the importance of making everyone in the squad feel equally important, and the need to try and keep things fresh in training by mixing up the drills and routines. The video analysis is now the stuff of legend, and the oft seen quote by Joaquin Sanchez, "He played so many videos I was running out of popcorn", came from Molina's biography.
It's also an interesting what if? to learn that Emery came close to leaving Sevilla to join West Ham in the summer of 2015, although his decision to stay meant that Slaven Bilic got the job instead. The book gives a wonderful insight into Emery's ways, painting him as a man always willing to learn and improve himself. "I've relied a great deal on books about self-confidence and personal development," he tells the author.
There is plenty of detail on the less positive moments of Emery's managerial career, his short stint in Moscow with Spartak, and the astonishing defeat of PSG to Barcelona in the Champions League after defeating them 4-1 in the first leg at the Parc des Princes. It's a story of ups and downs, but what comes out is a respect for Emery as a man, even from the players who did not like him.
The accounts of his preparation for matches emphasise how his communication with the players is key, and spotlights the importance of his need to improve his English rapidly, although he will currently often speak in Spanish with the individual players who will understand it. There is also an insight into how he works with long time assistant Juan Carlos Carcedo, the pair of them described by the former PSG kit man as a good cop / bad cop, with Carcedo being the hard man. Carcedo himself was interviewed by the author and is quoted extensively in the book.
In conclusion, 'El Maestro' is a fascinating read for those who want to find out more about Emery, and although perhaps we now know what to expect from his Arsenal team's approach to matches, his successes elsewhere give optimism that, given time, Emery could deliver success for his current employers.
'Unai Emery, El Maestro, the authorised biography' by Romain Molina is published by Tales From in hardback, with an rrp of £18.99. Author signed copies can be bought through this link.